Delaware, Maryland, New Jersey, Pennsylvania, Virginia, West Virginia

Another winter has passed and everyone is busy planting crops for the summer season. As usual, schedules get stretched thin and there is never enough time to get everything planted. Sometimes you just need prioritize and ask yourself "What will pay more bills, the bread and butter crops like zinnias and sunflowers or the odd stuff that you never really mastered producing?" The solution is a combination of both. Grow lots of easy, profitable crops that will make money, and also grow some of the special stuff. After all, this is the Association of Specialty Cut Flower Growers.      

The Mid-Atlantic Regional Meeting is scheduled for Monday, July 26. The meeting will be held at Dave Lines' Cut Flowers in La Plata, MD. The theme of the meeting will be "Keeping up the Supply" and will include information about how Dave Lines is able to have a onsistent supply of cut flowers for the full 25 weeks of his farmers' market season. He does this through succession planting, crop manipulation, and other methods that have enabled his farm to be successful in cut flower production and marketing.    
    
This is the year you can make your voice heard across this land by voting in the election. No, not that election, the ASCFG election.  – Dave Dowling

I hope you have your calendar marked for the ASCFG National Conference in Orlando, November 2-5. It will be a great conference with topics of interest for everyone. The farm tour sites include Burdette Coward & Co with 65 acres of production that will make your jaw drop.
    
Lancaster in 2005! It is only 18 months until the ASCFG National Conference will be held in Lancaster, PA. Planning is well underway. If there are any topics or speakers you would like included, let me know now so we can include your requests. Remember, these conferences are for you. Let us know what you want included.
    
The ASCFG Buyers' Guide went though some big changes with the last issue dated 2003/2004. The next issue, to be dated 2005/2006 will undergo even more changes to make it more user friendly for florists and wholesalers who are looking for the products our members grow. Remember, the Buyers' Guide is for those growers who deliver or ship to wholesalers or retail florists only.  
If you don't supply this market, then you should not be included in this publication.
    
This is the year you can make your voice heard across this land by voting in the election.  No, not that election, the ASCFG election. You'll be voting for a new Mid- Atlantic Regional Director, Treasurer, and Secretary who will help run your Association.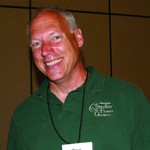 Dave Dowling
Sales Representative and Warehouse Manager
Dave Dowling is a Sales Representative and Warehouse Manager for Ednie Flower Bulb. Contact him at [email protected]