Delaware, Maryland, New Jersey, Pennsylvania, Virginia, West Virginia

A cold morning with a heavy frost on the fields, an afternoon of bright sunshine with snow-capped mountains in the distance, toasty warm greenhouses full of flowers ready to burst into bloom. Ahhh, it must be Vancouver in November.
    
Yes, this was followed by days of intermittent rain showers and cold weather more typical of Vancouver in the fall, but it was still great to get away and spend time with other cut flower junkies. The ASCFG International Conference was wonderful and well planned, even down to the umbrellas handed out at the registration table. Three cheers to Roy Snow and the numerous helpers he had putting on such a great event.
   
It was nice to see so many faces from the Mid-Atlantic Region in attendance at a conference all the way across the continent. Remember, in two years we'll be hosting the conference in Lancaster, PA.  I'm still looking for energetic people to help out on the planning committee and at the conference itself in 2005. If you have already said you would like to help out, or you haven't offered your assistance yet, but want to, please email me at [email protected] so we can gather ideas and get this conference well into the planning stages. Also send me ideas of speakers and topics you would like to have covered at the conference in 2005. The program must be in place many months before the actual conference.
    
The weather continues to be the subject of the hour. With Hurricane Isabel running right up through the Mid-Atlantic states in September to the early frosts and high winds of October and November, I'm beginning to think this is worse than a plague. I figure the weather has to be better next year. Right? Then I read about the seventeen-year locusts returning next summer and warnings not to plant new shrubs until after they have emerged and done their damage. I don't have any idea what to expect from these critters, I have no clue what flowers locust like to eat. I wasn't even thinking about growing cut flowers seventeen years ago. If any one knows what we might be up against, please post it on the Bulletin Board under Pest Control for everyone to see.
    
This issue of the CFQ is full of information about flower varieties that are new on the market, many of which have been trialed by fellow ASCFG members. Give some of them a try in your garden this year. Offering your customers something new and different will keep you and your product a step or two ahead of the competition. After seeing the great cut flower kale plants in Vancouver, I'm sure that will be added to many seed lists this season.
    
Remember, this is my last year as Regional Director. Elections for a replacement will be held this summer. If you are interested in running, or know someone you think would be a good candidate for Regional Director, pass their name on to Vice-president Tom Wikstrom, the Nominations chairperson.
     
Look for information about our 2004 Regional Meeting in the spring issue of the CFQ.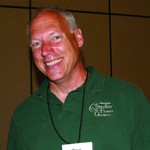 Dave Dowling
Sales Representative and Warehouse Manager
Dave Dowling is a Sales Representative and Warehouse Manager for Ednie Flower Bulb. Contact him at [email protected]