Everything is blooming most recklessly; if it were voices instead of colors, there would be an unbelievable shrieking into the heart of the night.  ~ Rainer Maria Rilke,
"Letters of Rainer Maria Rilke"

It would be lovely to just grow the flowers, to work in that cacophony of color happily from dawn to dusk. The flowers are so beautiful, so well grown and harvested and cared for that they should sell themselves! It would be nice, but the reality is that as business people we have a lot of hats to wear. In a recession, the marketing hat needs to be on firmly as we look for every opportunity.

But we sell more than just flowers.  We sell color and scent and joy. We sell celebrations of special events, recovery from illness, hope and peace. Our customers come to us for more than the flowers. The flowers are the products, but the emotion is what they are really buying.

I have been reading Michael Gerber's book The E-Myth Revisited on the recommendation of a farmer friend of mine. This concept of selling more than your product is the biggest thing I have gotten from it so far. This is the real reason that folks like Joe Caputi talk about having a consistent brand image and a "look" for your farm. People want their emotional needs filled, and if they can see that your outfit will provide that consistently, and well, then they'll be loyal customers.

It is harder for those of us who sell seasonally to keep that consistent presence. A member in my Region spoke to me about that spring effect whereby customers say "I should have called you!" about their wedding or other event when they see the beautiful June flowers. They didn't have her in mind when they booked that florist in January.

Have a plan in mind for how to reach those customers year-round to remind them of how much they love to buy from you. I heartily recommend a website – I have had seven or eight brides call (and most have booked) with me this winter because they "found me online" They want local, but they use the vast outer-cyberspace to find it. If nothing else, sign up for a listing on LocalHarvest.org or  a more regional farmer listing, or both.  A list of names and emails is incredibly valuable as well. They want to hear from you if they sign up!

I know most of you are doing some of the above, or even more, or perhaps you have a new and different marketing idea. One of the many great things about this association is our ability to share marketing tips and plans across zones and regions. We'll be focusing on marketing more than ever at the National Conference, although we'll still have lots of great flower growing information and research.

National Conference, here we come! YOU need to be there. We have a great site, a great lineup of speakers, and a great date: October 6-8, 2009, with the Growers' School on October 5. It is within an easy drive of much of the Northeast Region (except for our beloved Mainers and Canadians) and you can fly right into Islip if you're too far to drive. Registration rates remain same as they have for the fourth consecutive year, thanks to a huge amount of work by Judy and Linda to keep costs down and a huge amount of volunteer work. This year our florist favorite and Long Island native Neil Caggiano will direct the Design Competition, and his lovely wife and national-award-winning educator and AIFD member Carol Caggiano will be featured in our new Event Design and Marketing sessions. That's right, a whole day of working on the nuts and bolts of customer communication, contracts, marketing and sharing of information about how to get and keep clients, and how to make money on weddings and other events. You NEED to be there.

The next Quarterly will give you the complete rundown, but for now, happy spring, happy marketing, and save those dates!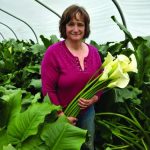 Janet Foss
J. Foss Garden Flowers
Janet Foss, J. Foss Garden Flowers, is a specialty cut flower grower in Chehalis, Washington, and a long-time contributor to The Cut Flower Quarterly. Contact her at [email protected]