Brodiaea, Dichelostemma and Triteleia
I love Brodiaea for cutting and look forward to them blooming each year. What I don't  like about it is trying to spell the names correctly on invoices, and not knowing for sure what the correct botanical name for each one is. Whether it's Brodiaea, Dichelostemma or Triteleia they are all hard to spell. Botanically they have gone in and out of families and changed names back and forth so much that each one has a couple of synonyms.   All are native to higher altitudes of the Northwest, so the growing conditions here are pretty ideal for them: plenty of water in winter, dry in summer, good garden soil, and they don't seem to mind clay. As a matter of fact I heard they love to grow in adobe clay! They love being dried out for the summer and should not be watered when dormant, which is right after they flower. You can plant them near Eremurus (foxtail lilies) because they don't like summer water either. These corms have always been hardy for me in zone 6, but in 2009 we had an exceptionally cold winter, and that was the first year I lost any corms to cold.

Brodiaea (Dichelostemma) 'Pink Diamond' is a beautiful hybrid; it looks almost like bleeding hearts, but has more substantial stems. I first saw flowers in Jan Roozen's (Choice Bulb Farm) cooler and it was love at first sight. They were so majestic and tall I knew I had to have this beauty at my farm. This hybrid of Dichelostemma ida-maia and most likely Brodiaea congesta is easy to grow in good garden soil without additional water; it is hardy to zone 6 although in 2009 we lost about half of our corms. I treat them as a perennial, and have always fall planted them. They can be grown in high tunnels or mulched in colder climates. One cool thing about these corms is they start coming out of the ground in February, and bloom in late spring, then are dormant the rest of the year. We can usually harvest over a two-week period, the first being the nicest.

The best known Brodiaea for cutting is most likely Brodiaea laxa 'Queen Fabiola'. Its  dark blue to purple flowers open here in west-central Washington State in mid-June. Blooms cut tight can store quite well, easily reaching past 4th of July when blue flowers are a premium. The biggest problem I've encountered with 'Queen Fabiola' is that is there is too much on the market, at least here on the West Coast. It also looks a lot like agapanthus but is smaller in stature, which is more often detrimental. I love it in mixed bouquets and for bridal work, and it sells well in my roadside flower stand. It is native to northwest California, Oregon, and Washington State. It has been hardy for us and able to take seasonal flooding, though we grow it in well-drained garden soil. It shouldn't have any summer water especially after it goes dormant which is right after it flowers.Some sources say it is hardy only to 23F though it has survived much lower than this for us. I have seen it grown in high tunnels, but that should be done cautiously, because it can become like a weed in the right conditions.

Brodiaea ixioides 'Starlight' has soft yellow flowers; the buds are yellow with a brown stripe before they open, which is a nice contrast, and a really unusual flower. Brides love it for its springlike romantic impression. It starts blooming in late May and continues to have flowering stems until mid-June. It has all the other requirements as other Brodiaea: good, well-drained soil and no additional water in the summer. The stems are a bit on the short side – about 12 inches for us – so it is difficult to use in mixed bunches, but it can make a spring mixed bouquet if you get some taller stems which sometimes happens. Even so I don't think even a single bunch has ever ended up on the compost pile.

Dichelostemma ida-maia (Brodiaea coccinea), firecracker flower, has really cool red tubular flowers with green tips. It really does look like a cluster of firecrackers on a two-foot stem. As with all the above it needs good garden soil and no additional water after it blooms.  The tall stems work well by themselves or in mixed bouquets, but stems can tangle and flowers get caught together so handle carefully. In the wild these seem small but cultivated they are bold and substantial flowers.

The last of my favorites of this group in Brodiaea californica. It blooms later than the others – into July – and has larger, agapanthus-like flowers. It is native to California, but still has pretty much the same requirements as the others. It finishes up the Brodiaea season with big lavender flowers on 18-24 inch stems.

All these drought-tolerant plants are easy to grow and make great cut flowers. The flowers can be stored in the cooler for at least a week and still be of good quality. I have had very few pest problems with them, but if the bloom time is wet they can be bothered by fungus, and water during the summer can cause them to rot or decline in production.

The biggest problem is knowing what to call them: Brodiaea, Dichelostemma, or Triteleia. Don't let that stop you as these Northwest natives and their cousins make really cool cut flowers sure to charm your buyers.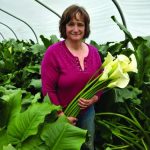 Janet Foss
J. Foss Garden Flowers
Janet Foss, J. Foss Garden Flowers, is a specialty cut flower grower in Chehalis, Washington, and a long-time contributor to The Cut Flower Quarterly. Contact her at [email protected]