There are hundreds of species and hybrids of campanulas, and many are good for cut flowers. New hybrids come out every year, tempting growers to try them, sometimes finding cultivars they really love. Campanula glomerata 'Superba' has been a mainstay for me for many years, and while I have never found any of the new hybrids that would take its place, some are worth trying.

I grew 'Superba' from seed years ago. Seed-grown plants produce quite a bit of variation: some tall, some short, small flowers and big flowers. It blooms in early summer for us in the Northwest, and has good long stems for cutting. It is a nice purple color, sells fine by the bunch, and works well in mixed bouquets. Flowering can be brought on earlier by covering plants with remay to extend the season a few weeks. Like many other campanulas it does need a cold time in the winter to bloom well. Mature clumps produce 30 stems in a square foot. When I divide the clumps I choose the tallest, stoutest plants and discard the others.

We pick just as blooms begin to show color, and can cut for about three weeks, but like many other perennials a heat wave can cause all the blooms to color up at once. We cannot hold them in the cooler for more than a week without the quality deteriorating; for this reason it's a good idea to force part of the row ahead to extend the season. Cut flowers last about seven days. Like many other campanulas, the blooms do not drop. New flowers hide the shriveled ones; the nice thing about this is the cuts are not messy.

Campanula glomerata appreciates good garden soil and regular watering, although in the Pacific Northwest I have never watered them; we seem to have enough natural moisture for them to do well, but when first establishing the plants some water will be helpful. The plants are about 30″ tall. I have never staked them; any plants that fall over are replaced with those that don't. Sometimes the whole row is simply dug and divided. What I like best about this campanula is that it stays put; I've never had it travel across the garden or self-seed around. 

'Superba' also comes in white; it is a clean white bloom, but it has been for me a much weaker plant than the purple. It doesn't increase as fast, and the stems are weak and will not stand up straight without lodging. It needs to be netted to get a good quantity and quality of stems. I like the white color, though, and am trying to grow it from seed to see if I can get stouter stems, and maybe more vigorous plants. Otherwise it is similar and nice for a cut flower like the purple variety. Newer selections are nice, but I like the seed-grown plants I have, and dividing them regularly can bump the size of stems and flowers up, if they have gotten thin or flowers seem small.

Campanula glomerata is different than Campanula glomerata 'Superba'. It runs by thin rhizomes and I have seen it take over whole yards. It's a good ground cover, and a nice cut flower; the blooms are shorter and fatter than 'Superba'. They bloom a week earlier, but they also bloom longer especially if kept cut. I actually don't care as much for this plant because of the running; it ended up more of a weed than a treasure. Also, the blooms are never as tall or abundant as 'Superba'; when I have grown this glomerata it takes at least 10 times the amount of space to produce the same number of stems. I do like it for the first few blooms, which are very nice.

'Caroline' is a good hybrid; it also runs, and appreciates plenty of moisture and some shade in hot areas. It's often  sold as pink but it is really lavender. It has a long bloom time if kept harvested. Cut flowers last about a week. Because of its lavender color I like it better than the species.

Many campanulas make excellent cut flowers; here are just a few varieties that I enjoy and consider profitable.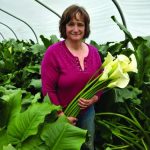 Janet Foss
J. Foss Garden Flowers
Janet Foss, J. Foss Garden Flowers, is a specialty cut flower grower in Chehalis, Washington, and a long-time contributor to The Cut Flower Quarterly. Contact her at [email protected]