In the past few years, "scrambling" or non-climbing clematis have been showing up in nurseries. These are mostly new hybrids of Clematis integrifolia. They are considered herbaceous plants because they are grown like perennials, and cut back to the ground in late winter or early spring. Many of them make long-lasting cut flowers of incredible blues, lavenders pinks and whites. They are much easier to grow than the elusive blue poppy (Meconopsis) but they will remind you slightly of that lovely flower. They also look like anemones, to which they are related, but they bloom during the summer when most anemones don't.

Most importantly, they have a good vase life. I have had cut stems last well over a week in my house but have heard of stems lasting 2-3 weeks. Many have a long blooming season, or repeat bloom, and most have buds that open abundantly in water. As clematis, they have willowy stems which need support. Square tomato cages open on the side have worked the best for me, though some of my 4- and 5-year-old plants are getting too big for the cages, and I'll need to either divide these plants or use a different system. I am considering trying the staking system Amy Hinkle demonstrated at Bear Creek Farms during last year's conference.
 
"Eyes of most unholy blue!"

Three clematis are my favorites for cut flowers. First is 'Arabella', bred by Barry Fretwell and introduced in 1990. It grows two to three feet tall in my garden and has sprays of medium blue flowers from late spring to early fall. I should mention that the flowers are medium blue for me, but in different growing areas, shades of mauve and purple may be mixed in. Clematis petals are really sepals, so they start out green and color up as they mature. 'Arabella' also has creamy to yellowish stamens which spray out from the center, adding to the texture of the 2-3″ flowers. It easily produces 16-20″ stems for cutting, and each stem has one to six flowers. The flowers last over a week. Buds will open if harvested young (half to three-quarters open) and properly conditioned. I cut them into clean water with a holding solution, and leave them in the cooler until point of sale. I did notice that on some hot days at farmers' market they may wilt slightly, but revived later in the barn.

Clematis x durandii, which is no new plant, coming from breeding in 1870s, is an awesome plant that produces incredible royal blue flowers. I like 'Arabella' better because it's such an awesome producer, but x durandii has prettier blooms; although they're a royal blue rather than blue, they are huge (4-5″) and fat and perfect, and the creamy stamens are tight like a dot in the center. The stems are stronger and longer, but have only one to three blooms on a stem. It repeat blooms but will not be as reliably in flower as frequently as 'Arabella'. The plants don't increase in size very quickly; compared to 'Arabella', five-year-old x durandii plants are one-tenth the size. Nevertheless it is a beautiful plant and cut flower.

My third favorite is 'Inspiration'. It grows 3-4 feet for me in full sun and has beautiful dark pink (mauve) flowers with yellowish stamens. It's not as full as 'Arabella' and not as tight as x durandii. 'Inspiration' was introduced in 2000. I haven't had the plants as long as 'Arabella', and from what I've seen so far they won't be as vigorous. It does bloom repeatedly all summer; the flowers are beautiful and the color is useful. I know the flowers are long-lasting, but I can't verify reports that they last three weeks.

A Truly Specialty Cut Flower

All three of these herbaceous clematis are readily available, and they are all hardy between zones 4-9. They grow best in full sun, but partial shade is fine and may be preferred in warmer parts of the country. They all like to be watered regularly but not flooded or grown in a swamp. An average ph (6-7) is preferred.

It can be challenging to cut flowers because stems tend to tangle as plants mature,  but all produce stems long enough for cutting. They need support such as netting or tomato cages; caging keeps the plants more useable, therefore more profitable. Pruning for all three is to cut them back to the ground, or to six inches, in late winter or early spring.

They can be propagated by layering, division and basal cuttings, although 'Inspiration' is still under patent (possibly 'Arabella' as well). Plants from a one-gallon pot will generally pay for themselves by the second year.

So far I haven't had any pest or disease problems, but I have heard clematis are prone to aphids, thrips, and spider mites. Several different fungi can cause problems. I'll keep my fingers crossed, but it seems the more you have of some plants the greater the chances you'll have problems.

It's exciting to know that there are quite a number of these beautiful types of clematis coming onto the market. I'm confident most of them will make good cut flowers for those looking for something truly special.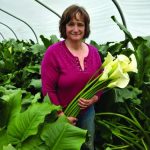 Janet Foss
J. Foss Garden Flowers
Janet Foss, J. Foss Garden Flowers, is a specialty cut flower grower in Chehalis, Washington, and a long-time contributor to The Cut Flower Quarterly. Contact her at [email protected]