This is not about the best plan, but about taking stock and making a review of the past season, so that there will be a workable plan for the next season. No matter how good the plan, there are still times when we have too much or not enough flowers. I would rather have too much than too little, but still the amount matters. My goal is for each row to be profitable, resulting in less to take care of but more to sell by growing plants that produce well and that sell.  Those totals vary every year, making for a constant shuffle of product.
A few catalogs have arrived, and I've discovered that I'm addicted to buying plants and seeds. Even with a plan in place, I worry I may not have enough. This happened recently, due to poor germination of a few things, too much rain, and then too much drought. As I start though my list of annuals, I wonder: what will do better next year?
Agrostemma githago
We have grown this annual for years. It's easy because it is direct sown, hardy, and  fall sowing produces the nicest crops. This year we planted too much, and not enough: too much at one time, but not enough successions. Weather often plays a role in the successions getting messed up, but I should have done better. We planted white this year instead of purple, which was good for weddings, but a little purple would have been nice too. Next year I need to plant shorter rows in closer successions. The best cuts are from the first two weeks to three weeks. Week one I cut individual stems into bunches but the next two or three weeks we cut the whole plant by handfuls. To look its best, I feel Agrostemma should be cut with lots of buds and no seed pods to last and look the best.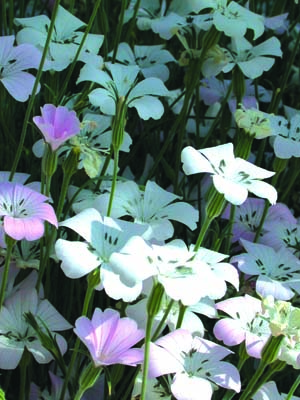 Ageratum
This is another we have grown for years. I really like only the blue color, which has an excellent vase life. 'Blue Sensation' has been my favorite; it's supposed to be three feet tall, though it never has been for us, but it does have good stem length. Sometimes it doesn't sell well, and then every once in awhile it's just the color someone wants and we totally sell out. It's long-lasting and works well in mixed bouquets. I will keep growing it next year in limited quantity, because the color periwinkle blue is rare. I usually plant it only once as it continues to produce stems all summer, but a second later planting would have been good this year. We transplant ageratum from plugs.
Queen Anne and Her Pretenders
Demand seems to have weakened for Ammi majus, but Orlaya grandiflora sales were excellent. Even though it has short stems and smaller flowers, the larger florets give it a nice look when used with other flowers. Orlaya is reliably hardy for us in zone 8 from a fall sowing and the quality is the best. Daucus carota 'Dark Knight' looks like a dark brown or Champagne-colored Queen Anne's lace.
It's more closely related to wild carrots, but with more substantial flower heads, and nice heavy stems. It produces over a longer time than either Ammi majus or Orlaya successions therefore, 'Dark Knight' actually produced more per square foot because it can be cut by the  stem for such a long time. It actually reminds me more of Ammi visnaga, but the flowers are slightly different. The flowers of Ammi visnaga are generally white or slightly green, but not a true green unless cut quite immature. The plan for next season is less Ammi majus and more Ammi visnaga, and slightly more Daucus 'Dark Knight', and it's especially important to sew some Orlaya this fall. We direct seed A. majus but transplant A. visnaga and 'Dark Knight'.
Pot Marigold
Calendula has never been one of my favorite flowers; the flowers come and go so fast it's hard to keep them picked before they go to seed, and it easily becomes a weed. Even young blooms tend to look wilted. The color is not my favorite, and it doesn't sell that well. The flower heads break, and tangle, easily. How's that for a list of good reasons I don't grow this crop?
But last spring a bride wanted orange for a wedding June 1st, and since calendula was a pretty good choice I ordered plugs of orange calendula, from the Prince series. I was surprised to realize that these were the best calendulas I've ever grown: they had strong, 24-inch stems, and they produced for weeks. Most importantly, they sold well.

The Prince series is supposed to be good for forcing, but in my plantings, they flowered in the greenhouse and outside the same week, and the outside blooms were better. An earlier planting in the greenhouse would probably be more profitable forcing-wise; I plan to try it early for the greenhouse and some later planting for season extension.

So begins the plan for next year. This year has actually been a good year, every year has good and bad, surprises and disappointments. A good plan prepares me for next year but still who knows what will happen, I look forward to whatever it is.
Top Right Photo: Agrostemma Githago
Middle Left Photo: Ageratum
Bottom Right Photo: Calendula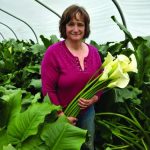 Janet Foss
J. Foss Garden Flowers
Janet Foss, J. Foss Garden Flowers, is a specialty cut flower grower in Chehalis, Washington, and a long-time contributor to The Cut Flower Quarterly. Contact her at [email protected]