At this writing, we are two meetings into our "experiment" in honor of our 25th anniversary: four Super Regional Conferences around the country and the calendar. WOW. In Texas and North Carolina, hordes of growers came out to learn and laugh, tour and talk with each other about cut flowers. Thanks to all of you and to our hosts and our sponsors. It is so exciting to have your energy and participation—I can't wait to see how the October and November meetings go! Mark your calendars and sign up now for one of those meetings if you haven't come out yet (or even if you have).
Advocacy and the ASCFG
Another exciting initiative came out of the Tacoma conference. Diane Szukovathy got folks together to talk about cooperation with other groups to advocate our local and regional flowers across the country. She asked Kasey Cronquist of the California Cut Flower Commission to speak at the conference. He has an excellent perspective; California cut flowers are 80% of all the flowers grown in the U.S., but United States flowers have dropped from 80% of what is sold in this country to only 20%, with South American flowers picking up the balance. This is just since 1990! This is a huge issue for big growers that have to try to compete with these tariff-free flowers. This is also an issue for smaller, direct-market growers, as we have our fresh local flowers compared to product shipped in from Colombia. These are often not marked as imports.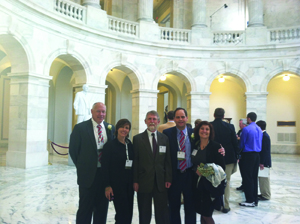 The idea of working with CCFC was approved by the members at Tacoma. As a result, the California growers invited the ASCFG to attend their lobbying "Fly-In" in February in Washington, D.C. Many of you commented on our Facebook photos—your flower farmers in suits! We had a great group of ASCFG growers: Dennis Westphall of Jello Mold Farm, Washington State, Dave Dowling and Ko Klaver of Maryland, Andrea Gagnon of Virginia, and myself from Rhode Island. The excellent firm that organized us and made our lobbying effort effective is Stewart and Stewart, who has been advocating for flower growers in one form or another for over thirty years. There were fifteen growers from all over California as well, including ASCFG member Mike Mellano, Sr.

What Did We Do?

Ran, sometimes literally, from one side of Capitol Hill to the other, as Stewart and Stewart had scheduled meetings with as many of our members of Congress as possible, as well as with top staff people at USDA and other offices. We had an incredible reception, and several folks were really happy to hear about flower growing in their state, and meet actual farmers. Some of the growers testified at hearings with the EPA and against renewing Ecuador's tariff-free status.
What Did We Say?

One effort that we all promoted with House staffers and congressmen was the initiation of a "Flower Caucus", a group to address the needs of flower growers and to promote other activities around American cut flowers. This appears to have been successful, with a number of Representatives signing on and a chair from each party.

Secondly, we were there to raise awareness of the uneven and ineffective labeling on imported flowers, and to promote the idea of a unified system of promotion by state of cut flowers. Some states have a label we could tie into, for example "Virginia grown" for produce. This initiative is a natural one for the ASCFG. As part of this, we helped our congresspeople become more aware of the value of floriculture in their states. From our perspective as ASCFG growers, this was the most important thing we were there to do.
Finally, although this was not our major intent, we mentioned our support for real immigration reform, including portable visas. This will benefit any grower who uses imported help, and as Jose Ortiz of Joseph and Sons so poignantly pointed out, it is a human rights issue. It is time we took a page out of Canada's book and made it easier for guest workers to come and go.

What's Next?

We are incredibly grateful to the CCFC and Stewart and Stewart for including the ASCFG in this historic trip, and we look forward to working with them in the future. Towards this goal, the board has approved an ongoing committee on Advocacy and Governmental Affairs. The co-chairs are Andrea Gagnon and Dave Dowling. We hope to come up with a plan to fund further efforts and determine what the ASCFG can do with our resources to advocate for specialty cut flower growers, as well as work with larger growers like those at the CCFC.
We will also be inviting all the CCFC growers to become a part of the ASCFG. I recommend for those of you who buy flowers in for events or your shop to look to buying from California or other large growers over the imported flowers, after you have looked to ASCFG members, of course. Some of the CCFC growers are easy to find at the wholesalers; Joseph and Sons for stock and other crops, Mellano, Sun Valley, gerbera from Maximum Nursery, and Ever-Bloom. Another cool grower is Resendiz Brothers—all specialty South African and Australian natives.

Finally, we are more than just a United States organization, and we value and welcome our Canadian and international members. However, the basic tenets behind this effort are shared values among all our members, and this is an important issue to part of our membership. The majority of members are selling locally or regionally, we all face competition from cheap import flowers. Better labelling, and national advocacy will help all of us.

One Last Thing

We do have another advocacy item in the works; we will be there in force at this year's OFA Short Course. Linda has designed a great ad you'll see in Florists Review, we'll have a couple of workshop slots, and we'll have a beautiful display in the Columbus Convention Center. We are very excited to be a part of the largest trade show and conference on horticulture in the country, and we are grateful to OFA for extending the invitation and helping us to reach future florist and grower members there. This effort was spearheaded by Ko Klaver, and we have American Grown booklets and lots of flowers coming from CCFC growers to help with our unified message. Join us there if you can.