Farm to Vase, Madison, Wisconsin
Broken pottery, computer keyboard keys, and styrofoam packaging. Everyday objects, even minimally altered, can have a stunning and provocative impact. Pablo Picasso and Salvador Dali used Found Objects to create works of art that grapple with man's contribution and impact. Andy Warhol, expressing the fact that the richest and the poorest Americans often consume the same products, used silver paint on Coca-Cola bottles. In recent times, as green principles and recycled materials are increasingly in vogue, clothing designers are making high-fashion garments entirely from thrown out, found, or repurposed elements. Trashion, they call it. Found Magazine, created by Davy Rothbart and Jason Bitner, collects and catalogs found notes, photos, and other interesting items, publishing them in a magazine, books, and on FoundMagazine.com. Items range from love letters to grocery lists, and they are contributed by people who find them in public places. All of these projects remind us that art, beauty, and truth can be found anywhere, if only we allow our eyes to open wide. 
Nature leaves us with objects to be found as well: bark, nuts, fungus, husks, pods, stones and more.  How often do we walk past these natural items without a second thought? Occasionally, as in the case of a shed antler, we might even regard the object with annoyance because of the deer control problem of which we are reminded. As we walk our land, headed to our rows of stunning flowers, these discarded treasures blink up to us, asking that we value them too.
As a designer in Wisconsin committed to using only local flowers, I suppose my use of natural found objects has come, in part, from necessity.

In January after a foot of snow, pine cones become my roses. Milkweed pods are my orchids. Evergreens, birch, holly, winterberry, dogwood, curly willow, hare's tail grass and gold mop cypress can go a long way, but I have to be very creative to keep my own interest and that of my buyers. I have joked that if I could, I would deliver my customers a cardinal sitting on a snowy branch. (Well it would be lovely, albeit fleeting!) Designing directly from the local land in a northern climate requires an open mind and an uninhibited eye. 

Despite the challenges, I am constantly rewarded by the surprises and full scope of nature around me. When the temperature drops and the distractions of the showier plants have fallen away, the elegant structure and essential simplicity of the landscape is revealed. The more I walk quietly and look with care, the more I truly revere the shapes and colors of the current season, with no nostalgia for the season gone. Only rarely do I find myself trudging through the snow humming Simon and Garfunkel's "April, Come She Will." (Eco-floristry pep talk.) And only until bright yellow lichen on a cold fallen branch grabs my attention and stops me, agape. Its yellow-on-gray contrast is as illuminating as forsythia in spring.  Green moss on fallen bark pops forth with the freshness of bells of Ireland. A geometric gem such as an old wasp nest section takes on the esteem of the sacred flower of life. At those moments, a florist and a human couldn't ask for more.
This is my experience; this is my climate. Florists around the country will have their own regional found items to use and enjoy. Clamshells, molted snake skin, driftwood, volcanic rock, geodes, Spanish moss. What gifts does your local landscape have tucked away, and how will they vary throughout the seasons? If you are a grower who sells to florists, start to see items you find as potentially valuable. Can you offer a box of perfectly formed pine cones or bright white strips of birch bark? Florists might love to buy these items from you. Wisconsin's own Star Valley Flowers even offers a Woodland Pack for sale in May, filled with a changing selection of artifacts found in the forests. At any time of the year, a well-placed found item in a floral arrangement can be visually stunning, and will remind your buyer of the land on which the flowers were grown. A Chinese proverb tells us, "When you drink the water, remember the spring."  For our purposes we hope to impart "When you adore a flower, remember the field."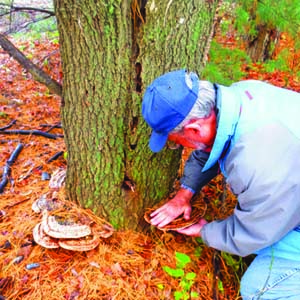 Emily Watson, ASCFG member and owner of Stems Cut Flowers in Milwaukee, Wisc., also works to make these connections in her buyers' minds. She says "Demand for locally-sourced products seems to grow every year. The availability of unique and seasonal items being sold by a person with a story, living in their community has become really appealing. But it takes a long time to forge that relationship and educate your customers. Change is hard for people, they have routines, and they have grown accustomed to price points that we can't always match." Emily and I agree: It's no reason to stop trying. (Go Badgers!)

As we work to educate people about the negative consequences of buying imported flowers, we must consider what we do in our own design work to differentiate our product. Yes, we know our flowers are fresher and will last longer. We know they were cut by people who are supported with fair labor practices. We know they have not been doused with chemicals to survive a long journey. But if the look of our designs is a mere replication of a vase of South American flowers, then how does a consumer tell the difference? Some of our regions have begun intentional marketing strategies, such as "CA GROWN," and in my own area "Buy Fresh Buy Local."
Communities with "Buy Local" campaigns saw an average increase in revenue of 7.2% for independent businesses. That compares with a 2.6% revenue increase in communities with no such campaign (Institute for Local Self-Reliance, 2012 Independent Business Survey). For our printed materials and websites, these logos can really help a buyer know they are making a responsible choice. 
But once those flowers are set apart from the marketing materials, we can still have visual cues that continue to educate. How do we stamp a flower? We can't. (Well, technically we can, but of course we won't!) We can, however, stamp our design work by using found items that evoke our regions. Think of these items as your floral arrangement's identity badge, part of your brand, announcing loud and clear "We are fresh. We came from land that reminds you of home.  We are different, and that difference matters greatly."
Most people don't spend nearly the amount of time outdoors that the members of the ASCFG do. We are infinitely fortunate in that way. But the average American is often yearning for the woods and the prairie, the water and the trail. He is craving that unplugged time to spend exploring as he did as a child, smelling the earth, feeling the sun and the wind. Being able to provide a floral design that captures a small glimpse of that experience is an honor. Folks in nursing homes and hospitals, the blind, and even new parents are particularly pent up indoors, but unfortunately almost everyone else is nature-starved as well. Think of the impact your designs can have and carefully consider the tone. The traditional floral accoutrements such as ribbons, tags and plastic floral picks remind a buyer of mass production, imports, and landfills. A natural found item will remind them of the outdoors, freshness, and authenticity. Shelf fungus on a vase evokes an autumn walk through the woods to reach the open rows of flowering kale. A birch bark-wrapped vase whispers of an canoe on the nearby Wisconsin River long ago. At the least, a found item can make a buyer smile; it can be a conversation piece at her dinner party. But at the most, it can be a subtle way to educate people about the floral industry, and ultimately change the way people buy flowers in this country. 

Tips and Cautions When Using Found Items

•  Always be aware of your local regulations. Some beaches have restrictions on the removal of driftwood. Robin egg shells, for instance, cannot be bought or sold because of the Migratory Bird Act.
•  Know your buyer. Using a found antler or feather could cross a line if you are selling to a vegetarian! 
•  Avoid a crafty look. Too many pine cones, glue, and overworked items can all defeat the purpose of evoking freshness and nature. Most found items can be inconspicuously tied to a vase or tucked into an arrangement without a cost to the elegance and sophistication of your work. Tiny clear rubber bands found in the hair accessory section of a drug store are great for hooking a pine cone to a twig in an imperceptible way. Use some dabs of honey to wrap birch bark around a vase so the buyer can easily wash it off later.
•  There are lots of tips online that will give you easy ways to clean and sanitize found items that need extra care before sale. For instance, you can microwave Spanish moss for 20 seconds to kill any chiggers or spider mites. Soaking shells in a 50/50 mix of lemon juice and water for an hour will neutralize the fishy smell. 
•  Don't be afraid to use "nuisance" items. Sure, cicadas, barnacles, and zebra mussels can be challenging creatures, but in a floral design you have a unique chance to highlight their beauty. In Greek mythology, cicadas represent reincarnation and evanescence. Put aside your prejudice and give them a moment to shine. Imagine a beaver-gnawed branch tied to a vase of carnivorous flowers.  A touch of whimsy can help any landowner take his wildlife-frustration down a notch. Ann Sensenbrenner
Farm to Vase
Ann Sensenbrenner is the owner of Farm to Vase in Madison, Wisconsin Contact her at [email protected]