June is typically the month schoolchildren are released, families plan vacations, and gas prices climb as roads fill with travelers. No such leisure awaits flower growers, especially this year, after such a late and cool spring pushed back production and harvesting for many in several states. Now it's catch-up time.

It's similar for us in the ASCFG office. After a bustling early 2013, with grower meetings in North Carolina and Texas, a Board of Directors meeting, and planning for two more meetings, in Ohio and Rhode Island, we're able to settle down a bit, to concentrate on and look forward to other projects.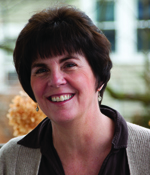 The ASCFG web site is undergoing a facelift. It doesn't need major surgery, but a few lifts and tucks here and there. Occasional injections of filler are necessary to keep any online information fresh. We're always checking Member Pages in the Flower Search, and are pleased to see that you're also updating yours, adding photos and links, and tweaking your Description of Business as your companies evolve. If you're not, or if you need help, we're happy to provide it.
If you haven't looked at the ASCFG site lately, check it out at ascfg.org. Let us know what you might change.
One of our goals is to create an index of the back issues of The Cut Flower Quarterly that are posted in Members Only. Twenty-five years, four magazines a year—that's a lot of Culture Profiles and IPM Updates to catalog. It will be a boon for new members, who will be more easily able to find archived information.
At the same time, we're looking at the larger picture: promoting locally-grown cut flowers to retail and wholesale customers, and to the general buying product. Our participation in the OFA Short Course, and sponsorship of this year's "Floral Ideas in Design", give us another toe in the door.
Many florists and designers come to Short Course from the middle of the country, where they may not have as easy access to specialty cut flowers as those from more densely populated areas. It is truly a revelation for some of them to see firsthand our growers' fresh lilies and sunflowers, monarda and dahlias, and woodies and peonies.
Just as valuable are the efforts made by our national partners in promotion. Debra Prinzing, author of The 50 Mile Bouquet and Slow Flowers, writes frequently and eloquently on the value and importance of locally-grown flowers. She knows many of our growers personally, and is our most effective and enthusiastic cheerleader. Kasey Cronquist is the CEO of the California Cut Flower Commission, and is a tireless advocate for American-grown floral product. His projects for the Commission are beautifully done.
Working together, we can raise awareness of the easy availability, and superior quality of our cut flowers.
Flowers leave some of their fragrance in the hand that bestows them.
-Chinese proverb