My Aunt Irene lives in Detroit. She is 96 years old. Aunt Irene still walks to the grocery store, mows her own lawn and shovels the snow. She gardens every summer, and every fall, much to the chagrin of my brother who lives nearby, Aunt Irene climbs up on her old wooden stepladder and cleans the leaves out of the gutters. 
I think what keeps her going is her sheer fascination with life. Aunt Irene is one of the most inquisitive people I know. She wants to know about everything, everyone, and everywhere. She never married, but when she was younger, she was a quite a world traveler. She would hop on a bus for Acapulco or New Orleans. She has boxes full of glass Mardi Gras beads that must be collectors' items now.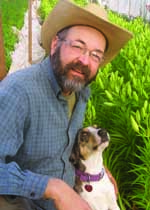 She would sail across the Atlantic in the Queen Mary to meet up with a tour group for a summer in Europe. She would never fly, not since a harrowing event in the 1940's flying through a hurricane on her way to Bermuda.
While in her eighties, she and her sister, Aunt Mary, would take an annual train trip down to Texas. During one trip home, the train hit a garbage truck out of Austin and derailed. Strong young men carried my aunts, unharmed, from the train and the local television station a saw a photo op. They asked Aunt Irene if she would ever ride a train again. "Of course I will!" she said. "If this were a plane, I'd be dead."
Rocks the Size of Volkswagens
I'd like to think that I inherited some of Aunt Irene's sense of adventure. Pamela and I are always looking to push the limits on our farm. New crops, new greenhouses, new markets. To that end, we can sometimes be impulsive. Several years ago, one really hot August day, I picked up a copy of Growing for Market. In the back was an ad for a flower farm in northern Minnesota. Trees, creek, house, workshop, surrounded by National Forest…it seemed too good to be true. I asked Pamela "What do you think about moving to Minnesota for the summers?" Without batting an eye she said "I'm on."Before we knew it, we had booked a flight, scheduled visits with realtors, and came home completely infatuated with a little Finnish homestead deep in the Superior National Forest north of Duluth. Not the farm we went to look at, but one four miles down the road.

The idea was to get out of Texas for the summers and take a break from farming. As Molly Ivins would say about the George Bush family in Kennebunkport, we wanted to use the word "summer" as a verb. But we don't have the financial resources available to the Bushes. We still had to make a living. I looked around the new homestead and knew immediately what I wanted to do. Peonies! This place could grow peonies.

This was completely new ground for us. The Minnesota farm was far enough north that it looked more like Alaska than Minnesota. This was boreal forest. Spruce, fir, and poplar covered 45 of the 47 acres on the homestead. We've seen wolves in the driveway. Rocks the size of Volkswagens peeked up out of the small fields. We saw opportunity and adventure combined.

Our "new" homestead was built in the early 1900's by a man named John Toivonen.  The little community of Toimi, Minnesota was settled by newly-immigrated Finns, and they scrabbled out a living after being kicked out of the mines in the Iron Range just to the north for "organizing". John Toivonen built the house, barn and sauna cottage out of hand-hewn, foot-thick tamarack logs. He raised cattle, worked in lumber camps, manned fire towers in the summers, and taught CCC classes on log construction during the depression. He outlived two wives. He learned woodworking and made furniture. He reminds me of my Aunt Irene. His house and buildings are still in great shape, and we cook and heat using his gigantic wood cook stove in the kitchen.

Much of the house is still as he left it. His daughters had no children, and sold the house in the late 2000's. We bought it after some hunters had used it a few seasons. They lived on top of the Toivonen's possessions, and left a sedimentary layer of beer cans, liquor bottles, and cigarette butts. The Toivonens' dishes were still in the cupboards. File cabinets were filled with WW II ration books, old bear hunting licenses, blue ribbons for prize-winning rutabagas, and John Toivonen's notebooks, mostly in Finnish. We have been able to put together a lot of the history of the place.

We took one look at Toivonen's old rutabaga fields and immediately saw peonies. They would be very late season, possibly the latest in the lower 48. That would give us an advantage. Also, Duluth is at the northern terminus of I-35, which runs south through Texas. The shipping warehouses of all of our main grocery store customers lie along I-35.  All our customers were enthusiastic about getting Minnesota peonies, so our new business, Superior Peonies, was born.  From the North Star State to the Lone Star State.

We often say that we "farm the margins". Central Texas is not a great place for growing anything except goats. As a horticultural location, it is marginal at best. It is not for the weak of heart. Recently I had to run to my truck as a storm cell ripped through the field.  Suddenly I was in a "white-out" of wind and rain, and when it was over, two greenhouses were smashed flat from a micro-burst. But like Aunt Irene, we get back on the next train. There is an incredible market here, so we make it work. There is money to be made in the margins.

Flowers First, Then Fishing

The same applies to growing flowers in a boreal forest. There was still snow on the ground last May. There are stories of John Toivonen burning tires in his potato crop in July to prevent frost! The low temperature last winter was minus 47! The summer growing season can be less than 90 days. Wicked weeds such as spotted knapweed and hemp nettle spring up everywhere. But the long summer days make up for the short season, and plants grow like crazy. Late peonies such as 'Sarah Bernhardt' bloom in late July or August, well after the main season.

Once we got the idea about peonies, things quickly got out of hand. We filled up John Toivonen's small fields the first season with 1500 plants, and then realized that it would be too hard to clear any more land at this farm. By the following fall, we had bought a 40-acre pine plantation nearby, cleared 11 acres, and used the proceeds from the timber to have the stumps cleared and the land plowed. We planted 3500 peonies there last fall, and 5000 more this fall. Another 3000 are ordered for 2015. The neighbors don't know if we are crazy like a fox, or just plain crazy. But they are watching us. You betcha!

We will still grow flowers in Texas, even though the two farms are 1400 miles apart.  Once the peonies are in full production, we will run our Texas farm until Mother's Day, head north, cut and ship peonies in July, and then go fishing. The fishing in northern Minnesota is legendary. We figure that 20 years of farming in Texas every August has earned us a break. Come November, we will back in Texas planting anemones and ranunculus.  

My Aunt Irene will tell you that the secret to a long life is to stay active. (She also says that "It pays to be seen." and that "You can never be overdressed for an occasion". She still fits into all her dresses from the Big Band era.) John Toivonen also stayed active, and lived in the house he built himself until the day he died, three months shy of his 100th birthday. People have asked us if we are retiring to Minnesota. Not a chance. For one thing, we are still in our 50's and have a mortgage to pay! But I don't think we will ever retire from the flower business. I just hope to have a little more time to go fishing!