What it's like to go from being a grower/buyer/user to a supplier/seller/pusher
Once upon a time, outside the small town of Brookeville, Maryland, I stumbled onto flower farming. It wasn't anything I had ever dreamed of becoming. Farming wasn't any fun. Why would I want to do that? I always hated weeding the vegetables as a child, and hated it even more as a teenager. I never dreamed I'd be a farmer. I had always had a flower garden wherever I lived, but that was gardening, not farming.  

Living just 20 miles north of Washington, D.C., I would often ride my bike along the hundreds of miles of bike trails. It was not unusual to ride 75-100 miles each weekend. One Sunday afternoon, I rode to the Takoma Park, Maryland farmers' market. They were having some special fall festival that week, and I figured there would be some good "festival food" like ice cream or funnel cake and great people-watching. As I was eating an ice cream cone, watching people go by, someone walked by with a huge bunch of cosmos. I commented to my friend that I had lots of cosmos growing at home, maybe I could sell it. A little light had gone off in my head.
Fast-forward to the follow-ing summer:  I'm on another bike ride, this time with different friend, a fellow gardener, who taught an aerobics class. She had a married couple in her class who grew a lot of flowers, and sold them at a farmers' market. She thought I'd like to see their place. (Full disclosure: I've never attended an aerobics class; we were in a volleyball league together.) The couple was Carol and Leon Carrier, of Plantmasters. When we got there, I couldn't believe what I saw. These people had taken their back yard, in a suburban neighborhood, and turned into a flower farm. There were beds of sunflowers, coxcomb, and zinnias. Lots and lots and lots of them. Their back yard was packed full of flowers. Flowers I had never seen or heard of. They were even growing things in their neighbors' yards. It was crazy. 

$36 in Three Hours

That little light that had gone off in my head the year before was now as bright as the sun that was shining on those sunflowers and zinnias. I wanted to do what they were doing. I wanted to be a flower farmer. I didn't know what it would take, and I didn't know what I was doing. But I did it anyway. By the next summer, I was signed up for a weekday farmers' market in Rockville, Maryland. (The Saturday market had a waiting list.) When filling out the market application, there was a space for "farm/business name". I had never even thought of a name, and the application was due yesterday. The name "Farmhouse Flowers & Plants" popped into my head as clear as day, and even included the layout of a future logo. This was meant to be.

I remember my first market day, on a Wednesday in June. I sold $36 worth of flowers in three hours. YES! Then they let me attend two Saturday markets because a veggie farmer was going to miss the first two weeks. I sold $100.00 in four hours. I was hooked. It sure helped that I was working full time at a local garden center. Something had to pay for this new flower farming thing. Employee discounts on supplies made it even better.

After a couple years of winging it, not really knowing what I was doing, I got into the new Dupont Circle Farmers Market in D.C. (Talk about being at the right place at the right time…)  At the market, I met another flower farmer, Bob Wollam, who told me about this group called the Association of Specialty Cut Flower Growers. He said they were having some conference thing up in Worcester, Massachusetts in a few weeks, and that I needed to go. I said maybe, but I can't go on such short notice. In reality, I had no money to pay for it on such short notice. Bob insisted I join the ASCFG, even though I couldn't make it to the conference. I had to wait a couple weeks to sell enough flowers to pay for the membership.

Getting into great markets like the Dupont Market, and joining the ASCFG changed my life forever. Really. They did. Forever. The two events happened in the same year, giving me a huge increase in sales and an even bigger increase in my flower growing and marketing knowledge. This allowed me to expand and build a new greenhouse or tunnel every couple years, until I had seven greenhouses and two tunnels. Farmhouse Flowers & Plants had grown to be a flower-producing machine that cranked out cut stems year round for our flower-hungry customers.

I served three years as ASCFG Mid-Atlantic Regional Director, and four years as President. I've attended conferences from coast to coast, visited dozens of flowers farms around the country, and given presentations in at least eleven states. Somehow there is even a scholarship named for me! All because Bob Wollam insisted I join the ASCFG.

One of the Jersey Boys

Years later, I sold the family farm to a nephew. The plan was for me to continue flower farming into the distant future, while he ran his landscaping business from the farm.  It was supposed to make my like easier, with no mortgage, and him paying me monthly payments while I continued flower farming. But things don't always work out as planned.   He got a loan that he couldn't repay when his landscape business faltered and closed. He eventually lost the farm to the lender at public auction. I was forced to close my flower farm earlier this year.

I attended the auction at the courthouse. It was a sad and scary day. Sad because I would be forced to close my business, and scary because I had no idea what I was going to do. It was sad because the farm, which had been in the family for 70+ plus years, was no longer in the family. In this age of social media, email, and the internet, I went home that day and spent over eight hours drafting emails to suppliers, market managers, fellow growers, and favorite customers that had become like family. I created a Facebook post explaining what happened, and posted on the ASCFG Bulletin Board that I had closed. I updated the web site's front page to say thank you to the hundreds of customers who had come to count on us for their weekly flower addiction. I posted a list of items to be included in a closing sale. It was 4:00 in the morning by the time I hit the "send" button on all those emails and social media posts. I finally turned off the computer and phone and went to sleep around 5:00 a.m.  It had been a long day.

I awoke three hours later to dozens of texts, phone messages, and Facebook posts expressing shock and sadness about my closing down the farm, and care and concern about how I was doing. I started getting requests for the items I was selling, and had to create a spreadsheet just to keep track of everything. I spent twelve hours that day dealing with the responses to my announcement. Even months later, I get the occasional email from a customer who had been to a market and was disappointed to not see us there. The outpouring of support and caring was overwhelming. It helped me get through a really tough time. More than anyone can imagine.

One of those phone messages, two texts, and an email were from Jeff den Breejen of Ednie Flower Bulb. I had been an Ednie customer for more than ten years, and a part-time sales rep for the past three years. Jeff wanted to know what I was going to do. He basically offered me a job if I wanted it. He didn't know what exactly I'd be doing, but he said they would figure out something if I wanted to work there. I told him I didn't know what I was going to do, but I wasn't ready to make any long-term decisions yet. I needed to take some time to figure out what I wanted to do. I put him off for a few weeks, and then a couple more weeks.

I didn't know what to tell him. I had lived on the same street for just about my entire life; did I really want to move far from family, 4 ½ hours away, to Jersey? After considering other options, I decided moving to New Jersey to work for Ednie would be the best option. We came to an agreement on the usual job parameters, but realized no job description is set in stone. The company's needs change, and the workload changes with the seasons. I've learned a lot about how the supply side of the business works—both the good and bad. I've been working on finding new customers, taking care of existing customers, making sure orders ship out as scheduled, doing a little marketing, and helping customers who call with questions about cut flower growing. We even grew over 7,000 potted lilies for one of the big box stores, something new for Ednie.

I like to say I'm in sales, marketing, customer service, shipping/receiving, growing, and grounds/building maintenance. Oh, and I sometimes made the ice cream run on hot afternoons. I like the new job, and the challenges that come with it. It's far from family, but I get weekends off, and it's only a 4 ½-hour drive back to Maryland.

After I made the transition from flower grower to bulb seller, I was asked by the ASCFG Board of Directors if I would be interested in being the Industry Liaison to the Board. First, I had to ask my boss if I could do it. (That sounds strange after 20 years of being the boss.) He of course said yes. I'm a non-voting member of the Board, helping the Board understand how suppliers and growers can help each other, and how decisions by the Board, which is comprised mostly of flower farmers, may affect suppliers and the industry.

I've always had a "Don't tell me why we can't do it, let's figure out how we can do it." attitude in life. I'm hoping to bring the same attitude to this position and look forward to helping the ASCFG in any way I can. Feel free to contact me with any questions, concerns, or ideas you have relating to the ASCFG.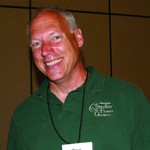 Dave Dowling
Sales Representative and Warehouse Manager
Dave Dowling is a Sales Representative and Warehouse Manager for Ednie Flower Bulb. Contact him at [email protected]