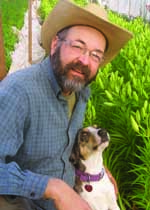 A few years back, the editor of a farming publication asked a number of growers to name the one thing they considered most important in making them a success as a farmer. I think the answers the editor had in mind were something tangible, like a new piece of equipment, maybe a specific crop, or a great location or market. I said, "Education." I felt it was my education in horticulture that made it so that we could withstand all the adversity that Texas had to throw at us and still take advantage of the incredible market that we had for locally-grown flowers. But my answer didn't get published. I was told that it really wasn't feasible that new growers go back and get an education in horticulture, so that answer wouldn't work.

I still believe that I had the best answer, even though I understood that most people were not going to enroll in a four-year program in horticulture. But without knowledge, how can you take your project to the next level? How can you be the very best? 
For over twenty-five years, the ASCFG has been the leading resource in educating growers about producing and marketing specialty cut flowers. That is still the main focus of the association. "Growing Growers", the theme of this year's National Conference in Delaware, puts our focus front and center. The Conference highlights what makes our organization unique: our mem-bers are so willing to share information and lift up other growers with their enthusiasm for what they do.
It reminds me of some-thing the writer Bill Moyers once said when asked if he was a "Liberal". He told the interviewer, "If by 'Liberal' you mean that I believe that collectively we can accomplish more than we can working as individuals, then yes, I am a Liberal." Politics aside, that is what I think is best about this group. Collectively, we all do better when we come together and share our strengths.

But education within our group is only one way we can grow better growers.  We also need to look at recruiting young people into our industry to grow our businesses. To that end, the Dave Dowling scholarship was established, and this year we were able to award scholarships to two students enrolled in horticulture programs. I can tell you firsthand how important that is because our son Janos received this same scholarship before I knew I would be on the ASCFG Board. Aside from the financial support, these scholarships tell students that there is an industry out here that needs and supports them, and that they are making a good choice to pursue a career in floriculture.

This is becoming a serious issue. There are fewer and fewer students studying agriculture and horticulture every year. Enrollments are down, and we have a very hard time recruiting people to work at our farm. We recently posted an internship opportunity on the Texas A&M University's "Aggies for Hire" website.  We offered a chance to work and learn with us in all we do, $10 an hour, housing, and a $500 scholarship toward the fall semester when they finished the summer.  We had zero responses. None. Zip.

I can't help compare this with what I saw during a recent trip to Ecuador.  The farm we visited had a dedicated and well-trained team of young graduates managing the farm. The two-year Vo-Ag programs there turn out capable, enthusiastic people willing to work in the cut flower industry. Ecuador has a lot of advantages over us, and I found myself green with envy over the availability of young people with a real passion for growing.

I think our industry is finally waking up to the seriousness of the matter.  Recently, a group of leading horticultural institutions, including the American Society for Horticultural Science, Longwood Gardens, The American Public Gardens Association, and others have put together a program to promote horticultural awareness among the general public. The program seeks to improve the public's perception of horticulture as an important industry through outreach to young students in programs such as 4-H and FFA, with the long-term goal of increasing the number of young people who see horticulture as a valuable and fulfilling career.  This is still in the planning stages, but the ASCFG has been asked to be a participant in this project, and I believe our support is very important.

We have also been asked to support a national effort to promote and market American-grown flowers though a logo program that will be available to American growers. The ASCFG has contributed $2000 to the development of a "Certified American Grown" logo. This is not part of any federal marketing or promotional order, or government organ-ization. The group, led by the California Cut Flower Commission (CCFC), includes grower organizations from Florida, Alaska, and Hawaii. This is a grassroots effort, led by growers themselves, to increase awareness of local, American-grown flowers. The logo will be available to all American growers to use on a fee-based system.  The fees will be on a sliding scale according to sales volume, and the CCFC will administer the program until a group can be formed to manage the logo program. As I write, the logo design is complete and will be released as soon as the legal and trademark matters are finished.

This program is an effort to increase awareness that local, American-grown flowers are available year-round and that consumers can make a choice between imported flowers and American-grown flowers. This might seem like a no-brainer, but even the White House didn't understand this until recently. At a recent State Dinner given for French President Francois Hollande, the White House (finally!) used American-grown flowers for the table arrangements. USDA Deputy Secretary Krysta Harden wrote about this on the USDA blog, and received almost 150 responses, more than just about any other blog the USDA ever posted! You can see the blog and add your encouragement at http://1.usa.gov/1m9Ipj7

Why haven't the White House and other U.S. governmental agencies been using American flowers all along? Education. As with most consumers, they probably didn't know they had a choice. But right now we are building momentum for educating the American public that they do have a choice. In late February, a group of growers visited congressmen in Washington, D.C. to stress the importance of our industry and the challenges we have from imports and other factors. In response, Rep. Lois Capps(D) and Rep. Duncan Hunter(R), both of California, launched a bipartisan Congressional Cut Flower Caucus to promote the interests of American growers in Congress. This is a huge step towards getting recognition for our industry, and the caucus will focus on educating members of Congress and their staff about the importance of the domestic cut flower industry. Floriculture is the third-largest agricultural crop in the nation, and it's about time we flexed a little muscle!

Bringing it back home, I think that education has to be a never-ending process. After 20 plus years of farming in Texas, we have taken a left turn and started a peony farm in northern Minnesota. Talk about a learning curve! But that is what keeps it fun. And getting back to my original thoughts about education, I have to point out the inspirational story of Mimo Davis.

At the recent Growers' School in Fort Worth, she gave an amazing presentation about greenhouse growing, but her personal story is even better than that. Starting from New York City, she ended up growing cut flowers in rural Missouri. After growing for many years, she realized that there was just SO much more to learn, and she went back to college. Mimo got a degree in horticulture, followed that with a master's degree from North Carolina A&T, and is now a Regional Horticulture Specialist at Lincoln University in St. Louis.

On top of that, she is back growing cut flowers, and with her partner Miranda Duschack, she now runs Urban Buds in St. Louis. They are currently restoring an old florist greenhouse in the middle of town. It is one of the coolest projects I have ever seen. I hope Mimo will be presenting her story at the Growers' School this fall, and I can tell you, it's not to be missed. At one point in Fort Worth, there wasn't a dry eye in the room.