Here in Texas, when it looks like you are about to be pulled into some mess that you want no part of, you'll say "Whoa, I don't have a dog in that fight." That doesn't mean that we wouldn't like to hang around and watch the proceedings. But don't drag me into that scuffle.

My wife, Pamela, and I have been involved with the ASCFG for almost 20 years.  Back in the day, when Pamela, and then I, served on the Board, the issues facing the group were very different. Getting the ASCFG on firm financial ground was always an issue. Building membership was vital. The research Foundation was just being set up.  The Quarterly was printed in one color, and there were some heated discussions concerning whether we could afford to go to full color. That was a fight I did have a dog in, and I am glad to see that the Quarterly has become the finest trade organization magazine that I know of. We can all be proud of that.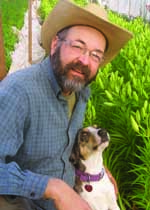 One thing that hasn't changed is that the ASCFG is first and foremost an educational organization. The Growers' Schools and Regional Meetings are like boot camp for new growers. The National Conferences are a great forum for all growers, big and small, to meet and exchange ideas. And therein lies the strength of this organization. We learn from each other. I know of no other trade organization where growers will so freely share what they know. According to a recent article in GreenProfit  magazine by former ASCFG board member John Friel, trade organizations across the green industry are losing members. Not the ASCFG! I am glad to say that the ASCFG continues to add members.

My one concern is that over the years I have perceived a subtle division between "small" growers and "big" growers. I can't tell where that line is, or even where our farm fits (we sell to grocery stores in four states, but we have an on-farm market and do wedding flowers, too). It is easy to believe that what affects one group doesn't affect the other. It is easy to say "I don't have a dog in that fight". But we do have a dog in that fight. That which affects one segment of our industry affects us all.

Many of us are fortunate enough to look our customers in the eye and greet them personally when we sell flowers. Many of us sell to florists, or at farmers' markets, or maybe we design wedding flowers. Pamela and I do all of the above. But regardless of who our customers are, we sell in an industry where there is constant downward price pressure from imported flowers. We must work hard to market our flowers. 

As Ralph Cramer says, "Everything is marketing and marketing is every-thing."  Fewer than 20% of Americans ever buy flowers at all. That leaves 80% of the country as an untapped resource. There is plenty of market out there, but we have to get the word out.

I can see that in the next couple of years, the ASCFG is going to be asked to take a larger role in national issues affecting locally-grown flowers. The ASCFG is not, and I believe shouldn't ever be, a marketing or promotional organization. But we also can't sit by and watch the proceedings. The importers have a mighty big dog.

In the meantime, the ASCFG will continue to do what it does best. We have two Growers' Schools planned for this year, one in March in the Dallas/Fort Worth area and another in conjunction with the National Conference in Wilmington, Delaware this fall. The Quarterly, the Bulletin Board and the website will continue to bring you the best information in the business.

I have to thank Polly Hutchison and the outgoing Board members for leaving the ASCFG in such a great position. You've made my job easy. To the current and incoming Board members, I look forward to working with you all. And of course, thanks to Judy Laushman and Linda Twining at the ASCFG office for being such professionals. It will be a fun couple of years on the Board.