"I am convinced that the florist business resta entirely in our hands. In no other part of the world is there a better chance to develop this industry than here, or a better market."
Fritz Bahr, Commercial Floriculture, 1922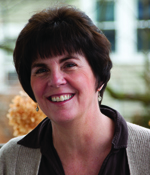 he recent increase in ASCFG membership is described a few times in this issue. The funny thing is that until Chris Wien asked me to send him our numbers for a presentation he was making at Cornell, the steep incline of new members didn't really hit home. We have been so busy plowing through projects like the mentor program, Research Foundation grant applications, sixteen different grower meetings in five years, student scholarships, seed trials, board meetings, and a documentary that we've barely had time to lift our heads to look up.Compare it to cutting a 25-foot row of gomphrena; you're glad when you get to the end of that row, and can't believe how full your buckets are.
It is gratifying to watch our numbers grow, and to see the "pins" signifying members on the online map multiply. As soon as we sign up members in North Dakota, and South Dakota, we'll have a presence in every state. Then we can move on to the rest of the western hemisphere.

As we continue to gain new members, we're reminded that the basis of this organization is to connect and educate growers, and that one of the foundations of education is research. After all, the ASCFG was created as a result of Allan Armitage's cut flower trials at the University of Georgia.

Sometimes it's hard to remember this as our attention is pulled into myriad other directions: counting heads on farm tour buses, resetting a member's online password for her, posting speaker videos and handouts in the Members Only section of the web site, editing Regional Reports, or searching for that perfect image for the cover of the Quarterly.

Betsy Hitt has done a masterful job of helming the ASCFG Research Foundation for several years, but because Chris Wien just can't sit back and relax after his retirement from Cornell University, he will be taking over the reins. Not to mix transportation metaphors. With the infusion of Chris' energy, both the ASCFG Research Foundation and the ASCFG Trials program will become more prominent.
Chris has some ideas to bring not only more funds to the Foundation, but to increase the visibility of, and applications for, the grant funding process. We know there are university and extension people who are interested in several aspects of cut flower research; we just need to track them down and make them aware of our funding system.Take some time during the fall and winter to explore these programs on the ASCFG web site. We'll be happy to hear from you.

Photo:  The Oberlin Chamber of Commerce recognized area non-profit organizations with hand-painted banners, hung from downtown streetlight poles. Here is Isabella Thorndike carrying
an armload of peonies.
The Trials program will be expanded to include perennial and woody plants, as well as some single-species seed programs. We're working with breeders now to determine the best line for this trial.
We'll need your help to make these projects successful. Sign up to be a seed or perennial trialer. Share the word with your state floriculturists about the Research Foundation funding. Contribute to the Foundation! There is even a special box set up on the donation site allowing you to make a contribution in someone's honor.