Winter Growing: Not for the Faint of Heart
Every three months I need to write something thoughtful, witty, and timely for this little column. Sometimes it just flows out effortlessly, and sometimes I struggle to find a topic to cover. This is starting out as one of those "struggle" columns.

As the growing season comes to an end for some members, year-round growers are busy planning for the winter months.  Months with long cold nights, and cloudy, snowy days. Nights when greenhouse heaters run nonstop, burning money as fast as it can be made selling flowers in the winter. Winter days spent in a warm sunny greenhouse, working in the dirt or picking flowers, can be a great cure for the winter blahs. And having a greenhouse or tunnel allows a grower to get quite a jump on early spring sales.
The first year I grew all winter, my farmers' market sales in April and May doubled from the year before. I attributed this to having more product early, and to having customers already in the habit of going to the market each weekend. There wasn't that customer at the end of May saying "Oh, I didn't know the market was open, I missed the last four weeks…"  The good customers had been attending the market all winter, and just continued to buy, and, buy, and buy.  

Growing over the winter certainly has challenges. With snow piled deep on fields of perennials sleeping through the winter, and seed and plug catalogs spread across your desk (or bed), it easy to forget that greenhouses and tunnels need to be monitored and protected in the winter. The snow that can be good for plants in the ground can be a menace to the metal frames of growing structures. No matter how many times growers are reminded to monitor their greenhouses and tunnels in the winter, every year we hear of some, both small and large, who have had a greenhouse or tunnel go down in a snowstorm. It's much better to spend a few hours pushing snow off the roof in February than rebuilding a tunnel in May, when you should be planting and harvesting flowers instead.

If you're thinking of building a tunnel or green-house, get one that can handle the weight of snow and high winds. You'll still need to monitor them in a big storm or blizzard, but you'll be able to sleep through a night of light snowstorms. And remember that shade structures will collect snow and they will collapse under the added weight. Don't forget to take down the shade cloth before it gets hit with an early snow.

Fall is also the time to look back on the past year, and really look at what was worked, and what didn't. I'm not just talking flower colors and varieties. Was that employee who didn't fit in with the crew really worth it? Was that florist who bought only  three bunches of flowers worth the time spent dealing with her special requests? Does that slow farmers' market in your little town that barely made gas money have potential? Or is it time to drive an extra hour to the big city and sell a truckload of flowers instead of a few bucks of flowers? Do you need to do a better job at succession planting? Does your web site need to be overhauled? I could go on forever.

These questions and many others should be addressed in the coming weeks. You'll have those nights in autumn and winter, when the sun goes down before dinner, and you have time to sit and really think about what you need to do different to make next year The Year that everything works as planned and you have a great, successful season.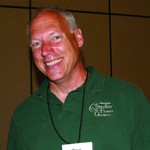 Dave Dowling
Sales Representative and Warehouse Manager
Dave Dowling is a Sales Representative and Warehouse Manager for Ednie Flower Bulb. Contact him at [email protected]