Fresh from the Texas Hill Country
No matter what part of the country you're growing your flowers, be sure it's clear they're being grown in this country.
Within a few weeks of selling our very first bunches of flowers, Pamela and I realized that we needed a label, a brand, something that made our flowers stand out amongst the rest. At that time, back in the early 90's, no one was labeling. Almost all flowers sold, whether they came from the U.S. or overseas, were shipped in clear, unmarked sleeves. Very few sleeves even had a bar code on them. There was almost no concept of "locally grown." Flowers were flowers, right?So we came up with a slogan: "Fresh from the Texas Hill Country." Incredibly, no one had used this phrase or trademarked it, so we did. We drew up a small oval label, took the idea to a printer in town and had our own farm label made. It was nothing special. (Remember, these were the days before digital imaging.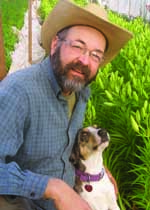 It said "Fresh from the Texas Hill Country" in the center, "Texas Specialty Cut Flowers" across the top, and had our names "Frank and Pamela Arnosky, Blanco,Texas" along the bottom.  One-color blue lettering on a white oval. Like I said, nothin' fancy.
You've Got to be Kidding – You Cut Off Our Label?
We immediately got some strong feedback. While we were floundering about trying to pin down our best market, we sold to the Austin branch of a national floral wholesaler  called Bill Doran Company. They asked us to stop putting the label on our sleeves.
Wait, what? Don't you want to identify our flowers as locally grown? "No," they said.  "We are having to cut the label off the sleeve before we can sell it."

Cut it off?!  Why? They said that their florist customers were getting our flowers, seeing the label and asking for our flowers over the others! They said their customers were telling them not to send them any of that "imported #&@!" (a direct quote). Their customers liked the Texas flowers and were requesting more. We said we would be happy to deliver more flowers, but they said keeping them separate was too much trouble, so they decided it was best not to let anyone know there was a difference. We stopped selling to them.
The response from the grocery stores was just the opposite. In the grocery store world, they are always looking for opportunities to "differentiate" their product offerings from other retailers. Our first grocery store, Central Market, immediately saw the chance to differentiate and jumped at it. They gave us a dedicated display slot and drew up in-house point-of-purchase marketing materials for the display. It was an immediate hit. We went from selling 35 bouquets a week the first week to 350 bouquets a week by the end of the season. In just one store!

Not everyone believed us, though. When I would deliver to the store, I would push a cart full of flowers from the back dock to the display up front and help the staff set up. One day, two women sidled up to the cart and pulled out a bunch. One of them read the label.  "Frank and Pamela Arnosky, huh?  Blanco, Texas? Hmmm…" I took the opportunity to introduce myself—the farmer, in person. "Hi, I'm Frank," I said, and stuck out my hand. She sneered and turned to her friend and said, "Yeah, right. And I'm Pamela." They both stalked off. She thought it was a marketing gimmick. I guess we were still ahead of our time.
A Big Blue Barn, or a Big Silver Cargo Plane – Your Choice
Not any more. Things have changed. As we all know, local flowers have become all the rage. Aside from our grocery store business, we are getting several calls a week now for wedding flowers to be picked up at the farm. We have developed our little sticker into a marketing concept that now includes a brand logo, and a big blue barn where people can come out and visit the flower farm.

A couple of things haven't changed though. According to statistics I've read, 85% of the American populace doesn't buy flowers. Period. That figure hasn't changed much over the years. That leaves us with only 15% of the people to try to sell our flowers to. The way I see it, we have a huge, untapped market in those 85% if we could just get a few more of them buying flowers. Any flowers.

The other thing that hasn't changed is that we still have to contend with that "imported #&@!" The Colombian flower growers' association Ascolflores brags that 3 out of 4 flowers sold in the USA come from Colombia. That leaves 1 flower out of 4 to split between the Dutch, the Kenyans, the Ecuadorans, the Mexicans, the Canadians, the Californians, and all the rest of us. The problem is that when Colombia controls the market, they also control the price, and that price is very low. I am still getting the same price for a bunch of sunflowers that I got in 1995, and I feel lucky to have held that price when the pressure in the market is pushing me to sell for even less. It is our local marketing that allows us to maintain even that price.

To that end, the ASCFG is beginning to take steps toward promoting locally-grown flowers and advocating for local flower farms on a national level. For many years, the ASCFG has been primarily an educational organization, and I think it is the best in the business. No other group that I am aware of does so much for the industry helping growers be successful at what they do. The energy and output that come out of our little office in Oberlin, Ohio is really unparalleled.
At the recent ASCFG board meeting in Athens, Georgia, the board decided to take on some projects to help our members market their flowers and to educate consumers about where their flowers come from. Although these projects are still in the planning stages, we have budgeted some funds to work on a Buy Local Flowers campaign that will include a video project about local flowers and flower farms and a possibly an electronic marketing program that will allow members to access a flower database to sell their own flowers though a program such as Shopify.com. We have also budgeted funds to add a social media person to assist the Oberlin office in promoting local flowers through all the various internet media sites now available. 

Another project we are looking into is Country of Origin labeling for cut flowers. As it stands now, importers are not required to indicate where the flowers are grown. Unless you label your own flowers, there is no way for a consumer to tell if the flowers they are buying come from overseas. The board believes it would be beneficial to local growers if imported flowers had to be labeled as such, and we are looking into what it would take to push for such labeling. That's a big goal, and it may be beyond the scope of this organization, but it's worth looking into.
These are big steps for the Association, and I am happy that we are making moves in this direction. But we won't lose sight of the true purpose of the group, to grow better growers.  We already completed two terrific meetings last month, and have two more fabulous Grower Intensive conferences scheduled this fall, one in Virginia and one in Madison, Wisconsin. We are making plans now for another national conference in the fall of 2016, plus Growers' School that spring. (Yes, these things have to be planned at least two years out!)  And Judy and Linda continue to put out the best information in the business through The Cut Flower Quarterly.

In the meantime, label your flowers! We always say nothing leaves our farm without a label. We want people to get home, remove the sleeve and see our name on it. We hand out postcards with our logo on it. We put up signs and provide ready-to-print images to our retailers. The more they see our name, the more they remember us. No one can promote your farm like you can. You are the best at what you do. Don't let your customers forget that!