It's hard to believe that it's been a year since I transitioned from flower farmer to bulb supplier. It's been a big change, but one that is working out fine. I'm still in the "flower business" and involved with the great group of ASCFG members. I've learned a lot in the past year, and there is still much to learn. 
A few reminders to you flower farmers out there. First and foremost is to try to order early. This helps ensure you get what you need, and it allows the suppliers to fill your orders. Plugs are probably the most important item to order early. It takes several months to grow cut flower plugs to the correct size for transplanting into your fields, greenhouses, and tunnels. Lisianthus is one of the slowest-growing plants in the plug stage that cut flower growers use. It can take four months from placing an order to the plugs growing to size and being delivered to you. Don't wait until it's time to plant to look for plugs. You'll have a very limited selection, if you can even find what you're looking for. A good guide is to order plugs six months before you need them. This is often soon after the current year's flowers have bloomed. What better time to order your lisianthus plugs than right after they have bloomed when you can still remember what colors sold well, and what varieties you had in excess?
Perennials and woodies should also be ordered before you need them. Sure, you can order from availability lists that suppliers send out, but often the best, most desired varieties are already sold out before the list gets to you. A perennial grower may grow 200 flats of Phlox paniculata 'David' each year. It's not unusual for a large customer to buy all of them to grow potted perennials for the large chain stores. The same goes for woody cut material. Those 'Limelight' hydrangeas, lilac, and curly willows you grow for cutting also look great in the landscape and are often bought up for landscape use. Know that there are other, non-cut flower growers out there trying to buy the same things you need as a cut flower grower. The big growers plan a year or more in advance. Order early before they buy all the good stuff. 
Fall-planted bulbs should be ordered by midsummer. Don't wait until October to look for tulips, daffodils, ranunculus, etc. You will be disappointed in the selection available at the last minute. When buying bulbs, purchasing full crates will get you the best price per bulb. If you can't use 500 of the same tulip variety, think of ways you can spread out the harvest so they can be sold over a 4-6 week period. You can grow some in a tunnel to get them ready 2-3 weeks earlier, and plant some in an area of your farm that is the last place to warm up in the spring. Think of those places where the snow was the last to melt.  Maybe the shady north side of a building or the area along the tree line where snow drifted deep and melted last because of the shade from the trees. Tulips planted in these area may bloom a week or more later than one planted in a warmer area of the farm. You can also hold tulips in your cooler to extend the "season" at least another week. Doing all this can spread out one crate of 500 tulips over a five-week period. For smaller growers, selling 100 a week is much easier than selling 500 all in one week.
Another item that should be planned and ordered in advance is your irrigation supplies. Having an irrigation system in place before you need it is the best insurance you can buy. No professional flower farmer should think he or she can be successful without having some kind of irrigation system. You may need it only a couple times a year, and some years hardly at all, but when you're going into your second month without rain and you're dragging hoses around your fields, you'll wish you could just turn on the drip tape and go do something else with your valuable time.
We've all heard the 80/20 story about how 80% of the flowers sold in this country are imported. There is a growing awareness of this situation and an increased demand for domestic, locally-grown flowers.  As much as some may wish they would just disappear, imported flowers are here to stay. What is needed is an increase in overall flower consumption. If we could increase consumer purchases of flowers, while keeping imports at current levels, I think everyone would be happy. American flower farmers would have more customers buying more of our flowers. If they don't see you face to face at the farmers' market or your farm when buying flowers, they need to be able to see where the flowers they are buying came from so they can choose they flowers wisely. Every farm should put its farm name and location on every flower bunch or bouquet it sells.  Consumers need to know they can choose where their flowers come from. 
Flower Bucket Challenge
As part of a flower awareness campaign, the ASCFG is coordinating a "Flower Bucket Challenge".  This will be a grassroots effort to get the word out to the buying public to buy locally-grown flowers. The plan is to keep it "secret" until it kicks off with everyone posting on Facebook, Twitter, Instagram, Blogs, Web sites, etc on May 1st. (NOTHING public until May 1st.) The plan is to flood the country with images of smiling people holding a bucket or vase of locally-grown flowers, and challenge their friends, family and followers to support the local flower farmer, local economy, and local jobs by buying a bucket or vase of flowers from the local farmers' market, farm stand, farm, etc.
We'll have a web site: www.flowerbucketchallenge.com with pictures, info, and links to the ASCFG flower search, USDA Farmers Market listings, Slow Flowers web site, and other info encouraging people to support their local flower farms by buying flowers. We'll start a discussion on the ASCFG Bulletin Board where ideas and info can be exchanged among ASCFG members before the May 1st launch date. But remember, no mention of the Flower Bucket Challenge anywhere in public before May 1st.   For the website, we'll need lots of pictures of people holding a bucket, vase, or armload flowers.  If you have any photos you would like to share, please send them to Linda at the ASCFG office via email at [email protected]

" data-wplink-url-error="true">[email protected]
This is a series dealing with the supply side of the cut flower industry. Suppliers and customers are welcome to contact Dave with ideas and topic suggestions for future issues.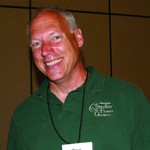 Dave Dowling
Sales Representative and Warehouse Manager
Dave Dowling is a Sales Representative and Warehouse Manager for Ednie Flower Bulb. Contact him at [email protected]