The first column of a series dealing with the supply side of the cut flower industry. Suppliers are welcome to contact Dave with ideas and topic suggestions for future issues.
Transitioning from a cut flower grower to working for a company that supplies bulbs and perennials to flower growers has opened my eyes to a whole different world. It's a world that all growers need in some way or another, but often know little about. Cut flower farms need seeds, bulbs, plugs, perennials, soil, irrigation supplies, greenhouses, tunnels, support netting, fencing, fertilizer, buckets, etc. The list goes on and on and on. No one can do this without a host of suppliers for all the stuff it takes to make your farm work.

Over time, relationships are often developed between growers and their preferred suppliers. Most growers have a favorite seed company, plug grower, greenhouse manufacturer, bulb supplier, etc. This is often influenced by price, selection, service, or simply habit. And at the other end of the spectrum, there may be suppliers that you may do business with only because you have to. You may use these companies because they are nearby, carry what you need, or they are the only company in your area providing propane or oil to heat your greenhouse.

Planning Pays Off

Suppliers providing "seasonal" products such as seeds, bulbs, plugs, even wreath frames, must plan for the next season way before the grower is even thinking about ordering that product. Suppliers have historical data to use to help them plan, but just like farming, not everything goes as planned.

Imagine if everything worked perfectly in just one year; no bad weather, insects, or disease—think of how much your sales would increase. When dealing with seeds, bulbs, or plants, there is always some "crop failure" that will impact the supply in some way. Years ago there was basically no 'Blue Horizon' ageratum seed available because of bad weather at the farm producing the seed. When you're dealing with 200 varieties of tulip bulbs, there are going to be some that have a problem of some sort. If only 10,000 units of a product are available, but you have orders for 12,000, some adjustments will need to be made.

Ordering early is always the best option when planning what to grow each season. Try not to call the seed company in June to order your sunflower seeds. If you know you'll need 5,000 'ProCut Orange' seeds next summer, order them in January so the seed supplier can get enough seed for all its customers. If you'll be needing a larger than usual amount of something, contact the supplier early. Don't be looking for 10,000 'Red Charm' peony plants three weeks before you want to plant them. A good rule of thumb is to try to order items four to six months before you need them. This is especially important for things like plugs, perennials, seeds, and bulbs that by their nature have a limited supply and limited shelf life.

Habits Are Hard to Break 

Suppliers which sell items like buckets, tools, vases, postharvest supplies, and other hard goods that can be stored in a warehouse sometimes indefinitely are more accommodating when you're ordering at the last minute, and can usually ship your products in short order. When all the peony roots are gone, or all the sunflower seeds are sold, they may be unavailable until the next year. With most suppliers you're not billed for your order until it ships. Some suppliers may offer early payment discounts, or extended terms for their established customers.

It's been said, "Don't put all your eggs in one basket." In the green industry, out of habit we tend to buy from our regular suppliers year after year. That's fine, until there is a problem. Growers should be aware of alternative suppliers for every product they use, and keep the relationship open with these companies, even if it means buying a few items from your second choice supplier every once in a while. If you're in a bind and need something, you'll want the supplier to want to help you out.

No matter how fine-tuned and tech-savvy a supplier may be, there will still be the occasional mistake with a missed order, damaged product, or other problem. Humans still do a lot of the work filling orders, counting bulbs, packaging product, and delivering packages. As hard as we try, we humans still make mistakes. Being prepared for these things can help prevent small problems from becoming large problems. The supply businesses you work with are often just like your farm: they have workers to manage, supplies to order, prices to calculate, money to juggle, bills to pay, phone calls to make, customers to visit, etc. It's just usually on a much larger scale. And like you, we have only 24 hours in a day to get it all done.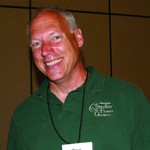 Dave Dowling
Sales Representative and Warehouse Manager
Dave Dowling is a Sales Representative and Warehouse Manager for Ednie Flower Bulb. Contact him at [email protected]