Cada Cabeza es un Mundo. That is a favorite dicho, or saying, of ours here at the farm. It comes from Mexico and means "Every Head is a World", or more figurativel, everyone sees the world their own way. I have struggled with this concept for the past two years while serving as ASCFG President. I've come to realize that the world in my head is not the same as the world that most of the ASCFG Board of Directors sees, and I have decided to step down as President of the Board.I'd like to take the easy path and tell you that I'm just too busy to continue working on the Board, that I can't keep up with both the farm and the ASCFG. True as that may be, that would be a lame excuse at best. No one on this Board works any less than I do at their farms, businesses, and professions.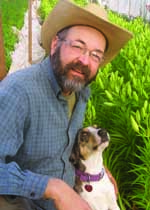 They've probably worked a lot harder than I at making the ASCFG a success. Josie Crowson was instrumental in creating the Local Flowers, Local Farmers video. She conceived the project, found the filmmakers,coached and guided them and pushed the finalcut to completion.  She deserves an Oscar. Barbara Lamborne and others spent hours working to put together the Shopify-based ecommerce site. They worked on a shoestring budget to build a web-based sales site we all can use. And at the recent Grower's School, if the speakers all looked familiar, it was because it was mostly Board members presenting their knowledge and experience. The collective wisdom of the Board and their willingness to share it is what makes this group as valuable as it is.
The ASCFG is experiencing un-precedented growth, approaching 1000 members. When I served on the Board in the early 2000s, I would have never believed that possible. Back then we struggled to build membership. Now local flowersare a hot item and the farmer-floristis riding a wave. But as the ASCFG grows, I findmyself on a divergent path. While some members search for information, network with other growers, and develop new markets, my farm struggles with other issues such as labor costs and immigration, regulations, rising input costs, and the effect imports have on my ability to make a living. On some of these issues I have not seen eye-to-eye with the Board.  
I have to thank Judy and Linda for the incredible job they do. I hope everyone realizes what we have in these two people. They put together everything you see and hear about the organization, from printing publications to booking conference hotels, from writing the budget to sweeping the floors.We couldn't do it without them. Take time at the next meeting to tell them you love 'em!
So I'll be moving on. Serving on the Board was a bit more political than I was prepared for. I must remember what Jim Hightower, former Texas Ag Commissioner and columnist, says about politics: "One day you're a peacock, the next day you're a feather duster." I've got some dustin' to do back on the farm.
Frank Arnosky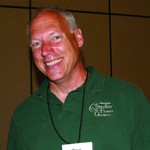 It's great to be back at the helm of this terrific organization. As you can see from Frank's letter, he has stepped down as President. I'd like to thank Frank for all he's done for the ASCFG, as President, Regional Director, and as a regular member hosting meetings at his farm, sharing valuable information from a Texas perspective, always framed in his great southern wit.  I've been to the Arnosky farm for many meetings and   learned something new with each visit.
You may ask "How did Dave become President again?" Here's the explanation.
 The ASCFG bylaws state: "In the event that the President is unable to serve for the full term, the Vice President becomes President and shall appoint a member to serve the remainder of the Vice President's term." Current Vice President Jennie Love felt that with just a little over two years on the Board, she wasn't yet ready to be President. So the Board did some shuffling around and came up with a transition plan that should make everyone happy. The new President, Jennie Love, appointed me as Vice President. Jennie then resigned, making me President, whereas I then appointed her as Vice President. To those old enough to remember how Gerald Ford became the 38th U.S. President without ever being elected, even as the Vice President, know that this transition in no way involved wiretapping, plumbers, or anything close to Watergate. Honest. The pool of potential ASCFG Presidents is limited to members who have already served on the Board. None of this going straight from business owner to the Presidency stuff! You must work your way up in this organization. 
By the way, every member is eligible to serve a term on the Board; candidates for President and Treasurer must have previously been on the Board. While being on the Board may not always be fun and games, and it does take some time and effort, it can be very rewarding. The perks can be pretty good too. You get to work with a great group of people and help guide the ASCFG as membership increases each year. You can be involved in conference planning, promoting cut flowers,and more. Next time there is an opening in your Region, consider running for Regional Director, or even Secretary or Vice President. You'll be glad you did.
Dave Dowling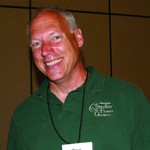 Dave Dowling
Sales Representative and Warehouse Manager
Dave Dowling is a Sales Representative and Warehouse Manager for Ednie Flower Bulb. Contact him at [email protected]