An Election Year? Who Knew?
Have you heard? It's an election year for the United States. That's right, but just about every year is an election year for the ASCFG. The Board of Directors changes a little bit each year as members' three-year terms expire. The cycle is staggered, so that experienced folks will be on the Board as new Officers and Regional Directors are elected to it.
See the candidates and their bios—as well as information for the Cut Flowers of the Year—on page 34 and please vote in the election later this summer.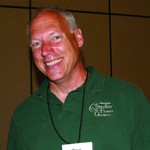 There seem to be a few new faces each year when your Board meets to guide your association into the future. Without these fresh faces and fresh ideas, the ASCFG would probably still be printing a newsletter in black and white, producing a ten-page member phone book, and the office staff would be relying on mailed paper ballots for the election.

Instead, we have our amazing magazine, The Cut Flower Quarterly, the only periodical dedicated solely to growing cut flowers. We have a new searchable Member Directory in the Members Only section of the ASCFG web site. And our Election Ballot arrives in an online newsletter with a simple electronic ballot. You can vote in your pajamas. No hanging chads, no long lines at the polls, and no campaign signs littering the lawn out front. (Unless you put them there yourself.)  

Speaking of voting in your pajamas: This year, your ASCFG National Conference is being held during the week of the U.S. Presidential Election. Be sure to use your state's absentee or early voting method to cast your vote. Then head to the ASCFG Growers' School and National Conference, held in Grand Rapids, Michigan, November 6th though the 9th.  We've made sure the ASCFG fun ends on Tuesday in time for attendees to watch the election night results. Just don't stay up too late celebrating or commiserating, whatever the case may be. The buses leave Wednesday morning for some great tour stops. We will not have a "blue" bus or a "red" bus (although the losing political party may have a few party buses for sale…) ASCFG tour buses are nonpartisan "flower" buses. Please keep your on-bus discussions flower related.

No matter who moves into the White House next January, we all have the same dreams and aspirations for our cut flower farms and businesses. We want to produce great products and be able to sell them at a fair price, making enough money so that we can do it all again the following year, all with a work/life balance that some days seems impossible to achieve. Some of us are on autopilot, where the business is just humming along and doing fine. Some may be working hard at expanding and increasing business. Others may be just squeaking by, barely making ends meet.  

Whatever your situation is, or what your goals may be, streamlining your business to be the most efficient it can be is one of the most important things you can do to insure continued success. Something as simple as cleaning all the buckets before you need them can save time and money in the long run. Creating a marking system to indicate which flowers went into the cooler first can increase quality and reduce the amount of flowers that get too old to sell. Developing a planting schedule and sticking to it can increase sales because you'll have flowers ready when you need them.

If you look around your farm, there are probably dozens of things that could be done different, and better. You just need to identify those things, and then make the conscious decision to carry through with the changes needed.

See you in Grand Rapids!