From Buying Soda at Wal-Mart to Selling Flowers at Whole Foods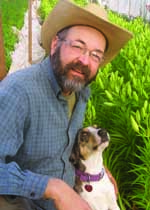 It gets a little blurry when I think back about how we actually got into the cut flower business. How did that happen, anyway? What were we thinking? It was the early 1990s. For most people, cut flowers meant weddings and funerals, and maybe the three-for-a-dollar carnations at the grocery store. Locally-grown flowers were still a long way in the future. There was no one around us growing any flowers at all.  

Pamela and I had recently moved to the Texas Hill Country and started a bedding plant business. We had several greenhouses up and running. We also had three young children and another on the way. Pamela wanted to help in the greenhouses, but that was a challenge with the kids underfoot. At one point she tried working with a 2-year-old in a backpack. One day, while Pamela was moving some trays, our daughter wriggled out, did a complete somersault, and landed on her back in a bench of petunias. She was fine, but she made a perfect "snow angel" pattern in the trays. This wasn't working.
Understandably, Pamela was frustrated and wanted to do more in the business. We racked our brains for a solution. "I know" I said. "Let's grow some cut flowers in front of the house. You can be close to the house, the kids can be out there with you, and maybe we can even sell them (The flowers, not the kids)."  We actually didn't even know at that time if we really could sell cut flowers. We just thought it was worth a try.

I'll be honest—we didn't have a clue what we were doing. I pored over my bedding plant seed catalogs looking for tall varieties that we might grow as cuts. We bought a Troy-Bilt rototiller and plowed up a 100 x 100 foot area in front of the house. That Troy-Bilt bucked like a mule. We planted snaps, zinnias, sunflowers, marigolds and statice. Oh, and gomphrena. I grew to hate that stuff. It seemed like a hundred acres of flowers.

Surprisingly enough, they grew. But this was new territory. It was like growing greenhouse flowers with no greenhouse. Storms would blow through at night and knock everything down just as they were coming into bloom. We would go out at two in the morning, flashlights in our teeth, and prop up the snaps with 2-foot bamboo stakes. The stakes were green and practically invisible, and we later we would almost put our eyes out on them trying to harvest the flowers. We didn't know Tenax netting even existed.

We packed the flowers on our screened-in front porch. Twenty buckets of flowers seemed like an insurmountable amount of work. We would get up at 3:00 a.m. to work before the kids got up. A pet rabbit would sleep under the table as we fumbled around trying to figure things out. How many flowers in a bunch? How tall? We didn't know. Sleeves? Buckets? We knew we needed flower food, but what should we use? How about lemon-lime soda? Didn't Martha Stewart tell us to do that? We bought gallons of the stuff from Wal-Mart. Lordy!
Now what? Where do we sell these flowers? Well, in the middle of downtown Austin was a big red and white "revival" tent set up in the parking lot of a defunct car dealership. It was called the Rose Tent. It was a cash-and-carry bucket shop that sold mostly South American roses at a discount price. The guy had hundreds of buckets of flowers and a line of steady customers. He had a big sign above the register that said "If you pay cash, we'll pay the tax". (Uh, right.) You could tell there was more going on there than met the eye, but that was none of my business and he was receptive to the idea of local flowers.
The Rose Tent quickly became our main customer. Local flowers were a hit, and we were soon selling everything we could grow. Through the Rose Tent we learned how flowers were bunched, packed and sold by the exporters, and what the standards were for selling flowers. It was an eye-opening experience to see that there was a worldwide industry in flowers. Sounds naïve now, but back then it was a revelation. 
From the Rose Tent, we branched out into grocery store sales and our education continued. But we needed more information. We knew there was an industry out there, but remember, this was in the days before the internet. The internet? Ha! We had only just gotten a private phone line out here. (Before that our neighbor would get on the party line while I was talking to customers and holler "This is Mrs. Dollahite. Who's talking?") We wanted to expand our farm, and we needed a source of information. You can tell where I'm going with this…

About this time we discovered the ASCFG and stuck to it like a pilgrim who's found his guru. Then, as now, it was a great source for the information we needed, but there were two things that we have now that we didn't back then: the Trials Programs and the Growers' Schools.

Since 1993, John Dole and his team at North Carolina State University have been receiving, processing, and compiling data for the ASCFG Trials Program. These trials have put the ASCFG in the forefront of introducing new cut flower varieties to our industry. ASCFG members participate in growing out and carefully evaluating new introductions. John painstakingly collects all the information and presents it in the annual issue of the Quarterly (which you now hold in your hands!).  A huge amount of work goes into this project, from NC State to the growers who participate and evaluate, to the staff in Oberlin who solicit seed, repackage it and ship to Trialers, and then put together this big issue of the Quarterly. I think we can all name a number of key varieties that we discovered from the new variety trials—ABC lisianthus and Jedi marigolds for me, just to name a couple, along with a flood of new sunflowers. This is a resource that I would have loved to have back in 1994.

Another great project that the ASCFG offers is the Growers' School. Boy, I could have used this back in the day. We wouldn't have wasted all that money on lemon-lime soda, I can tell you that! This year we will have two Growers' Schools, a spring school and one this fall at the National Conference. The theme for the spring Growers School is "Everyone Started Somewhere", and as you can see, it certainly applies to our farm. Join us March 6th and 7th in sunny Baton Rouge, Louisiana for a crash course on how not to make the mistakes we made when getting started. We'll cover the basics of starting and running a cut flower operation, from seeds, plants and bulbs to bunching, selling, and bookkeeping. These schools are an invaluable resource for both new and established growers. It'll be spring in Baton Rouge, and we can practically guarantee that the Bon Tempes will indeed Roulez!

We are also working on the National Conference for this fall in Grand Rapids, Michigan. Mark your calendar for November 6-8 for tours, sessions, and another Growers' School. Western Michigan is a hotbed of horticultural activity and Grand Rapids will be a great site for a conference.

With the help of the ASCFG, we built our farm up from that little garden plot to an operation with 20 acres of flowers. A few years after we started selling flowers, business at the Rose Tent started to "go south", as they say. The Rose Guy lost his lease on the big parking lot and had to move up the street to a small used car lot. We were having trouble getting paid. He owed us $1100 (a fortune back then) and I went by to see about the money. The Rose Guy had an office in a tiny trailer, just big enough for a desk and one other person. I had a three-year-old on my hip, and I walked in to the tiny office and demanded my money. Just then a big black Cadillac noses up to the trailer, gold trim all over the grill. A guy gets out and opens the door to the office, looking like he just walked off the set of The Godfather. Black suit, gold jewelry, greasy moustache—the works. The Rose Guy calmly says "Frank, I want you to meet Howard". I took one look at Howard blocking the door, nodded good-bye, and ducked under his arm and got the hell outta there. I never did get that 1100 dollars. The Rose Guy filed bankruptcy, landed on his feet, and got into the antique business.

The new owner of his old Rose Tent site was Whole Foods. They built their flagship store and world headquarters right on the site of the old Rose Tent, and that is now one of our best stores. You just never can tell how things will work out.