It's 2016. You Have a Business. You Should Have a . . .
Please don't take any of what I'm about to say personally. But as they say, "If the shoe fits, wear it." Just make sure it's a good fit, and it's a pair of good shoes. (Preferably waterproof for working on the farm.) I'll be first to admit that there are a few shoes out there that fit, and that I should be wearing, I just don't always wear them well. These are my observations over the years, as both a cut flower grower, and now working for a supplier.  
Email
    
You have a business. You should have a business email address. [email protected] is not an email to use for your company. Your email should tell people who you are. If your address doesn't identify you as a professional, it should be changed.  

You can get a free email account from Gmail, Yahoo, and other providers. Try something like [email protected], or [email protected]. Even better is an email like [email protected]. 
Avoid including your internet provider such as @comcast.net, @att.net, etc. You will someday change internet providers, and you will not be able to keep that email address. It's best to get an email address you can keep forever, guaranteed. Use separate email addresses for personal and business matters. It just makes life easier. You can focus on work email during work days, and personal email on your day off, without the temptation to wander across that work/home divide.
When you write an email, sign it with your name, company name, phone number, and web address. Don't leave the recipient wondering who you are. If you're replying to an email, include the previous emails in the conversation. It's so helpful to be able to scroll down and see what the bride said three emails ago when the conversation started about how many table arrangements were needed and she said "Never, ever use purple flowers".

Web Site
    
It's 2016. You have a business. You should have a business web site. (Um, kettle, the pot is calling…) An online presence allows you to sell yourself 24/7, 365 days a year. Web sites can be detailed pages offering e-commerce to sell your products, register participants for workshops, or coordinate inquiries from brides. Or they can be simply informational, with pictures and text for customers and potential customers to learn about you, your farm, your flowers, and how and where to buy from you.
As a supplier, I view customers' web sites to find out more about their farms and businesses. Web sites should be up to date and accurate. If you find you can't keep it current, keep it static, with information that never gets out of date. A site with last year's market schedule, or pages and links that don't work, will just frustrate people and drive away customers. If you have the skill to make your own web site, do it this winter. If you don't, find a fellow flower farmer whose site you like, ask who set it up, and hire that person or company. Web sites cost time and money to create, as well as a recurring charge to keep them online. It's just another expense of doing business, like the phone, electric, seeds, and water. You need it.
Social Media
    
It's 2016. You have a business. You should be on social media. Platforms such as Facebook, Instagram, and Pinterest are all based on photo sharing. The cut flower industry is a visual one. Color is very important. You should be sharing photos of your farm, your flowers, and your work online often. Smart phones are easy to use. Ask an eight-year-old for a lesson. Keep one (a phone, not an eight-year-old) in your pocket and post pictures of your fields, your flowers, your market setup, your lifestyle. It will increase sales.

Social media posts are easier to update than web sites. Just don't overdo it. Too many "updates" and it will be like the boy who cried wolf too many times—people will tune you out. Your accounts should be in your business name, and should stick to just business information: no silly cat videos, cute puppy pictures, or political statements.
Market Banner and Logo
    
It's 2016. You have a business. You should have a banner and a logo. Your logo can be fancy pictures and quite detailed, or as simple as your name in a consistent font and color. Some web sites design logos for very reasonable prices—pick something and stick to it. And stick it to everything: your truck, shirts, market banner, price signs, web site, stickers for your flower sleeves, etc. If you're selling at a farmers' market, make yourself stand out from crowd with a large banner with your name and logo on it.  
Signage must be consistent. If we forgot to hang the "HERB" banner over our table of herb plants at the market, herb sales would drop 10-20% that week. It may not seem that important to some people, but put price signs on everything. If one person has to ask "How much are the sunflowers?" you have lost several people who won't ask, and therefore will never buy.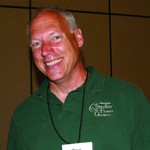 Dave Dowling
Sales Representative and Warehouse Manager
Dave Dowling is a Sales Representative and Warehouse Manager for Ednie Flower Bulb. Contact him at [email protected]