Sakata Seed America

Delphinium 'Planet Light Pink', 'Planet Blue'
Planet is a versatile new series that is great as a cut, bedding or potted crop. It is early blooming and is available in two striking colors. Delicate star-shaped flowers make Planet a perfect bouquet component.

Lisianthus 'Rosanne 1 Black Pearl'
Rosanne has unique flower colors and patterns as well as an excellent vase life, with more useable buds. The thick flower petals and top flowering habit of this series reduce botrytis problems during transportation. Rosanne belongs to Group 1 of the standard double flowers.

Lisianthus 'Rosanne II Deep Brown'
Rosanne II is a standard double lisianthus with extremely strong flowers that hold up well for shipping. Rosanne II's new color, 'Deep Brown', is a trendy lavender-brown that adds a unique element to floral arrangements. 
Jelitto Perennial Seeds
Angelica sylvestris 'Vicar's Mead'
Large umbels of pale purple-pink top dark, reddish-purple stems, which are almost five feet tall. This biennial flowers in late summer to early autumn.

Cosmos atrosanguineus 'Black Magic'
The deliciously scented Cosmos atrosanguineus has an unforgettable fragrance that ranges from chocolate to vanilla scented. The gorgeous burgundy—almost black—blooms are spectacular, too. The chocolate cosmos was presumed extinct, lost in the pine and oak forests of Mexico, and the species was produced only from sterile clones. Jelitto plant hunters found one fertile seedhead far away from its native home and breeding began at Jelitto. 'Black Magic' has been chosen 2016 Plant of the Year in the United Kingdom.
Heliopsis helianthoides var. scabra 'Burning Hearts'   
Bulk up the distinctive dark stems of heliopsis 'Summer Nights', deepen the purple leaf tones, and top it off with a bright colorful red eye in the center of each of the dozens of golden blooms. With its vivid red-eyed and golden bicolored flowers, dark purple leaves, and sturdy habit, this variety is a must-have for gardens everywhere. Jelitto hit the bull's-eye with 'Burning Hearts'.

Heliopsis helianthoides var. scabra 'Prima Ballerina'
Jelitto's first-year flowering 'Prima Ballerina' is floriferous and lovely and a prime example of the Jelitto dedication to bring desirable new introductions to market. Sturdier than other previously existing seed strains, this oxeye sunflower grows to 24 inches the first year and tops out at 40" in future seasons. The wonderfully drought-tolerant North American native can handle heavy clay soil and is adaptable to any sunny site.

Trifolium rubens f. album 'Frosty Feathers'
Brilliant white flowers atop vivid green foliage which rebloom after deadheading. Flower stems grow to about 24 inches.
Johnny's Selected Seeds

Cut Flower Kale Crane Series
Lovely rich color for autumn bouquets. Red: plum centers surrounded by dark green to purple outer leaves. White: creamy white centers with a blush of pink surrounded by green outer leaves. Pink: bright pink centers surrounded by green outer leaves.

Cut Flower Kale Feather Series
Novel ornamental kale with serrated leaves. Extend the flower production season with ornamental kale. 'Feather Queen Red' has bright magenta centers surrounded by green outer leaves. 'Feather King White' features light pink to creamy white centers surrounded by green outer leaves.
Lisianthus Rosanne Series
Novel, 2-3" blooms with outstanding color and slightly ruffled petals. Group 1, best suited for spring production. Pelleted seed. 'Rosanne Black Pearl' is considered the darkest purple lisianthus while 'Rosanne Green' is a vibrant, truly green.
Amaranthus 'Coral Fountain'
With its unique coral-pink tassels, 'Coral Fountain' is a great complement to 'Emerald Tassels' and love-lies-bleeding. All have similar plant habits, days to maturity, and great presence in arrangements.
Our American Roots

Brushmark Asiatic Lily 'John Hancock'™
This bright yellow brushmark-type true Asiatic Lily is exclusively available through Our American Roots and is entirely American grown. This variety is great for cut flower production, either outdoors or in a tunnel. Grows 41" tall from a 14/16 size bulb.
Asiatic Lily 'Dolly Madison'™
This magenta-pink true Asiatic is also exclusively available through Our American Roots. These American-grown bulbs produce strong stems and are well suited for cut flower production both indoors and outdoors. Grows about 40" tall from a 14/16 size bulb.
Gladiolus 'Prima Verde'
This beautiful lime-green gladiolus with a chocolate-red throat is a great addition for the gladiolus cut flower grower. Grows to about 56" tall from a 12/14 corm.
Gladiolus 'Setubal'
Another great new addition to our gladiolus selection. The beautiful, fuchsia-pink flowers are complemented with a faint white trim, and have good strong stems.  Grows to about 56" tall from a 12/14 corm.
Crocosmia 'Vera Cruz'™
Exclusively available through Our American Roots and entirely American grown, 'Vera Cruz'™ is a nice addition to our crocosmia family. With bigger flowers than 'Lucifer', a lime green center line shows on each petal when the flowers fully open. Grows to 40" tall from a 12/14 corm.
Crocosmia 'Adriana'™
Another great American-grown addition to our crocosmia family, also exclusively available through Our American Roots. This bright orange crocosmia has lovely coral-pink centers and will outperform any other rocosmia on the market today. Grows to 35" tall from a 12/14 corm.
Fragrant Tulip 'Sanne'
This sweetly fragrant pink tulip makes a nice addition to our tulip selection. 'Sanne' produces a nice fragrance, which is rare for tulips, making it stand out from other varieties. Grows to 20" tall both out and indoors. Mid-season bloom. Available fall 2016.
Tulip 'Merlot'
A beautiful deep wine color, this lily-flowering tulip boasts strong, tall stems. Does well outdoors as well as in a high tunnel or heated greenhouse.  A taller tulip with a 25" height. Mid-season bloom. Available fall 2016.
Dutch Iris 'Flash Light','Rush Light' and 'Day Light'
This new Dutch iris trio is a great addition to our iris selection. With taller and stronger stems with a height of 32", they can also have multiple flowers per stem. Available fall 2016.
Sunflower Selections

Sunflower 'ProCut Orange DMR'
We fortified our popular 'ProCut Orange' against sunflower downy mildew. 'ProCut Orange DMR' is a breeding breakthrough in ornamental sunflowers that has tested resistant to the most prevalent races of downy mildew found in major sunflower growing areas of the world!  We believe that 'ProCut Orange DMR' is the best choice available against sunflower downy mildew. It has the same familiar orange petals, a dark center, and is pollenless on a single stem plant. Give it a try!
 
Sunflower 'ProCut Plum'
'ProCut Plum' showcases the unique spectrum of colors that we offer the sunflower world. Is it pink? Rose? Mauve? We decided it was 'ProCut Plum.' It's definitely not your typical yellow or orange, but is way different. It can be used in flower arrangements never before possible for sunflower, mixing well with bronze and reddish flowers. 'ProCut Plum' produces a single pollenless flower on a strong stem. It is medium in maturity. The limit is your imagination!

Harris Seeds

Dianthus 'Sweet Magenta Bicolor'
This hybrid sweet William is an excellent choice for cuts. 'Sweet Magenta Bicolor' features lovely pink florets with magenta/dark rose rings. We recommend growing Sweets in greenhouses or high tunnels where they will achieve appropriate stem length and produce large fragrant flower heads. Height: 18-39", 10-12" spread.
Sunflower 'Copper Queen'
The golden yellow petals of this pollen-free hybrid sunflower are "dusted" with a layer of translucent cinnamon-red, giving the large flowers a rich orange appearance, and contrasts nicely with the clean dark brown disks. Single non-branching stems are perfect for cutting for both wholesale florist and farmers' market sales. Matures in approximately 55-65 days. Height: 5+ feet.

Sunflower 'Sunrich Orange DMR'
If downy mildew issues in your area prevent you from growing sunflowers, your problems are solved! New 'Sunrich Orange DMR' (downy mildew resistant) provides substantial benefits with high yield results and the reduction of chemical use, yet retains all the other characteristics of one of the country's top-selling cut flower sunflower varieties, 'Sunrich Orange'. Matures in approximately 55-70 days. Height: 4+ feet.
Ednie Flower Bulb

Tulip 'Belle Époque'
The subtle shades of blush pink and peach of 'La Belle Époque' gives this 16" tall, double, late variety a soft feel that is perfect for spring weddings.
 
Lily 'One Love'
Dark red Oriental lily with darker red freckles. Plant has dark green foliage with up-facing, deep, rich, red buds.
 
Lily 'Special News'
Light pink, up-facing buds on this Oriental lily give no hint of the striking, red and white striped petals hidden within.
 
Lily 'Tasman'
Large pink buds open to reveal speckled pink blooms outlined in white.
 
Lily 'White Oak'
Oriental lily with large, up-facing buds that open to pure white flowers. Nice dark green foliage.
 
OT Lily 'Elara'
Plump, up-facing white buds open to huge blooms with a hint of green at the base of each petal.
 
Calla 'Gold Medal'
These plants have deep green leaves, with bright yellow flowers on strong, sturdy stems.
Calla 'Lapaz'
Dark, moody, nearly black flowers are produced in abundance on strong, full plants. The speckled leaves can be used to add texture and fullness to a bouquet.
 
Calla 'French Kiss'
White flowers highlighted with a touch of bright pink. Medium-sized plants with dark green leaves. The intensity of the flower's color changes as they age. Larger sized bulbs will produce 8-10 flowers.
Gloeckner

Celosia Act Series
In addition to its improved appearance with shorter and stronger leaves, Act is less sensitive to botrytis than other varieties, and will grow to a height of 3-4'. Included in this series are 'Dara',  'Zara', 'Edna', 'Inca', 'Orla', 'Rima', 'Vida', and Act Mix.

Cosmos 'Xanthos'
Take a good look at this stunning beauty—the first true yellow cosmos! Unique, soft petals sit atop this 20-25" plant with an upright, branching habit.  Early to flower, just 70 days from sow, this knockout provides 6 months of nonstop color.

Cosmos 'Capriola'
Truly something different! Early to flower in white with a light red picotee edge and dark red center, these two-toned beauties are a real attention getter. 'Capriola' produces these showy flowers on branching plants which grow to a height of two feet.

Zinnia 'Macarena'
These bicolor zinnias have a strong plant habit with excellent branching. Their 3" double blooms display a bold scarlet with gold tips, and reach a height of 25-30".  

Zinnia 'Mazurkia'
Large 3" double scarlet blooms with cream tips rest atop this sturdy branching plant. 'Mazurkia' will reach heights of 25-30" at maturity and is guaranteed to add interest and beauty to your collection.

Aster Lady Coral Series
This new flower type resembles a cross between a rose and a chrysanthemum. With excellent durability and texture, the 4-4 ¾" slightly curved flowers have narrow petals. Colors in the Lady Coral series include Brilliant Rose, Chamois, Cream White, Dark Blue, Dark Rose, Deep Red, Salmon, Lavender, Light Blue, White, Yellow and Mix. These beautiful asters grow to a height of 24-28".

Dahlia 'Arbatax'
A small decorative dahlia in white with pink/lilac edges, 'Arbatax' is simply stunning and elegant! The exquisite flowers are 4" wide and the plant height is 36".  
Dahlia 'Sweet Nathalie'
Sweet Nathalie, a soft-colored beauty, will grow to 40" in height. Its 5" flowers bloom in light pink with a cream center. 'Sweet Nathalie' is a wonderful complement to other colors with its great form and texture.

Dahlia 'Daisy Duke'
A small decorative dahlia with 5" salmon pink flowers, Daisy Duke is as interesting as it is beautiful. The plant height is 36". Its bright colors are accented by curved petals, delivering gorgeous blooms.  

Dahlia 'Orange Symphony'
Simply striking! This pure orange dahlia will grow to 52", with flowers 5" in diameter. It is a medium ball type variety. Looking at 'Orange Symphony', it is no wonder dahlias are the center of attention in many floral bouquets.
Gomphrena globosa 'Cosmic Flare'
An all-summer, shockingly beautiful combination, 'Cosmic Flare' will brighten any arrangement with its stunning foliage and flower color. Cut blooms dry perfectly pink and last for months with just a little spritz of hair spray. This fabulous new beauty will provide months of chartreuse foliage and magenta blooms.  

Echinacea 'Rainbow Marcella Butterfly'
'Rainbow Marcella' will produce a plant full of blooms in just one growing season. Incredibly hardy and long lasting, plants will be covered with single-petaled flowers the color of orange sherbet with a pink halo that ages to a soft, raspberry pink and remains colorful until a cold winter frost. Perfect for hand-tied bouquets and arrangements for a bride or event looking for a more natural, wildflower look. 15-18" tall by 18-24" wide. Zones 4-9, full sun.

Eryngium xzabelli 'Neptune's Gold' Garden Candy
The first all-gold leaved eryngium! Bright golden leaves and bracts contrast greatly with the steel blue stems and flower heads. The long-lasting, electric blue flowers are surrounded by bracts that are graduated from silver to gold and then soft lavender—a stunning combination. It makes an excellent, long-lasting cut flower in that often-coveted shade of steel blue. 20-24" tall by 10-12" wide. Zones: 4-9, full sun.
Callicarpa Plump & Plentiful Series
We're sure growers and designers will love these new callicarpa! 'Amethyst', 'Lilac' and 'Purple Giant' all have plenty of fruits along each stem in unique colors. Mix these berries with oranges and golds for the perfect autumn combination. All are 5-6' tall by 4' wide, Zones 5-9, and best in sun to part shade.


Hydrangea 'Hortmabrid Everlasting Bride'
The blooms of this stunning variety remind us of lace and pearls, pure white flowers with hard blooms and strong stems for cuts. As the flowers mature, they turn to mint green. 'Bride' is smaller than many hydrangeas, more tolerant of sun, with flowers that don't burn as easily. 3' tall x 3' wide, Zones 5-9.
Hydrangea 'Hortmagreclo Everlasting Green Cloud'
'Green Cloud' opens with apple-green flowers, each with a white eye-zone, and blazes with red and green as it matures. Strong stems, hard flowers and classic, antique colors are all signature attributes of the Everlasting Series. 3'-4' tall by 3'-4' wide, Zones 5-9. Prefers afternoon shade.

Hydrangea paniculata 'Bokraflame' Magical® Candle
Immense, porcelain-white flower heads appear backlit to create a surreal glow of soft yellow flowers above tall, erect stems. A robust grower, the dense, lacey panicles of this variety are produced July through September. It's the perfect color between green and cream, for late summer and fall weddings. 6' tall by 4-5' wide, Zones 3-9. Prefers full sun.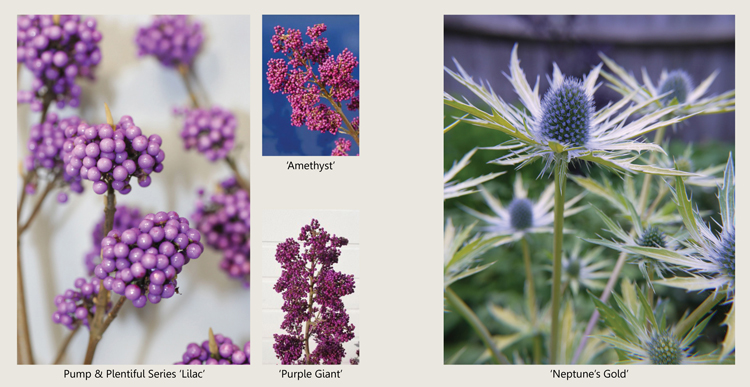 Hypericum 'Magical Midnight Glow'
In late summer, yellow flowers mature to long-lasting, crimson-red berries that create quite a color-play against dark-red leaves. 'Midnight Glow' has been improved to feature a compact plant with color-drenched berries on rust-resistant plants. 30-36" tall by 30-36" wide. Zones 5-9. Full sun to part shade.
Magical® Series of Roses – for hips
'Bullet', 'Gold', and 'Pearls' are the newest varieties which will add sprays of color to any arrangement. Stems have hundreds of long-lasting hips, whose colors complement the purples, oranges, and burgundies of fall. All are 4' tall by 4' wide, Zones 4-9, and prefer full sun.
GeoSeed

Celosia spicata 'Ruby Parfait'
Features showy plumes of deep, rose-violet flowers with pinkish overtones, giving them a velvety appearance. Multiple stems can stand alone or be used as filler in arrangements. Easy to grow as field cut flower. Height 30 to 40 inches.
Centaurea imperialis
Produces double, fluffy quilled flowers that are very fragrant and resemble 3-inch pom-pons. Excellent as a field-grown cut flower and can be used fresh or dried. Height 24 to 28 inches. Colors include 'Lemon Yellow', 'Mix' (broad range of colors including purple, yellow and pink to rose) and 'White'.
Cosmos pinnatus 'Xanthos'
A real breakthrough in breeding, this unique new color is a winner. Stunning, soft-yellow blooms have lighter edges and golden centers. Begins to flower in as little as 70 days from sowing and is very floriferous. An appealing color addition for cut flower arrangements. Height 25 inches with close spacing.
Cynoglossum amabile 'Mystery Rose'
This is a cultivated variety of the Chinese forget-me-not. Plants produce a profusion of soft, rosy-pink flowers on extra tall upright stems. Its attractive, dainty flowers make great fillers for cut flower arrangements. Height 30-36 inches.
Helianthus debilis 'Vanilla Ice'
Creamy white, 3 to 6-inch flowers with deep chocolate eyes are produced on heavily branched plants that produce numerous flower stems. Easy to grow and its blooms are ideal for hand tied bouquets or delicate additions to arrangements. Height 4 to 7 feet.
Lisianthus Doublini Series
Group 1/Double flower. A new concept in lisianthus, this series produces 1½ to 2-inch extra small, rose-shaped flowers. The unique flower shape makes stems very eye-catching in floral arrangements and a favorite for wedding work. Height 26 to 34 inches.  Colors include 'Doublini Blue', 'Doublini Rose Pink' and 'Doublini White'.
Lisianthus Rosanne Series
Two new unique colors join 'Rosanne Green' and 'Rosanne Brown'. 'Rosanne I Black Pearl' is a unique purple color, like nothing else on the market. Group 1/Standard double. Height 36 to 48 inches. Available April 2016. 'Rosanne II Deep Brown' is a trendy lavender-brown that adds a unique element to floral arrangements. Group 2/Standard double. Height 36 to 48 inches.
Scabiosa atropurpurea
'Fata Morgana'
This unusual blushing pinkish-yellow blends well with many colors and makes a beautiful showing on its own. Erect stems support durable blooms that are sweetly scented. Good choice for field grown cut flower. Height 36-40 inches.
Triticum aestivum 'Black Knight Wheat'
Produces exotic-looking black seedheads, awns, and spikelets making this a great variety for adding curiosity to floral arrangements and cornucopia. Sow in the fall. Vernalization is required. Height 36 inches.

Zinnia tenuifolia 'Red Spider'
Dainty, single spider-like petals of luscious red surround darker cone centers studded with golden stamens. The plants are upright, compact, well branched and loaded with blooms all season. Sure to attract attention in fresh bouquets, it can be direct sown as a field grown cut flower. Height 30 inches.
Newflora Cut Roses

Pashmina™ Summerhouse®
Lovely clusters of large pastel cream, nostalgic blooms on an upright, vigorous plant. Lightly fragrant. Productive, healthy variety. For production under tunnels or greenhouse. Excellent stem length. Vase life of 8-10 days.  
Petticoat™ Freelander®
Moderately vigorous variety producing clusters of nostalgic, pastel peach/pink blooms held on long stems. Foliage is semi-glossy dark green. Plant has upright habit. Vase life of 10+ days.
Pomponella™ Summerhouse®
Good production of clusters of fragrant pink and white flowers. Moderately vigorous plant is healthy and hardy. Ideally, produced under tunnels, but has been grown outdoors. Stem length approximately 16-20 inches. Vase life is good.
Spicy Antique™ Freelander®
One of our best varieties, with good production of clusters of fragrant, nostalgic apricot blooms that sell well. Can be produced outdoors as well as under poly. Stems 16-24 inches. Vase life of 8–10 days.

Strawberry Antique™ Freelander®
Distinct, eye-catching deep strawberry color showcased by abundant dark foliage. Our most vigorous grower and producer outdoors. Very good disease resistance. Large, upright blooms in moderate clusters. Stems 16-20 inches. Vase life is good.
PanAmerican Seed

Dianthus 'Sweet Deep Pink Maxine'
Floral designers all want pinks, but different markets prefer different shades. With its exceptional true deep pink color, newcomer 'Sweet Deep Pink Maxine' expands the palette in this important floral color class. Named in honor of Maxine Burton for her innovative leadership and contributions to the floral industry.
Dianthus 'Sweet Pink' Dianthus
A key color for cut flower use, 'Sweet Pink' is perfect for Valentine's Day and Mother's Day sales. Choose 'Pink'—and the other 10 separate bright Sweet colors—with confidence. The Sweet series delivers outstanding product year-round with no vernalization needed, whether you grow indoors or out.
Dianthus 'Sweet Pink Magic'
Shades of pink to white florets on each 'Sweet Pink Magic' flower head provide a novelty look. The 11-color series features large, fragrant and long-lasting blooms on strong stems. Growers can count on high yields of saleable stems to send to market, and can promise their customers excellent retail holdability.
Dianthus 'Sweet Magenta Bicolor'
The uniquely patterned florets of 'Sweet Magenta Bicolor' have a magenta/dark rose ring with pink color at the center and edges. This two-toned beauty offers growers and designers a top-notch bouquet filler with uniform height and flowering time.
Celosia 'Sunday Gold'
The first professional cut version of the popular plume-shaped celosia, the six-color Sunday series brings high-end retail mixed bouquets to life with its full plumes and long, strong stems. 'Sunday Gold' offers a brighter yellow-gold color than 'Sunday Yellow', making it ideal for bolder bouquet design.
Sunflower 'Jua Maya'
Jua sunflowers are bred to be less sensitive to cultural variations than traditional varieties. The pollenless, fast-growing plants produce big, 3½ to 4 ¾ inch flowers, complemented by smaller, deep green top leaves, making it better suited for mixed bouquets.
Sunflower 'Jua Inca'
Always shining, the two-color Jua series offers big, center-of-attention focal flowers for bouquets and arrangements, with very good vase life. 'Jua Inca' features mahogany and gold bicolor petals with dark center. The series is suited to high tunnel and field programs.
Lisianthus Flare Series
Every Flare stem looks like a bouquet—without pinching! This spray-type series produces double flowers on top of each stem that open within a short window. Useful in both greenhouse and high tunnel programs. Flare series is speed group 2 and is suitable for early spring through summer flowering. Available in three colors – 'Flare White', 'Flare Deep Blue', and 'Flare Deep Rose'.

Lisianthus 'Flare White'
Every Flare stem looks like a bouquet—without pinching! This spray-type series produces more double flowers on top of each stem that open within a short window, giving a bouquet effect to each stem. Flare series is speed group 2 and is suitable for early spring through summer flowering.

Lisianthus 'Flare Deep Blue'
The three-color Flare series—including rich Deep Blue—gives growers, retailers and designers both beauty and efficiency. Useful in both greenhouse and high tunnel programs, no pinching is needed so growers save on labor. And Flare's full spray effect may reduce the number of stems needed for arrangements.

Lisianthus 'Flare Deep Rose'
The Flare series delivers the best spray-type lisi in the industry: no-pinch production, a spray of flowers on top of each stem, three customer-favorite colors including 'Flare Deep Rose'. Supplied with professional seed quality so you can grow and sell with confidence. Available in three popular colors, all with attractive medium-sized flowers.
Zabo Plant
Oriental Hybrid Lily 'Companion'
This exclusive new one from Zabo Plant has nice light pink flower petals. Several ASCFG growers have already tried this variety in 2015 in trials; one of the fastest-producing Orientals. Great for your first spring planting item to get in the market quick, in 80-85 days. It has an excellent flower count, which is best achieved with 16-18 bulb sizes. But if you need a speedy Oriental flower for bouquets then best to use 14/16 size OR Companion.
Oriental Hybrid Lily 'Snowboard' (double)
Talk about new and unique! This double is not part of the Roselily series, as this variety is from a different breeder, but it does qualify to be of the same caliber of double Orientals taking their place in the cut flower market. This variety is pure white, with a little blushing on the edge of the flower petals in large double flowers. It has a good flower bud count when using the 16-18 bulb sizes. This flower is just astounding.
Oriental Roselily 'Natalia'
One fantastic-looking double Oriental flower that is the next generation of Roselilies coming in the market, 'Natalia' is a bit more pink than 'Belonica', and the flower count is great at bulb size 14/16. We have seen no disease issues with 'Natalia' yet, so it is durable.
OT Hybrid Lily 'Zambesi'
This new selection has the potential be an ultimate staple flower variety in the North American cut flower market. The stem is very sturdy and it has plenty of flower buds in production from 16-18 size flower bulbs. What we like about 'Zambesi' is that the bulbs store well, so we can continue throughout the year, which is a great for late-season plantings. This variety has come through the test greenhouses in Holland with high grades.
OT Hybrid Lily 'Imprato'
This is one of the most exciting releases in the OT line in recent years. 'Imprato' is a deep pink OT with excellent bud count and a bright flower color, a great variety to replace items like 'Acapulco' and any other of the deeper color Orientals that are fading from the market.