Time Flies Like an Arrow; Fruit Flies Like a Banana
Time flies when you're having fun. How many time have you heard that line? It almost always applies to vacation breaks, days off, and good parties. It's also often heard in a sarcastic tone when time doesn't fly, and it seems to drag on forever. Like when you're pulling weeds all day, or transplanting for hours and hours, or packing up after a rained-out farmers' market, or picking your fiftieth bucket of flowers before 9:00 a.m. Or like now, when some growers are wishing for an early frost because, well, they're just plain worn out from a long growing season.
Time flies when you're having fun, is what I thought when I added up all the columns I had written for this publication. And I mean it in the "Vacation can't be over yet!" kind of way. I've written 45 columns so far. I think. I think because I no longer have my original files to double check. I've gone through five computers since writing my first column as Mid-Atlantic Regional Director way back in January of 2002. And I've never been good at transferring files to a new computer. But the old columns are available in the Members Only section of the web site, in case you get bored on a cold winter's night, and have already read all your cut flower books and seed catalogs. I have four more columns to write for 2018, then it will be someone else's turn in the Oval Office as President of this organization. More about that later…
In my writings, I try to act as a cheerleader and advisor, giving encouragement and advice to growers, both new and old, to help them create successful businesses. I also remind people that flower farming isn't a walk in the park. It's a job. It's a career. It's hard work. It's fighting the weather. It's long hours. It's rewarding. It's always changing. I've heard growers say, when asked how the season went, "Well, I made enough money to do it again next year.", or "I made it another year." I think most growers are optimists. They have to be. They put that little seed in the ground and just know that it's going to grow, and bloom, and help pay the bills. And they do it over, and over, and over, and over, week after week, year, after year. (That's why it's called succession planting.) And that makes for a successful farm. Optimism, dedication, hard work, experience, and a dose of good luck and good weather can go a long way in this business.
On the subject of succession planning. Yes, planning, not planting. Our members with established businesses should plan to attend the Seasoned Growers Meeting scheduled for March 12 & 13 in New Orleans. This meeting is all about the business side of flower farming. You already know how to grow flowers. Here is where you'll learn about growing and managing your business, increasing your profitability, and creating something of value that can be passed on to the next generation, or be used to fund your retirement years. This event isn't for beginners or members with just a couple years in the tractor seat. It is intended for established, medium, and larger-sized farms. More information can be found on the web site under the ASCFG Events tab at the top the home page.
What do we have for the new members? Another year of ASCFG Growers' Schools. These meetings cover the basics of operating a cut flower farm. There will be a one-day Growers' School in Oberlin, Ohio on Tuesday February 20th, with a get-together the evening before. Many of the same sessions will be held again in the fall on Monday, September 23rd in conjunction with the 30th Anniversary National Conference in Raleigh, North Carolina. Check the ASCFG Events tab on the web site for more information.
Now, more about this Oval Office gig. We're on the hunt for members to run for ASCFG President in 2018, for a three-year term starting in 2019. A couple qualifications and requirements must be met. The only "requirement" is that the President must have been an ASCFG Board Member in the past. So, if you were previously on the ASCFG Board, please raise your hand. Wow, 124 of you. That's a lot of possible candidates.
Everyone else can stop reading this column. I'm talking just to the past Board members now.
Presidential Qualifications: Candidates need to have some time available for communication with the home office and with members. This usually nothing more than a few emails a month, and the occasional phone call, unless a special project is underway that takes more communication. You'll likely be contacted by a writer or two for a story about cut flowers for a magazine or newspaper, usually around Valentine's Day. It's easy to answer a few questions and give some insight into the cut flower world. It's also kind of fun to show your family and friends when you've been quoted in the New York Times, Better Homes & Gardens, etc.
You'll need to help organize and preside over two Board meeting a year. These are scheduled in the "off" season so you won't have to be away from your farm when you should be home planting or picking. You may be asked by other groups to speak at cut flower meetings in your area, or across the country. As a previous Board member, you know that it's up to you if you want to do a presentation at a meeting, but I found it a great way to travel and meet growers around the country. You'll be expected to attend the National Conference, and other ASCFG meetings if possible. You will help choose locations for future Conferences and meetings, and of course, you'll need to write this column every three months. Now, raise your hand again if you want to run for President.
For those of you still reading who have not yet served on the ASCFG Board, the only way you can qualify to be President of this amazing group of cut flower growers is to first be on the Board as a Regional Director, Secretary, or Vice President. So, plan your future, and run for one of these other offices when available, so that you can then run for the Presidential term that starts in 2022. But do it soon, because remember, time flies when you're having fun!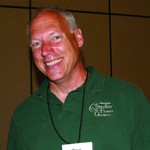 Dave Dowling
Sales Representative and Warehouse Manager
Dave Dowling is a Sales Representative and Warehouse Manager for Ednie Flower Bulb. Contact him at [email protected]