Plan an ASCFG meeting for smack dab in the middle of a busy growing season? Sure! The Canadians can handle it! I was so proud of everyone who was part of the event. The overall response from the participants was overwhelmingly positive.
On August 7 and 8, around 100 people came to the Niagara region of Ontario to see what was growing there, and learn from some great growers and flower people. I was amazed that over half of the attendees were first-time attendees. There were people from all over Canada, the USA, and from the UK! It was definitely proof that an event in Canada was overdue.
We started the morning at Green Park Nurseries. Karl Vahrmeyer, Jr., his brother Mike, and eldest son Karson were the tour guides. We walked the vast acreage on the home farm. The rolling hills were covered with all types of willows and rows of lilacs, and the hydrangea planting looked like a cloud that I would like to lie on. Karl talked about varieties, pruning, and growing techniques of each woody plant. We then went to Karl Sr.'s property to see the rosehip, forsythia, and dogwood production. There were a few drones flying around which were able to catch some pretty amazing views of these spectacular farms.
Luckily we were inside for the afternoon sessions because the rain started. We learned from Kees Van Schaik about ranunculus and anemone production. Kees is a wealth of flower knowledge. He started growing flowers in Holland and then moved to Canada. He is still in the greenhouse industry but now sells supplies you need in a commercial greenhouse.

Bill DeReus wowed the crowd with his knowledge of peonies. He has been growing flowers since he was a young boy and says he has tried every flower from ageratum to zinnia. His farm now focuses on peony production and he typically sells over 100,000 stems each spring. Peonies are a hot topic right now and he gave some great information to a very interested audience.
Sarah Nixon talked about her unique business model. She very meticulously searches urban yards in Toronto she turns into her growing plots. She talked about how she goes about deciding on a location, what her contract looks like, and what she does with the flowers she grows. I think we can all learn about planning and location selection from Sarah. Even if we have acres it is important to plant the right things in the right spot.
After a very informative day the attendees set off in groups and toured the area. I packed my van full of people followed by a few more cars and we headed out for Niagara Falls. I had one American in my van who said she had been to the American side of The Falls before but never seen them from the Canadian side. After we made our first drive past she said "Okay, your side is much better!"
Tuesday morning started off at Wendalane Farm. Jen, Bob, and the kids were very excited to have us and worked very hard to get ready for 100 people in their beautiful century barn hay loft. Jen is so knowledgeable about her flowers. She says she is just getting the business to serious business stage but she knows her stuff. She has been growing for quite a number of years. She has raised her children while growing flowers. I think Jen and Bob are excited that their oldest son will have his driver's license soon, and are thinking of the possibilities. Throughout the walking tour I heard comments about how happy the attendees were that we were touring a farm that was like theirs—a size they could relate to and see themselves doing. Jen and Bob presented together about their farmers' market selling model. It was great to see that each of them had their parts, but together they were a great team. They created a mock market stand display and showed how they are able to pack a lot of flowers into their vehicles for transport to the market. I have been going to our farmers' market for about 9 years and I still learned tips from them.
The morning moved along to Melanie Harrington's presentation about social media success. Melanie let the secret out that she is a total introvert. The idea of presenting to 100 people totally terrified her. But she made a commitment to herself to do things that will help her grow. She was a natural presenter. She talked about how to get the most engagement and tips on how to gain more followers. Her stunning pictures and amazing eye for colour makes her profile shine. In her presentation she showed profile examples of other well-followed flower people. I think we all gained at least some bit of information that was useful in trying to navigate the new norm of our social media driven lives. Think about it: as much as we want to go against the internet overtaking, our society is run by it. I met many of my close "flower farmer friends" for the first time at this event even though I feel like I already knew them.
During the lunch break attendees travelled to Dundas to see La Primavera Farms. We were welcomed to the beautifully restored barn loft of Juan (Dad) and Joanne (Daughter) Feddes. The view from the back balcony was breathtaking. Jessica Dreyer started the afternoon with her presentation about being an event florist. She uses both local and imported flowers for her thriving wedding florist business. She talked about how to strengthen farmer/florist relationships, what she would be looking for as a florist and how she goes about doing a wedding from consult to install. It is great for farmers to know about the other side of flowers.
Carole Charbonneau came all the way from northern Ontario (Sudbury) to talk to the group about her brick and mortar flower shop. She added a hoophouse in her back yard in the past few years and uses flowers she grows along with other flowers in her designs. I asked the attendees to bring flowers for the demo portion of the event. There were so many! Bailey Hale even brought some of his amazing sweet peas across the border! What a treat! Carole did a fabulous design with 'Café au Lait' dahlia, white cosmos, thornless blackberry foliage, and so many other amazing flowers. I was her 'go-fer' and it was so fun helping her with her flower selection.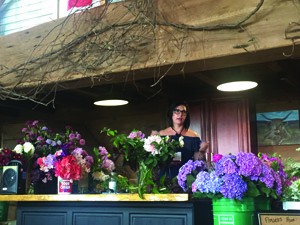 Natasa Kajganic came to speak to the attendees about the Toronto Flower Market. It is a unique sales model that happens once a month in Toronto—a whole market filled with nothing but flowers. It was great to hear how the concept had grown from a vacation in Europe to a real thing with growing attention in Toronto. Even if you weren't from the Toronto area it was a great story of "If you build it they will come."!
After the presentations there was time for self-guided tours of La Primavera and William Dam Seeds (around the corner). There was lots of socializing, good food, and good fun over dinner.
I think back on the event and am so proud of the group I had working with me. Our team was so eager and focused on making this a great event for everyone that attended. As I was introducing some of the speakers I had to control my emotions because I was so proud of them, and I realized while standing up in front of the crowd that the people I was introducing were "MY People, MY Friends". They are people that I know I can count on for encouragement and knowledge. We are always learning from each other. I'm so glad that so many people will learn and benefit from some great people. So watch the videos!
I was glad to hear that attendees made the side trips to the Ontario Flower Growers Auction and other farms along their driving route. I was happy to welcome and show some great flower farmer friends my farm. It is cool to experience a friend's farm in real life. Social media post are more relatable because you were there. So I encourage you to get out and take the road trips. I have been lucky enough to fit some road trips in this summer to see other farms and I am going to make a point to see more farms. I can convince my kids that flower farm holidays are a good idea for a few more years, until Disney wins out.