It's been quiet in the Mid-Atlantic. I expect this is because we have all had our heads down doing our work. Farmers seeking help to overcome problems have asked for help on social media and it is a pleasure to see so many taking the time to step up and help. This is one of many advantages of being part of this village, helping one another.
It's a record-breaking time for the ASCFG; as I write we are on the brink of hitting 1300 members. The membership numbers continue to increase and the meeting attendance commonly sell out well before the event date: this is a sign of a healthy organization of hardworking folks in full swing.
It seems as though our secret is out, that this "dream job" can actually provide a career, income, and opportunities. Sure, it's hard work, but isn't anything worth doing hard work? Having the ASCFG to round us up and bring us together to benefit from one another can be a part of each member's success when membership is embraced to its fullest. That this organization was started and sustained by forward-thinking members and leadership all those years ago is truly a gift. We are planning quite a celebration in September of 2018 because it will be the 30th year of ASCFG! Start planning your farm escape now!
I've had some great member visitors on my farm this summer; another benefit of membership. It doesn't always work out, but when a member asks to visit I do my best to make it happen. It never fails to benefit me as much as the visitor. Seeing is believing sometimes and asking a question can change everything and this goes both ways!

It started with Nan Matteson and Kathy Yearwood coming to redeem "a day on the farm" they purchased at the ASCFG Research Foundation Auction at the 2016 National Conference. These two put together quite a road trip visiting other member farms on their way from their home states of Ohio and Indiana to me in Virginia. They didn't even know each other until they met at the conference banquet table! During their visit, I left them alone with my sister Suzanne for a few moments. On my return, Kathy was practically in tears. Suzanne had showed her how we made speed bouquets for supermarkets. Kathy couldn't believe the simplicity. These are the moments that make this so worth the effort for all involved.
Kirsten and Nick Knecht found themselves nearby on a business trip for Nick's work. Kirsten reached out to me, and as it happens an afternoon visit worked out. Answering her questions and hearing what challenges she is faces was refreshing and insightful for me. Having grown up on an organic produce farm she was no stranger to the work and methods of selling, but sometimes it can be a struggle to find your own direction. Trying different business models that will fit your current lifestyle and be willing to change it as life's circumstances change can liberate and empower you to do the work you love.

I am so fortunate to be able live this #flowerfarminglife. Embrace it, share it, and live it. Don't get too caught up in the overwhelming chore list of growing flowers. Be as the rest of the world thinks we do every livelong day—stop and smell the sweet peas.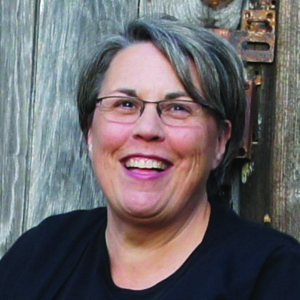 Lisa Ziegler
The Gardener's Workshop
Lisa Ziegler The Gardener's Workshop Contact her at [email protected]