The Crop Gossip Edition: Why We Like Them, Why We Don't
Zinnias
Ellen – The Florist: Zinnias are the quintessential summer flowers. Big blooms! Bright colors! In the last few years, the range of zinnias offered by our local growers has expanded considerably. Beyond Benary Giants, there are Oklahomas, Zinderellas, Zowies, Profusion, Persian Carpet, Lilliput, and so many more! Zinnias are great in CSA bouquets and other single-order bouquets. They really pack a punch. They also add a burst of summer color in centerpieces. For a focal flower, zinnias are relatively economical compared to lisianthus, dahlias, or even some sunflowers.

Zinnias can be challenging to use in wedding designs. Since their necks are hollow, they're prone to bending. Harvesting at the correct stage of growth, when the necks are strong (but the bloom hasn't aged) is definitely key from the grower's side. On the design side, wiring helps keep the heads in place for bridal bouquets. Additionally, vase life can be iffy. Experts say don't put zinnias in the cooler during conditioning. For wedding work, which typically begins several days in advance of the wedding date, zinnias that are in centerpieces must be put in the cooler. We have tried raising our cooler temperature to 49 to try minimizing the chilling effect of the cooler on these heat loving flowers. So far so good.
Laura Beth – The Farmer: We only grow Benarys (because they're big and powdery mildew resistant), 'Queen Red Lime' (because that COLOR!), and 'Oklahoma White' (because they're great producers and we always need white). We transplant from 128's at 9×9 spacing. Any closer and we run more of a risk of powdery mildew.
We had good vase life (six or so days) until this year, when we got some complaints from our CSA members. We quickly did some experiments to identify the problem. We discovered that it's true: zinnias have only a three- or four-day vase life if they're put in a cooler. Before this year, we didn't have a cooler, so our zinnias were just fine.

Now that we know, we're harvesting all zinnias the same day they are delivered to the buyer, so we don't have to store them overnight. We're using a Chrysal gerbera tablet in each bucket too, just in case. And, we sent an email to our members explaining the problem and promising extra full shares as thanks for their patience.

Some of our florists never buy zinnias, and some buy them every week. We use the majority in our CSA and for weddings. 'Queen Red Lime' is especially important for our wedding sales, as that blush color is always in demand. We plant three successions, which pretty much covers the summer and fall. When we bunch, we put 11 stems instead of 10 just in case a stem breaks in transit. The only other flower we do this with is marigolds, which also have more fragile stems.

If I had to make one recommendation when it comes to zinnias, it's to skip the small blooms and grow just Benarys. They go a long way for your farmers' market, florists, and for weddings, whereas the small blooms are more of an accent flower. Plus they're very resistant to pests and disease.
Dahlias
Ellen – The Florist: There is so much to love about dahlias. The best thing about them is how long they are available. This year we started getting dahlias in late May from PlantMasters in Montgomery County Maryland in zone 7b. They filled their new hoophouse with 6-8 of their favorite varieties (including 'Café au Lait', of course) in March, and eight weeks later the dahlias were ready to cut. These powerhouse focal flowers continued through the summer and all through the fall. In Baltimore City, where our zone is 7c (almost 8) we have microclimates that allow our city growers to continue producing dahlias long after frost has hit everyone else. Last year, we had dahlias late into December.

We also love that dahlias come in an endless number of colors, shapes, and sizes. As a designer, there is a dahlia for everything we need to design from boutonnieres ('Little Beeswing', 'White Aster') and floral crowns to bridal bouquets ('Café au Lait', 'Breakout', 'Belle of Barmera') and large centerpieces and ceremony arrangements.

Now don't get me wrong. Dahlias aren't perfect. They have their own set of issues just like most flowers. For design, dahlias can be tricky to use because many of them, including the much beloved 'Café au Lait', are flat and one-sided. This works great for front-facing bouquets and arrangements. However, for designs that must be seen from all sides, they can be difficult. When possible, we use ball dahlias in these situations. Our favorites right now are 'Cornel', 'Cornel Bronze', 'Jowie Winnie', 'Wizard of Oz', and 'Honey Dew'. We also wire dahlias to be able to manipulate their positioning in arrangements. Wiring forces the bloom to face up as opposed to out, which can be a little easier to use in designs.
Dahlias can often be on the short side. Stem length range from 8 inches to over 24 inches. With this much variation, it's critical for us to ask the growers about length before ordering. The worst is to be surprised by the stem length of the flower when you have plans for it being a certain height. If dahlia stems are short and we need them to be long, we can always put water picks on them and wire them into bouquets or arrangements.

Laura Beth – The Farmer: It's only our second year growing these mischievous plant devils, so keep that in mind as you read about our methods—we're probably making lots of mistakes. Feel free to let me know what we could do better!

We plant ours in early June, after the spring rain. Each hole gets a dose of feathermeal and chicken manure. We then put compost in each dahlia bed. We don't use landscape fabric or plastic; eventually the plants get bushy and don't need to be weeded.

If we had been on top of our game this year, we would have fertigated with fish emulsion once every few weeks for the remainder of the season. We use the Florida weave, a popular tomato trellising technique, to keep them upright. I see more and more farmers using the corral method (a double layer of twine on either side of the dahlia bed) and might try that instead next year! We definitely have some dahlias flopping over, even with three layers of twine.
We don't use bug bags on our dahlias, because it seems like the time I'd spend putting them on each bud negates the money I'd make from selling that flower. Instead, we simply deadhead any bug-bitten blooms as we harvest. It takes a while, but not as long as bug bags. We grow mostly ball type dahlias because they are less susceptible to bugs than dinnerplates.

In November, we dig tubers and store them in crates in our side porch, which never quite freezes. We haven't washed the tubers off in the past; we leave the dirt packed on them, just like you would if you were storing potatoes for the winter. We divide in the spring when they've started to sprout, so it's obvious where the eyes are.

Favorite varieties include 'Cornel Red' and 'Cornel Bronze', 'Natalie G', 'Jowie Winnie', and 'White Aster'.
Basil
Ellen – The Florist: Basil exudes the scent of summer. Like zinnias and dahlias, there are dozens of varieties to use for design including the popular 'African Blue', Thai, 'Cinnamon', 'Aramato', lemon, 'Opal', 'Cardinal', 'Pesto Perpetuo', and so many more. We love basil as a foliage in design because colors are so unique and varied. 'Opal' has purple leaves that are almost black, while 'Pesto Perpetuo' is bright green with variegated leaves. Of course the spicy scent also adds a unique element to any summer or fall arrangement.
Basil, like zinnias, are heat-loving plants. They don't like being in the cooler during their conditioning. But like zinnias, we have tried to minimize any negative effects on the flowers from the cold by raising the temps.

Laura Beth – The Farmer: We grow only 'African Blue', which is resistant to disease. We buy about 100 plugs from Hillcrest Nursery and then take cuttings all year. Cuttings go under our fluorescent shop lights for about two weeks to take root, then we move them out to the greenhouse. Basil does fine in our cooler over 42 degrees, but not below. We harvest the day before deliveries so it can hydrate all night.

Because basil shouldn't be used out of water, we never give it to brides and grooms unless they request it. In general, we give only the hardiest foliage to DIY wedding couples. Couples are often unfamiliar with flowers and foliage, including basil, so we try to help them out by giving them stuff that won't wilt. For example, goldenrod foliage, dusty miller, sage, and eucalyptus make great foliages for DIY couples. Basil, lemon verbena, and mint are more risky.

Basil is not one of my favorite foliages because it's too finicky. I prefer hardier foliage like eucalyptus and dusty miller. Lemon verbena and scented geranium are great too! But, basil is crowd pleasing and a great producer, so it's worth growing. We get at least two harvests from each plant throughout the summer and early fall.
Ellen Frost
Local Color Flowers
Ellen Frost is owner of Local Color Flowers. Contact her at [email protected]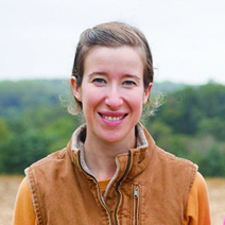 Laura Beth Resnick
Butterbee Farm
Laura Beth Resnick is owner of Butterbee Farm. Contact her at [email protected]