Some of you may be recharged after the off season, while others may be ramping up from a slower "winter" season of greenhouse growing or endless planning for the 2017 season. Whatever the case may be for you and your flower farming business, work hard, and work smart, to make 2017 your best year yet.
We all know that working hard can entail long hours of physically, and often mentally demanding labor. Whether that means long hours of transplanting plugs and bulbs by yourself, spreading truckloads of compost or mulch as you prep beds and fields for the season, or managing a crew of workers to do the manual labor while you fine-tune the many aspects of a working farm, don't forget why you decided to be a flower farmer.
There are probably as many reasons why someone decides to be a flower farmer as there are lisianthus varieties. And there are a lot of lisianthus varieties lately. In the roughly 18 years that I have been a member of the ASCFG, I've visited well over fifty cut flower growers across North America. Many of these visits were on the tour day of a Conference or a Regional Meeting. Some visits were to consult with new growers just getting started who wanted to learn what to do, and what not to do when starting a cut flower farm. Many visits were done as a "field trip" during a Board Meeting. And others were to growers because I was in the area and I simply invited myself over for a visit.
Of all the growers I've visited, no two were the same. Some were similar, as in they were mega-greenhouse operations with dozens of workers, or they were small, one-person farms where the grower is everything from farmer, to mechanic, to designer, to salesperson, to financial juggler, to the collections department. But no two were the same. Like people, every flower farm is unique. While each farm has different product lists, marketing channels, and different financial goals, and a different story to tell, every farm should have the same goal when it comes to the end product. We should all strive to produce the absolute best cut flowers possible, at all times, without compromise. If we ever send poor quality products to the farmers' market, grocery store, florist, or wholesaler, we are just cheating ourselves. We are cheating ourselves by lowering our quality, lowering our value, and lowering our customers' expectations. We must do everything possible to prevent lowering anything in relation to the flowers we grow. We want to increase quality, increase sales, and increase profits.
Unfortunately, a few of the businesses I've visited over the years are no longer in business. Some because of hurricanes that wiped the farm off the map, some because of retirement, some because of poor planning, and some because they just couldn't get to that sweet spot called successful or sustainable.
There are currently at least five ASCFG events in the works for the remainder of 2017 and early 2018. One meeting currently in the planning stages will be held early next year. This will be for established farmers who have been growing for many years. Sessions will be constructed to answer those difficult business questions that come up, but are often brushed to the side and never dealt with, or worse, never even considered. It won't be a meeting about growing crops, or marketing, or the latest wedding designs. It will include sessions about growing and protecting your business, producing wealth and assets that have value for your retirement (yes, farmers may retire), and planning a succession strategy for you farming business. The ASCFG has been "growing growers" for almost 30 years. We felt it was time to offer a program to those members with established farms, to help them manage the business side of their operations. Look for more details about this meeting, and more in the coming months.
In the meantime, get in touch with another ASCFG member in your area and go visit their farm. And if someone is interested in visiting your farm, invite them over. You may be amazed at how much you can learn from each other, without even trying.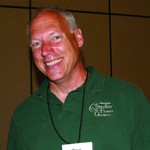 Dave Dowling
Sales Representative and Warehouse Manager
Dave Dowling is a Sales Representative and Warehouse Manager for Ednie Flower Bulb. Contact him at [email protected]