Recapping Some Essentials
As I was thinking of a topic to cover for this issue, I logged onto the Members Only section of the ASCFG web site, and read through some of my old columns for ideas. I took the easy way out, and decided to compile some snippets into another article. Here are a few highlights from past issues:
• Make time to spend with friends and family. Don't always work seven days a week. Trust your employees to do their jobs. You can always be just a phone call away.

• Brighten someone's day with flowers. Whether it's someone you know, or a child at the farmers' market, surprise them with flowers. If you have extra flowers, give your customers a few stems. They'll remember your generosity.

• Give your customers what they want. Quality products, helpful service, and a smile are things that can help your company thrive. Enjoy your work, or get a different job.

• Always be on the lookout for new material to grow. New offerings may keep customers excited about what you grow. You never know where you'll find the next flower that will help pay your bills. (We all know, the ASCFG is a great place to start.)

• Everyone needs to learn new stuff : Even old dogs and old cut flower growers could use a new trick every once in a while.

• Every year we should plan for our biggest season ever, then go out and make it happen. Grow some new varieties, increase production, and add new markets, florists, or wholesalers. Maybe start doing weddings or events. Find something to do and look for ways to make it happen. It's up to you. Like your Mom said, "You won't know until you try it". Mom was usually talking about something like turnips, not cut flowers, but you get the idea.

• We all know how important regular customers are to the success of a business. Regular customers are the ones who pay your bills. Starbucks doesn't survive on the occasional coffee drinker who stops by a couple times a year. They thrive on the millions of customers who stop in every day for a cup of caffeine.

• Flower quality must be the most important thing on every flower grower and seller's mind. A customer—especially a new customer—who purchases poor quality flowers may never purchase again.  All the promotion in the world can't overcome a poor quality product.

• When you find employees who are right for your company, invest in them with not just a fair salary, but also with realistic expectations, and recognition of a job well done. Taking your employees to ASCFG events or even the National Conference goes a long way in letting them know that you value them as an important part of your business. Every employee should want to come to work and be concerned for the well-being of your company. Keeping employees happy can be as easy (and cheap) as keeping popsicles in the freezer for those hot summer days, or offering paid vacation and other benefits if you can afford the added cost.

• Plant an extra 100 sunflowers every week, and set that money aside for the Conference.

• Follow through on your promises. If you offer to help someone, follow through. If you tell a customer you'll have a flower on a certain date, do your best to have it for him or her. If you've said in the past that you'll make it to the ASCFG Conference "next time" then I guess I'll see you in Ontario or Ohio.
Reading through all the archives of The Cut Flower Quarterly reminded me of this great body of information that is as close as your computer. Members can view and read back issues, and search for topics of interest. Want to know about sweet peas? Just search "sweet pea" and you'll have enough material at your disposal to grow sweet peas like a pro. Pick any topic, search, and you'll be rewarded with great information. Just don't get sidetracked for the whole afternoon—there are flowers to pick, seeds to sow, and a lot of work to get done on the farm.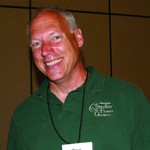 Dave Dowling
Sales Representative and Warehouse Manager
Dave Dowling is a Sales Representative and Warehouse Manager for Ednie Flower Bulb. Contact him at [email protected]