It was fifteen years ago that the ASCFG was changed forever. That's when Linda Twining began working for the Association.
Juggling several tasks, and wearing many hats, I had been keeping the ASCFG running with the variable assistance of the Board of Directors, college students, local temporary workers, and my children. It was apparent that I needed someone permanent who could handle a wide range of responsibilities, was dependable and organized and experienced, and who had sharp business sense.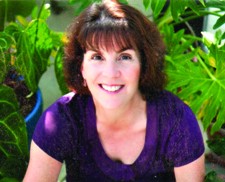 Little did I know that I would find those essential qualities, and hundreds more, in one person. I could fill twenty pages with details of the tasks Linda completes daily, those which are part of her formal job description, as well as those she has created for herself to take on, and still not completely describe the scope of her influence on the success of this organization.
Let's just say that every piece of printed or online material that comes from the office, each part of every successful small meeting or large conference the ASCFG produces, every aspect of an organized and profitable business, an intensely-managed membership database (which increases monthly), and effective promotions and outreach, are all products of Linda's endless energy and professionalism.

Her work ethic is epic. She laid out the upcoming postharvest book while on vacation in Florida. She put together most of this magazine bedridden with a viral flu. She works through lunch, after dinner, and most weekends.
People laugh when we tell them that we often email each from our desks twelve feet from each other, but most times, we are on the same wavelength, and barely need to start a sentence before the other one finishes it. I tell her almost weekly that if she ever left her position, I would have to follow her, as I could never work without her, and could never find a replacement for her.

You should know how absolutely vital this woman is to the ASCFG, and when you have time during your busy spring season, please let her know, and join me in thanking her.