A New Year, New Varieties, New Members
As overall ASCFG membership has increased in recent years, the number of Canadian members has increased as well. Currently, we have more than 50 Canadian members. At our Board meeting held the day before the 2017 Grand Rapids Conference, it was decided to create a separate Canadian Region. Not in an attempt to divide them from our stateside members, but to include our Canadian members more fully into the ASCFG planning and management of the organization. Canadian members have been on the Board in the past, but Canada as a country, never had her own, exclusive region. We sent out a call for nominations for Regional Director and three members became candidates, possibly the largest slate of candidates we've ever had for a Regional Director position. I'm happy to announce that Janis Harris the new ASCFG Canadian Regional Director. I look forward to working with her on the Board. Look for Janis' Regional Report on page 53 of this issue.
It was great to see so many new faces at the Conference in Grand Rapids. With 165 "first-time attendees", we hope you felt welcomed (and overwhelmed), but not too lost in the crowd. Our hope is that you were able to go back home to your farms and businesses with a good dose of "I can do this!" enthusiasm for the New Year. The number of "new" growers in attendance was refreshing. You've made the right choice when you joined the ASCFG and attended the Conference.
New and beginner growers probably don't know how good they have it. It's hard to imagine, but not too many years ago, there wasn't the ASCFG, the internet, or all these books dedicated to cut flowers to help farmers become better growers. People had just a few books at the library, and seed catalogs to help them learn how to grow cut flowers. Plant knowledge was passed down from generation to generation and people learned by working on the family farm. Now, if a grower has a question on spacing, variety specifics, insect control, or any of a hundred questions that come up each day, all he has to do is do a Google search from his cell phone, or send a text to a flower farming friend, and the answer is almost immediate.
Growers can email an order to a supplier or post to social media while out working in the field, never missing a beat. Imagine, if you can, what life was like when growers would look through seed catalogs, fill out a paper order form, write a check, and mail in a seed order. Then wait three to four weeks for the seeds to arrive.

The winter issue of The Cut Flower Quarterly is usually the largest of the year. This issue in your hands now is no exception. All the great information on the New Varieties and the results of the ASCFG Trials from the past year take up a lot of space. But all of this is worthy of every page used. You will not find this valuable information dedicated to cut flower production and marketing anywhere else. Look through the results of the Cut Flower Trials in this issue, and commit to growing some, if not all of them. Look at the New Varieties available from various suppliers, and choose the ones that you think will work for your business. Your customers will be rewarded with new varieties of cut flowers that will help stand out in their local market. And you will be rewarded with more sales and more money in the bank.
Make sure your passport is current, because you may need it soon. This is the year of the "O" for the ASCFG. "O", as in Oregon, Ohio, and Ontario. We're putting on a meeting in each of these locations in 2017. Americans heading to Ontario and Canadians heading to Oregon and Ohio will need a passport. If you don't have a passport yet, start the process now. It can take 4-6 weeks in the States, and 10-20 days in Canada. Besides, once you make all that money on those new flower varieties you're going to be growing, you might want to jet off to Europe on vacation.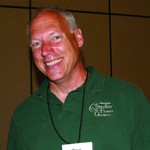 Dave Dowling
Sales Representative and Warehouse Manager
Dave Dowling is a Sales Representative and Warehouse Manager for Ednie Flower Bulb. Contact him at [email protected]