I've lost count of how many times I've written a column or article for The Cut Flower Quarterly, but this is my last one as a Board member. I first joined the Board in 2002 as the Mid-Atlantic Regional Director, then four years as President, a couple years as Industry Liaison, and another three years as President. After twelve years on the Board, it's someone else's turn. I welcome our new President, Jennie or Leah, to the position.

I've always tried to dish up some encouragement, along with marketing or growing information, sprinkled with a little humor to keep your attention. I hope I've been able to help you in some way or another with my columns during my time on the Board.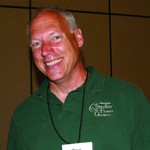 It's no secret that ASCFG membership has exploded in recent years. We reached the 1,600 mark in late September. That's 1,000 more members than just five years ago. I attribute this increase mainly to the internet, as growers find us through Facebook and Instagram. Add in some flower-farmer advocates like Erin Benzakein, Lisa Ziegler, and Lynn Byczynski, and authors like Amy Stewart and Debra Prinzing, and all the stars aligned to create a huge increase in "new" flower farmers. Time will tell how many of these new growers are in it for the long run. I hope all of you find success and continue in the business as you have the desire, drive, market, and ability to do so.
I want to thank all my fellow Board members who have helped guide this organization year after year. Organizing great conferences and presenting sessions at them, and many even opening up their farms for tours and meetings. Having Board members who are invested and engaged in the Association is what keeps the ASCFG fresh and relevant to members, both new and old.
Being on the Board is relatively easy. Really. As I hope everyone knows, it is Judy Laushman and Linda Twining who keep the wheels turning for the ASCFG. Working from a little office, at the top of old, steep stairs, in a vintage commercial building "on the Square" in Oberlin, Ohio, they do just about everything, and anything to keep the ASCFG running smoothly. Thank you, Judy and Linda!
At the Raleigh Conference, I was surprised with the ASCFG Outstanding Service Award during the banquet. Four of my sisters and a niece traveled down from Maryland, Virginia, and West Virginia to be part of the celebration surprise. 
How they all kept it a secret since March, I'll never know. I was caught up in the moment, getting emotional to the point where I could hardly say anything. Imagine that, me unable to speak! I'd like to thank those responsible for awarding me this honor. Like I tried to say that night, I grew up in a family where our Mother would help anyone who needed something. Growing up in a crowded house with lots of children (I'm #11 of 12 children) there seemed to always be someone extra at the dinner table, and more often than not, an extra person or two living with us for some reason or another. We all learned to help others, share our knowledge, and expect nothing in return. It's just the way we do things. I hope a little of that attitude has rubbed off on my fellow ASCFG members.

While I'm no longer on the Board after December, I'll be on our Facebook page, and I'll still attend meetings and conferences when I can, and hope to see you there. In the meantime, keep growing the best flowers in the world! Thanks.

Photo: Dave with a small percentage of his siblings!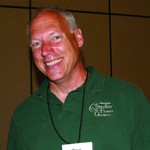 Dave Dowling
Sales Representative and Warehouse Manager
Dave Dowling is a Sales Representative and Warehouse Manager for Ednie Flower Bulb. Contact him at [email protected]