The end is in sight! At least in my neck of the woods, by the time you read this our season will be over, or at least winding down. I honestly don't know how you Southern growers do it, gardening all year round. I feel like our season is a marathon and I'm almost to the finish line!

I'm also feeling a bit of "survivor's guilt" as I write this. Many of you have suffered so many extreme weather events this year that I feel a bit guilty when I look back on our summer and realize that even though it was hotter than normal, it was really pretty smooth sailing most of the time. Our personal life has been a bit challenging this year but I feel like we've kind of hit our groove with our business. We're focusing entirely on our florist/designer sales with just a few events on the farm. A first for us this year was hosting a design workshop in conjunction with one of our designers. The weather was perfect, the flowers bountiful, and the designs lovely! Everyone had a great time and we plan to do more of them next year.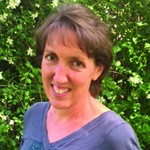 Another ASCFG conference has come and gone and what a great one it was! The design competition was amazing! Such an inspiring display of beautiful product and talent. I so enjoyed getting to meet some of you and wish I could have spent more time talking to each of you. Hopefully we'll meet up again! I feel like this conference gave me the energy to finish up this year strong and to start planning for another season. If you've never made it to a conference I highly recommend that you plan for at least one of them next year. They are definitely game changers.
As I write, our dahlia season here in zone 5 is reaching its peak but by the time you read this we will probably have dug all the tubers. Dahlias are a fairly new crop for us but I feel like this past winter we finally landed on what works for us for digging, processing, and storing these beauties. I think dahlias, with the amount of work involved, are borderline profitable for us anyway, and losing a lot of them in storage would push them over that line into the zero profit area. I've seen so many ways to dig and store dahlias and I know every beginning grower wants to know the secret but unfortunately, or maybe fortunately, I don't think there is just one way to do it. There can be a lot of variables depending on your climate, soil, storage facility, natural humidity levels, and more.
So far we've waited until a light frost has taken out the dahlia tops before we start digging them. I know that alone is a point for discussion but so far it's worked for us. We are a very small farm with no large equipment so once the frost hits we find the shovels! I've watched videos of people digging dahlias where they pull them up, shake off the soil, and move on to the next one. Not so lucky here! If your soil is anything like ours your tubers will probably need a good washing once dug. Last year we set up bulb crates right in the garden and washed them on the spot so that all the soil stayed in the garden. It's generally a cold, wet, mucky job.

Once the tuber clumps have been washed we pile them into bulb crates. If it's a nice day we may be able to let them sit and dry a bit outside. If frost is threatening for that night then we move them into our greenhouse or barn. I feel like this stage is a critical step. Knowing when they have dried enough but not too much is important for your success in storing them. Depending on the weather it might just be a few hours or a day or two before we start dividing and storing them. Again, depending on the weather, we set up some tables in the barn or outside and start the great dahlia dissection. My goal is not to divide all the tubers as I find that especially smaller tubers will store better when left in clumps. I want to divide them only enough to open up the hollow stems so they can dry, and also break down the clumps a bit so that they fit better into the crates. Some of the larger varieties, like the CAL's, get divided more into individual tubers.
Once divided, the tubers are packed into bulb crates that are lined with newspapers and have a layer of pine shavings in the bottom. We get the pine shavings in large bales from the local co-op. The shavings are layered in with the tubers to prevent them from touching each other too much. If a tuber happens to rot, the pine shavings help absorb any moisture so you don't lose a whole crate of tubers. Once a crate is full we put it in our walk-in cooler which during the winter we keep above freezing. Since the room is super insulated it doesn't take much to keep it from freezing. We put a little milk house heater in the cooler and attach a thermostat to it. Once all the crates are stacked in the cooler we put a piece of plastic loosely over the whole pile to help hold in the humidity. Last winter we kept the cooler around 44 degrees and basically kept the humidity as high as we could. It started out around 90% but was closer to 80% by late winter. Our winters can be very cold and dry here so keeping the humidity up is our biggest challenge. At one point we sat buckets of water in the cooler with the crates. We've had really good luck with this method and lost only a handful of tubers last winter. I feel that no matter the method that you use, the important part is keeping an eye on them, and making adjustments as needed.

Now that the tubers are in storage it's time to dig out the seed catalogs and start planning and plotting for next season. I hope it's a great one for all of you!