When I looked through the most recent list of new ASCFG members I couldn't help but feel a ripple of excitement for the local flower movement. Wow, so exciting! While I was discussing the recent influx of new farmers with a prospective grower, she asked me if I thought there might be too many flower farmers soon. I told her no, I didn't think that would be a problem anytime in the near future, at least not here in the Midwest. When I think about the small percentage of flowers I am supplying for my local customers, in proportion to the amount shipped in, I know there is still plenty of room for many more growers. Of course, that means developing relationships with designers so that they see and come to value the benefit of locally grown. And here in the Midwest we're working on that.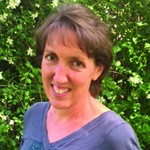 In January our little fledgling group, Midwest Farmer Florist Collaborative, hosted a workshop for florists, growers, and prospective growers here in the Midwest. The group started as an idea from a local designer who wanted to be able to source more local product. We went from 11 of us around her table in 2016 to over 50 of us gathered together in 2018. A large percentage of the group was folks either just starting or hoping to start a flower farm. Flower farmers have always been a bit fewer and farther between here in the Midwest but this gathering gave me great hope for our future.
Our group gathered at the farm of Sheila Fitzgerald, who was one of my original florist customers and a great proponent of local flowers. Sheila's cozy barn was the ideal setting for our group. We had a full day with sessions on selling at markets, selling to florists, social media, alternative revenue streams, floral trends, and a bouquet demonstration. We were honored to have our own Judy Laushman join us and share the ASCFG's Local Flowers video. We ended the day with a drawing for door prizes and a Q & A session with all of the presenters. Excitement ran high and I've had some tell me this was just the boost they needed to jump into flower farming.
So, let's get growing! I've had quite a few people ask about our production model for dusty miller here in zone 5 so thought I'd explain it in greater detail.


In our early years of growing dusty miller we had limited success with our outdoor plantings. It seemed that we usually weren't able to cut off of it until late summer. If it was rainy it looked crummy. If it was planted near the road it got dusty and looked crummy. When we planted it into black woven fabric it just sat there for weeks in the heat, with some of it eventually dying. Basically we weren't really making any profit off of it. It never overwintered for us and in my brain I had classified it as an annual for our zone. We started planting it in the hoophouse and began realizing some degree of success; however, our season was still pretty short as a spring planting wasn't ready until late summer. One winter we didn't get all the beds cleaned up in the fall, and come spring when we went out to work on it we realized that the dusty was still alive. We were able to start cutting off of it by the middle of May and continued cutting it until well into late fall. Usually it is still looking good when we've shut down our delivery route in the fall and we have nothing left to go with it. Once cold weather has set in for good we toss a piece of fabric over it and forget it until spring.
We now devote an entire 4'x 96' bed in one of our tunnels to dusty miller. We start the seed by broadcasting it in open flats as it seems like the germination time can fluctuate quite a bit. Seedlings are bumped up into 50-cell flats so that we're setting out pretty big, beefy plants. There isn't a huge rush to get the new planting out in the spring as we're cutting off of the previous year's planting and we won't need to harvest the new planting until late summer/early fall. Planting later in the spring also fits well in our production as we're starting to get past the bulk of the spring planting rush. After a planting has spent two summers in the hoophouse it's torn out. We may experiment with leaving some in for the third season this year just to see how it does. It's so hard to rip out a healthy-looking plant! We grow both 'Candicans' and 'New Look' varieties. We find that our florists and designers mostly prefer the 'New Look' variety so we grow about 75% 'New Look' and the balance of 'Candicans'. In a four-foot hoophouse bed we are planting 5 across the bed and 6" apart in the row so it takes about 500 plants to fill half the bed.
This is just one more foliage crop that we can supply to our florists and designers, and they tell us it is far superior to what they can get through local wholesalers. From what we've experienced, dusty miller does not like to EVER be out of water, and when it is shipped in dry it sometimes never recovers. We also discovered this past summer that even though the industry standard had been 10-stem bunches; at one point in the summer it switched to 5 stems in a bunch. I don't know if this is still the norm, but I know I had a very distressed customer who had ordered it from a wholesaler for an event and then came to us in a panic to see if we could help her as she only had half the amount she needed. I think we gained a dusty miller customer for life! I love growing foliage plants as they are always there when you need them, and don't go to waste when you don't cut them that week. I think I told my husband at least a dozen times last year that if we could grow only foliage and sell it all we would.
As we begin our third season of growing exclusively for florists and designers, we're still analyzing each crop and trying to decide what is profitable for our climate and customers. My heart still wants to try everything but my brain and my calculator are telling me differently. I really felt like we were getting a handle on it until the winter volume of The Cut Flower Quarterly arrived in our mailbox. Seriously, even a sunflower hater like me can't resist trying those white beauties! So, back to the computer and phone I went and as more packets arrive in the mail I assure my husband that yes, I'm done ordering and yes, we'll find a place for everything. I'm not sure he believes me!

For those of you in the Midwest, when you get this I know you'll be in a flurry of spring planting but don't forget to take the time to keep some records this year so that when winter comes you'll be able to see just where your profit is coming from. Whether you're in your first year or your twentieth, I think it's a good exercise. Have a beautiful and profitable spring!