Competition: The New Norm
Competition is complex, uncomfortable, exciting, stressful, and an integral part of business. In the local flower community, competition is nothing new. However, in the last few years, more and more people have become flower farmers and/or floral designers. Influenced by Amy Stewart, Floret, the Slow Flowers movement, and the work of the ASCFG, flower lovers, home gardeners, artists, vegetable farmers, retirees, millennials, and everyone in between are viewing flower farming and floral design as more than just a hobby—they want it to be their business.
You're probably thinking "What's the problem with that? Don't we want there to be more flower farmers? More floral designers using local products?" The basic answer is YES, we want more flower farmers and more floral designers using local flowers. Some positive outcomes of the rapid growth in our flower communities include more awareness about the benefits to buying local flowers, more local flowers available, better varieties, and higher quality all around.
With more people farming and designing, there is bound to be more competition. In many urban and suburban areas, the flower marketplace may feel as if it's filling up. Five years ago, a few flower farmers in one town could do business without competing with each other. Now, sometimes dozens of flower farmers in that same town may find that the market is getting crowded, and competition is getting fierce.
This increased competition is causing some new issues between farmers, and between farmers and their designers.
Community Over Competition in Farming
In some industries, competitors are nothing more than nameless, faceless adversaries to beat. But farming is an inherently collaborative industry. Farmers need each other and enjoy each other. In our region, the Maryland Cut Flower Association is a strong group of farmers who happily come together several times a year for knowledge sharing and community building. Over the past five years, the group grew from 20 or so members to over fifty.
Most farmers operate according to unspoken rules for competition based on the collaborative nature of farming. For instance, it's assumed that if a flower farmer is already at a good market, another flower farmer shouldn't apply to that market. Additionally, if a farmer is selling to a grocery store, another farmer shouldn't approach the owner with lower prices. These "rules" may seem counterintuitive to outsiders. But to farmers, they make sense. It is Community over Competition at its most basic.

Since the recent boom of flower farmers began in Maryland, many farmers' markets are full of cut flowers, and florists have a bounty of local options. New farmers may find that there is no easy way into a saturated market, and more experienced farmers may feel protective of their customers. Farmers may be tempted to compete by leaving behind the idea of Community over Competition in favor of more traditional competition methods that put relationships second to things like moving into a market, or selling some surplus flowers at too low of a cost that undercuts everyone else.
There are two problems with focusing less on community values. The first is that reputation matters. Being respectful and honoring other farmers will help your business in the long run. When your high tunnel comes down under wind and snow, you'll want to call upon your fellow farmers to help you put it back up. When you're not sure how to price that weird variety of fritillaria, you'll want to text other growers to ask what the normal price range is. If a flower customer asks another farmer about you, that farmer will tell them honestly. Putting your relationships with other farmers above competition can only make your business stronger.

The second problem with losing sight of the traditional farmer "We're all in this together." attitude is that it's a rarity in an increasingly polarized world. Showing our customers and each other that we care about community has a ripple effect. Making another farmer's day by offering kindness will likely inspire that farmer to offer kindness to someone else. Kindness and goodwill in our communities is much better for business than negativity and division.

When the Going Gets Tough, The Tough Get Creative
If you're just starting out, or if you're an experienced grower expanding your business, you might be thinking, "How can I compete in a crowded marketplace with a Community over Competition mindset?" and, "How can I deal with competitors who don't share the same values of Community over Competition?"
We Have a Few Ideas!

• Grow something no one is growing: fancy peonies that few are willing to invest in, tropicals in your greenhouse, unusual varieties of dahlias that may produce less but you could sell for a higher price.
• Develop an expertise few farmers in your area have. Try growing in the winter, or get a USDA Organic label.
• Customer service can always be improved. Focus on having the very best!
• Market your flowers in a new way. Have an employee who's really good at drawing? Post some original comics to Instagram. Team up with a local coffeeshop for a pop-up.
• Seek out new customer groups to sell flowers to. How about funeral homes? Proms and graduations? How about starting your own farmers' market or co-op?
• Understand your competitive advantage and use it. Do you have a really nice delivery truck? Start bringing flowers once a week to a group of florists and let them buy off the truck. Are you good at teaching? Start a class series for local gardeners.
• Focus on best serving your customers' needs over growing what you like growing. If your customers want more foliage, take out some of those fancy sunflowers and plant dusty miller. It's less sexy, but it sells.
• Focus on retention rather than seeking out new customers. A general rule of thumb for business owners is to sell more to the people you sell to, rather than start a whole new enterprise. Put your creative energy into thinking about how to get your current customer base to buy more.

Most importantly, remember compassion. All business relationships should be approached through a frame of compassion first. If a farmer is stepping on your toes, it can feel like a direct affront, but most conflicts that arise from competition can be resolved through respectful conversation. Reacting to neighbors from a place of compassion is a special farmer skill, let's keep it honed!

In the next Quarterly, we'll tackle the new competitive challenges that come with farmers becoming farmer florists. Send us your stories of competition in the marketplace at [email protected] and [email protected]
Ellen Frost
Local Color Flowers
Ellen Frost is owner of Local Color Flowers. Contact her at [email protected]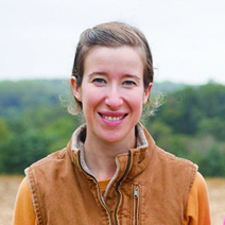 Laura Beth Resnick
Butterbee Farm
Laura Beth Resnick is owner of Butterbee Farm. Contact her at [email protected]