Thank you, Mimo!
I would like to start my first column by thanking Mimo for all her years of hard work and dedication to the ASCFG. I feel humbled and a bit nervous to step into her role here as the North and Central Regional Director, and to attempt to fulfill the duties that she has done so well. Thank you, Mimo!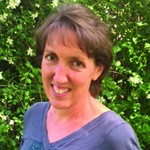 So, to ease into this position, I'd like to take this first column to introduce myself, my husband and business partner Norm, and our little farm, Harvest Home Flowers. I like to think of our flower farm as a sort of happy accident. I look with envy on all the new growers now who have so much knowledge, experience, and community at their fingertips. I'm sure we would be light years ahead of where we are now if we had started with a plan…but we didn't.
Twenty-three years ago we found ourselves living on a rented acreage, tending a veggie garden for our growing family, and giving away loads of extra produce that we seemed to always have. It occurred to us one day that maybe we could sell some of our surplus to earn a bit of extra income to make it easier for me to stay home with our children. Farmers' markets were fairly new in our area at that time but there was a tiny mid-week market in a small town close to us so we decided to give it a try. We would proudly display our meager offerings of extra produce each week, and I would bake cinnamon rolls and potato rolls to round out our offerings. We soon developed a loyal clientele and the first week that we brought home $50 we were hooked!

We decided we needed a name so we started to call our business Harvest Home because it truly was a harvest from our home. With that first season under our belt we started to dream of what we could do if we had our own land and the search began. Money was tight and we discovered that a house with land anywhere near Lincoln was going to cost way more then what we had, but dreams don't die easily. We finally found our eleven-acre piece of "heaven on earth" situated conveniently between the two largest cities in Nebraska. Unfortunately, because of the price range we could afford, it looked like anything but heaven to most people. Despite the crumbling house, untended yard, and piles of debris everywhere, we could see potential. We took a year off from doing a market in order to clear garden areas and to make the house somewhat livable.

We were now less than a 30-minute drive to the largest open-air market in Nebraska, so we signed up to do the Haymarket Farmers' Market in Lincoln, and that's where we spent the next 20 years selling the bounty from our farm. I was immediately drawn to the vendors who were selling cut flowers, and thought "I could do that!"

I started snipping from the flowers that I found growing around our yard, and each year I would add a few more. We put up a hoophouse to extend our veggie season, which I quickly filled with flowers. Norm decided we needed another one so he could have one for veggies and I could have one for flowers, but it quickly became devoted to flowers, too. No matter how many we grew we always sold them.

One stall at market turned into two and we eventually gave up the veggie part of our business entirely. Young ladies and their mothers started asking if we would do weddings and we happily obliged. I had a bit of floral experience in my past and I loved the challenge. We then had florists start to show interest in our flowers so we decided to start a route to florists and designers in the surrounding area. Saying no just never occurred to us!

Now, as our children are quickly growing up and leaving the nest, we've decided that it is time to change our focus. We stopped doing weddings and markets, and 2016 marked the first year that we focused entirely on the florist route that had been growing steadily each year. In just one season our income has grown to equal our last year at market, which was our biggest year ever. It's been a great decision for us at this time in our life.

As you start gearing up for spring planting I'd like to encourage each of you to take a hard look at your business and see if it's still the best fit for you. If it's not, maybe it's time to make some adjustments. One of the greatest benefits of being self-employed is that you can adjust your business to fit your life instead of adjusting your life to fit your business. Happy planting!