WEST AND NORTHWEST
Alaska, California, Hawaii, Idaho, Nevada, Oregon, and Washington

I've always loved growing flowers. After years of living in rentals and schlepping pots of plants from house to house, buying our property was super exciting. I'd finally be able to settle down and plant the garden of my dreams. I'd always imagined my landscapes would resemble abundant English cottage gardens, à la Gertrude Jekyll. My vision was one that, as a flower farmer now, I run into often: I would carry my basket through the utopia that I'd created, filling it with a snip from this flower, a branch from that, until I'd created a beautiful masterpiece to share with the world. I would rest, in the shade of my weeping willow on my picnic blanket, and slowly fan myself with my hat as I sipped wine and gazed at my garden.
Well, we all know how that turned out. Weeds everywhere, meandering paths that make harvest impossible, aggressive plants virtually swallowing up their more dainty neighbors. Not the thing of my dream, more like a living nightmare. For the first few years, we would literally wander through the garden harvesting stem by stem and assembling farmers' market bouquets as we went. Seeing as we had no cooler, we couldn't start the process until late in the afternoon on Friday, thus giving ourselves 4-5 hours to harvest and assemble for market. It was not the most efficient way to work.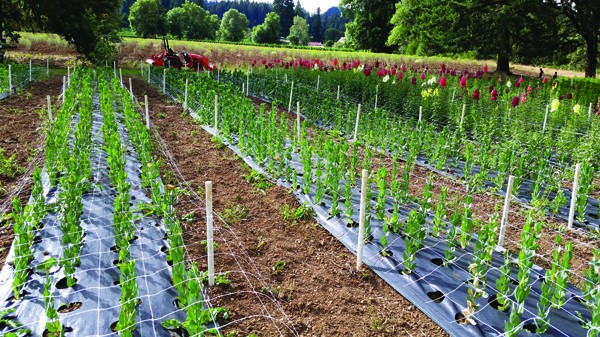 Fast forward 15 years and we've grown, expanded, and become far more efficient. That word again. I hadn't realized my disdain for the word until I started really working on streamlining our farm and business. I had always seen efficiency as a way to classify a refrigerator, as a boring way to make things more boring, as taking away the fun. But, really, efficiency is what makes us able to do what we do, and still see the fun in it. It's inefficiency which steals the joy, which makes this labor of love just labor.
While we are far from totally streamlined, there are a few key things that we have done over the years to make ourselves more efficient. First things first: we got rid of those weaving paths and mixed borders. If a plant wanted to earn its spot, it lived in a row, on drip, and possibly with netting. This move made everything easier. From planting, to weeding, to harvest, to break down, even fertilizing and mulching. So. Much. Better.

Then, we built a cooler. All of us know that conditioning our flowers is of the utmost importance for quality, but another benefit of the cooler is the extension of the harvest, right? With a cooler and a good working knowledge of our crops, we can start our harvesting days ahead of delivery, and we can gauge timing and labor hours to maximize daylight by harvesting over a period of days, instead of trying to get it all done the day before an event or market. Also, working in the cooler is about the most pleasant place to be during the dog days of summer.

Hiring crew, and paying for services. We have always prided ourselves on doing it all ourselves. We can seed, transplant, plant, grow, fertilize, prune, harvest, sell, and deliver our product from start to finish. But when we started looking at where our hours were being spent, like painstakingly seeding snapdragons or filling countless buckets, we started wondering if our time couldn't be used more effectively (read profitably). So we took the plunge and had someone else start some seeds for us, we ordered some plugs, we hired someone to haul compost in instead of driving back and forth with the farm truck to get it.
We hired a crew. We started with one part-time person and have been able to add hours and people to our amazing crew each year.

While not everyone is at the point that they can hire others, I would wager that you are doing all sorts of things that are keeping you from doing something that would be more profitable for your business. Finding and identifying those tasks and then outsourcing or delegating them has helped us and our operation to become more efficient, profitable and, perhaps most importantly, has helped us with the inevitable burnout. While I know that it's hard to let things go (trust me, I'm the worst at it), it's also a pretty rad feeling to realize that you can.

Another way we have become more efficient is to invest in ourselves, just like you have. By joining organizations like the ASCFG, by making connections with our fellow growers, we have not only formed strong friendships, but have learned and grown with help and advice from others. There's no reason to reinvent the wheel, so we love any opportunity we get to learn from or teach our fellow growers. Seek out your regional groups, your local farmers, develop those relationships. You'll gain so much from them.
As for us, we'll be hosting the Pacific Northwest Cut Flower Growers Meetup in February of 2020 again, in conjunction with the Oregon State University Small Farms Program—maybe you'll join us? We're super excited to see all of your faces at the ASCFG meetings in the fall and spring. The Alaska Peony Growers Association Winter Conference is taking place in Fairbanks January 30 to February 2. A great opportunity to learn more about peony growing.

There are so many ways to streamline and be more efficient, and obviously it will be different for each farm, each business, and each individual. I want to know. How have you made your farm more efficient? What are you doing that helps you save hours and money—what are you doing that increases your profitability? Tell me! Really, I, like all of us, need all the help I can get! Pop onto the ASCFG Facebook page and share your experiences, or send me an email at [email protected]. Let's continue to learn—from each other!