Crops We Can't Do Without
Butterbee Farm's Top Ten Fall Foliages
Everyone loves a list, right? Especially during busy fall seasons, with weddings abounding and farm cleanup looming. While we wait for frosts to take out tender annuals, here are a couple easy-to-digest lists of a few of our favorite things.
1. Ninebark 'Summer Wine' This glorious perennial is first on my favorites list because we never have to weed it. It's huge, it's bushy, and it's the right color for fall! The only downside is that it does get buggy in September onward, so we have to dedicate time to picking off hole-ridden leaves. We also have saddleback caterpillar here in the fall, so we wear gloves during harvest and carefully check each stem so that our florists don't get a nasty surprise. We get our ninebark plants from Spring Meadow Nursery.
2. Eucalyptus 'Silver Drop' Dave Dowling says we could sell a whole tunnel's worth of eucalyptus without trying, and as per usual he's right! We grow ours as an annual in the field, and space close at 6" apart. We pinch the growing tips out, but you can get good stems with side shoots without pinching too. We'll try overwintering ours using leaves topped with a tarp, but we'll start lots of plugs too, in case that doesn't work. We sell 15-20" stems for $1 each, and longer 3-4' branches at $2.50 each.
3. Smokebush 'Royal Purple' Another Spring Meadow favorite, smokebush is resistant to bug damage and deer seem to ignore it. All smokebush types sell for us, but 'Royal Purple' is my personal favorite.
4. Scented geranium 'Lemon Rose' We grow several scented geranium varieties each season. We get plugs from Silverleaf Greenhouses through Gloeckner, and take cuttings to double our stash. 'Lemon Rose' has a nice upright habit, but honestly I love all scented geraniums. We plant them in our tunnels in the summer since they can take the heat. We had bad caterpillar damage on the foliage this fall, so in the future we may spray BT preventatively.

5. Raspberry 'Joan J' We bought these bare roots from Nourse a few years ago and finally we had a huge crop of foliage this season! The deer gave it a hard prune in July, which meant we got nice long stems for cutting in September (looking on the bright side here!). Quick Dip helps hydration before the stems harden off.
6. Dusty miller 'New Look' I'm still getting the hang of timing this one. We planted a huge crop in the spring, which was destroyed by insects in the summer. We cut it all back in hopes that we'll get a late fall flush. Fingers crossed! In the future, we'll plant our dusty out later in the spring, cover it with insect netting, and hopefully get a nice crop starting around September.
7. Sage 'Berggarten' This variety is regular cooking sage. Planted close together at 6" and left to its own devices for the summer, it yields 10-12" stems in the fall. It holds up in the field until we get a hard frost. It doesn't wilt easily and is great for boutonnieres. We also grow purple sage, which is less popular but just as lovely.
8. Rosemary 'Arp' We grow rosemary as an annual, since it may not overwinter reliably in our zone. We pinch out the tips for bushier plants.
9. Autumn olive I groan about this foliage since I have to go forage it, but it is incredibly hardy and reliable. We cut loads of it and throw it into the back of the truck, then drive back to the farm and process it. We make sure to strip thorns from the main stem so that our customers don't get cut. We forage in the spring and fall; it's too buggy to be useful in the summer.
10. Apple mint We barely had a mint crop this year (the impact from last year's flooding is still resonating here) but we'll try for next year! Apple mint can be mowed in the middle of the summer to give a second flush in the fall. Just don't let your different variety mints flower at the same time, lest they mix together and become a weird mint monster.


Ellen's Top Ten Favorite Flowers in Living Coral
Living Coral is the 2019 Pantone Color of the Year! We used loads of flowers in this color palette this year at our Pantone design class and in countless weddings. Note: As a florist, my mind is always on the practical use of flowers and how they can be used in our design. Some of these flowers are easier to manipulate in design than others, but they are all amazing.
1. Flowering quince 'Cameo' Quince is often our first blooming branch of the season and the coral color is so refreshing after a long winter. It's best on its own, en masse, in my opinion. The only real challenge with working with it is the sharp barbs running up the branch. We try to trim these before sending them out in the world, to avoid scratches and torn clothing.
2. Ranunculus 'La Belle Salmon' In my opinion, ranunculus is pretty much the perfect flower. The plethora of fluffy petals is perfect for casual and formal designs. We start getting ranunculus from greenhouse growers in February and they usually go right through Mother's Day.
3. Icelandic poppy 'Giant Peach' Icelandic poppies are not my favorite flower. They're delicate, they lose petals and are damaged easily, and their vase life is around a week at best, if handled carefully. Despite their challenges, you cannot beat the look of those peachy, coral, papery beautiful blooms in design. We like to get these when they are cracked open so that they can open in the shop. This helps prevent damage.
4. Sweet pea 'Edith Flanagan' This coral sweet pea is number one on my list of favorite flowers in the Living Coral palette. It's just so unexpected for a sweet pea. Its delicate, wavy bloom, and sweet scent are combined with super saturated color to create a perfect spring bloom.

5. Peony 'Coral Charm' is one of the earliest peonies to bloom which works great for May weddings and Mother's Day designs. These beauties start perfectly coral and fade to an antique cream as they age.
 6. Godetia 'Grace Salmon' While many flowers on this list are close to the color of Living Coral, this godetia is spot on. For designing in the color palette, there is nothing better. The challenge for us as designers is that the petals are really prone to bruising so we like to receive them from nearby farmers to minimize damage.
7. Dahlias Countless varieties are close to Living Coral. Some of our favorites are 'Iced Tea', 'Robin Hood', 'Hillcrest Kismet', and 'Brown Sugar'.
8. Zinnias Some of our favorite coral zinnias are Benary's 'Giant Coral', 'Giant Carmine Rose', and 'Giant Salmon Rose'. Even the new 'Queen Lime Orange', which is a little more peachy than coral, is pretty great for summer and fall design. We also use the small blooms of 'Oklahoma Salmon' for variety in shape and size.
9. Chrysanthemum 'Coral Charm' Once frost has hit and dahlias are done for the season, having mums available make me feel so grateful. This coral mum singlehandedly allows us to continue doing coral-colored weddings throughout October and November.
10. Strawflower 'Apricot Mix' The nuances in strawflowers' colors make them a great pairing for any Living Coral Arrangement. Some blooms lean more peach, some more gold, and some true coral. These are our go-to flower for boutonnieres, corsages, floral crowns, and floral jewelry.
Ellen Frost
Local Color Flowers
Ellen Frost is owner of Local Color Flowers. Contact her at [email protected]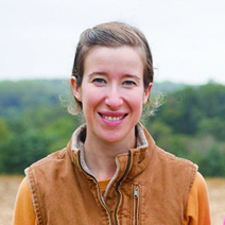 Laura Beth Resnick
Butterbee Farm
Laura Beth Resnick is owner of Butterbee Farm. Contact her at [email protected]