Hello all, and happy summer! Hope this finds you in the full swing of a successful season. As flower farmers new and old we've gone to conferences over the winter, researched endless varieties of plants and seeds, questioned more experienced growers, and laid out meticulous plans on how to space our plants, but until we actually get out there and do it, all the learning and planning are just part of the dream. I love learning and researching but I'm never so happy as when my hands are actually in the soil, planting, weeding, mulching, and eventually harvesting. I love the rhythm of the seasons and the ever-changing weather that makes this business such a challenge. I pray you are all blessed this year with a strong back, lots of sun, and just enough rain!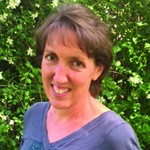 For this issue's Regional Report I was inspired by social media postings. A recurring theme I keep seeing on Facebook pages is newer growers wanting feedback on their floral designs. Although full of beautiful flowers, the ingredient that I most often see missing is the foliage. I know, foliage isn't often the first thing we think of when we decide to become a flower farmer but it really is so important. And because the designers we sell to know the importance of it, foliage is one of the most consistent crops we sell. Just this week I met with a potential new client and the first thing she wanted to know was what types of foliage we grow.
Because of the demand we are trying to close all the supply gaps so that we have a good offering of foliages every week of our season. We're able to start our season off in May with cress and Solomon's seal, followed shortly by dusty miller that we grow in our hoophouses, and the first cuts of our clematis vine. Last year we added thornless raspberry and we started cutting it mid May this year. Bupleurum, which we plant in the fall or late winter, usually comes around the first of June, although this year it was a complete fail because of our hard winter. Physocarpus and baptisia foliage follow closely and are available for weeks. Our first mountain mint usually starts around mid June, followed by the second and third varieties the beginning of July. Next come various grasses, starting in July and running through the end of the season. Spirea, viburnum, rosemary, sage, and lavender are also available mid to late summer. Our eucalyptus is an anxiously awaited element for us which we start cutting about mid August, and 'Mahogany Splendor' hibiscus is the perfect fall-colored foliage that we start harvesting in September.
One of the first foliages that we started growing years ago was mountain mint. I'm not sure we even got the name of them when we acquired them, and the first one to bloom is still a bit of a mystery to us. Some folks have told us that it's Pycnanthemum incanum, or hoary mountain mint, but after Googling pictures of that species I'm not convinced that's what it is. The second to bloom for us is Pycnanthemum muticum, and this past year we started some of the Pycnanthemum pilosum that Johnny's carries and we're loving it. While the first two mints are grown for their lovely foliage, the third, pilosum, has white flowers that make it more of a filler flower crop than a foliage crop. So far we've found only the muticum to be a bit invasive. We use 2' or 3' wide strips of plastic landscape cloth in the walkway between the beds and the muticum had no problem going under it to establish another bed for itself! Because of its vigorous growth habit we are going to try cutting some of it back soon in hopes that it will then regrow and be ready to use a bit later than any that we don't cut back.
If you decide to grow some mint I do recommend you establish it in an area where it has a bit of room to roam, and not too close to any other perennial beds where it will be tempted to invade. We have found that running a line of twine around the patch is helpful to keep the mint upright in the event of wind or heavy rains.

Go plant some foliage and have a great summer!