As I sit and prepare to put my thoughts on paper for my last ASCFG column, I feel way underqualified to speak to this season. What a year it's been on all fronts. It's been an exciting and challenging year in many ways, and one that has stretched us emotionally and physically. It has been such an honor to serve on the ASCFG Board for the past three years, and to play a tiny part in helping to guide this amazing organization through this time.
Now, on to the nuts and bolts of our season, which I feel way more qualified to speak to. When I took this position on the Board of Directors I knew that I wanted to try to give some nugget of useful information in every Quarterly article that you could easily put to use.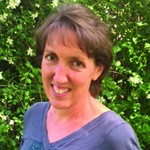 It's what I've always enjoyed about the articles and conferences. If I could take away one bit of information that could improve my business then I considered it time well spent Foliages continue to play a huge part in our florist sales; here are a few updates on that segment of our crops. We've had some successes this summer, and some definite fails.
After growing dusty miller successfully for many years—for goodness' sake, I even wrote an article about how to grow it for the Quarterly!—we had a complete and utter failure with it this year. We have been very successful growing each planting for two seasons in our hoophouses so I thought, "Why not try it for the third year?" I guess that was the straw that broke the camel's back. At least two-thirds of the crop died over the winter, and the plants that were left were not really thriving, then came under attack from an early outbreak of grasshoppers, so we decided to just get rid of the crop and have a summer without Dusty. Yes, we've missed it (it was in our top 5 grossing crops last year) but it's forced us to depend on some other foliages this summer.

Our plectranthus was successful again this year and we grew a new foliage, alternanthera 'Purple Knight', for the first time. While alternanthera tends to grow more like a vigorous ground cover, it has made really nice cuts. The color is beautiful, especially for fall, and the stems are getting quite long now. As I write this we've cut nearly 40 bunches from our little planting of 50 plants, and you really can't tell that we've harvested any.
Eucalyptus continues to be a popular crop with our customers, and we accidentally added a new variety, 'Baby Blue', to our plantings this year. A mix-up with some plugs that we thought were all polyanthemos, but turned out to be half 'Baby Blue', turned into a happy mistake for us. The 'Baby Blue' outgrew the polyanthemos and we started cutting it the first week of August—the earliest we've ever cut eucalyptus. We've also got a little plot of experimental eucalyptus growing for a trial that we're doing and I can't wait to report on any successes with those! We haven't grown chocolate mint since our veggie/herb growing years, but thought we'd give it another try as a cut this year. It's a vigorous grower as you'd expect a mint to be, but it hasn't gotten too out of control. It's a bit small and tedious to cut but the fragrance can't be beat, and we've got a few customers who love it and buy up all that we can cut.
Another foliage fail for us this year was our plantings of basil which all succumbed to downy mildew in the space of about 72 hours! We had blazing heat most of the summer and then one cool week with rain, and they were done for. I did notice that the 'Cardinal', which we'd never grown before, seemed pretty resistant to the mildew but then got pretty beat up in the storm that hit us mid-August.
On the flowering front, one new crop for us this summer was Centaurea americana 'Aloha Blanca'. What a weird and wonderful crop! We had a few customers who said "No, thank you", but enough folks liked it that we sold every bit of it. We've also found it to make an interesting dried flower.

We tried the new zinnia color, orange, in the Queen series. I've been pretty much underwhelmed by it. I love the Queen series but the orange doesn't seem to be enough different from the Benary Orange (just smaller) to make it worth growing.
Our crop of 'Jura Salmon' celosia has been great this year. This isn't a new crop for us but since this variety is no longer available commercially we've been saving our own seed and finally feel like we've got a pretty pure crop of it. Some years I've had a lot of junk in the plantings but this year they looked great. Now I've been having fun selecting out a few that have some beautiful color variations in hopes to come up with some unique varieties from it. If you've never saved seeds I'd suggest starting with some celosia. So easy and fun!
With the cancellation of so many weddings and events this summer we had to think about ways to make changes to our business plan. One new thing for us this year was opening up a tiny farm shop here on our farm. We don't have regular store hours but just have it open during any events or tours we have here at the farm. It's only a 12 x 12, insulated and now finished room in our barn, which also doubles as a cool room on harvest days when we can't fit everything into our cooler.
For our inaugural opening of the shop we had a free farm tour open to the public, and we were pleasantly surprised at the great turnout. Over 100 people turned out to join in on a tour, shop for bouquets and succulents, and just hang out with us to discuss all things floral. Even though the temps were in the high 90s we all still had a great time. We debated whether or not to charge for the tour, but decided to keep it free. We put out a free will donation jar, and sales of fresh flowers, succulents, and honey made it well worth our time.
I hope you all have found profitable ways to tweak your business this year to keep up with the every changing rules and restrictions. I think change is good for all of us and hopefully we'll all come through this with a stronger business plan in mind.

And for a personal note, our third daughter, Hannah got married this year. What a year to get married! I said I wouldn't do it but once again I found myself playing the role of floral designer, wedding coordinator, food organizer, and mother of the bride. All made a bit more challenging in the year of COVID! I believe the day of the wedding also had the highest heat index of the summer, and the reception was in an air-conditioned but uninsulated barn! Nonetheless it was a beautiful day in every way.

Thank you so much to all of you and the Association for giving me the opportunity to serve as a Regional Director these past 3 years. We have learned so much from being members of the ASCFG, and it's been a real pleasure to serve and give back. Keep on flowering—I hope to see you at an event again one of these years!