No matter how long we've worked in flowers, there is always more to learn. Farming and floristry are constantly changing, and it's crucial that we evolve with them. For farmers, there are new flowers to grow, new diseases to fight, and new time-saving methods that will increase yield and profit. For florists, there are new flowers to learn about, new design techniques to try, and new services to offer.
When we were newbies, learning felt easy to come by because all information was new to us. We soaked everything up like sponges! Now that we're more experienced, we need more nuanced and detailed learning. 
This advanced education can be harder to come by, which means that we have to dedicate real time and effort towards seeking it out. But we're busy running our businesses, and it sometimes feels impossible to put our clippers down to take a class or read a book.
But we have to put our clippers down, because learning new things as experienced professionals keeps us relevant in a fast-paced world. More importantly, when we learn, we expand as people, both individually and collectively. As the great writer Paulo Coelho put it, "When we strive to become better than we are, everything around us becomes better too."
Together, we thought of some ways that we continue to learn as experienced professionals. Send us an email with a podcast suggestion, a book you loved, a lesson you learned from one of your teammates for a fellow grower or designer. We'd love to hear from you.

It's all about teamwork

Over the years, our employees have taught us so much. We've learned how to properly broadfork, take cuttings, and fold silage tarps without getting in a fistfight. We've learned how to make wreaths of all kinds, decorate ourselves with floral jewelry, and keep the cooler organized so that nothing is wasted.

Our employees don't need experience at farming or design in order to teach us new things. On the contrary, our team members have backgrounds in mechanical engineering, painting, writing, landscape architecture, set design, theater, and more. Regardless of their formal training, the best employees are excellent at noticing how systems can be improved, and speaking their minds about it. That's why the two skills that we really look for in new hires are critical thinking and communication.

Ego can really get in the way of learning from employees. If someone makes a suggestion, our first impulse might be defensiveness. How can a new, inexperienced employee have a better idea than me? we might think angrily. How dare they suggest something to ME, the Queen! Shame over our mistakes and shortcomings is underneath a reaction like this.

If we can step over that first defensive reaction, we reach a more vulnerable place where we can listen without ego. Our employees are pointing to problems that need fixing, and the more problems we fix, the better our businesses will be. There's no law against admitting our own flaws to your team; we've all got them, goodness knows. It's best to skip the defensive reaction, admit our blind spots, and open the floor for some good old fashioned problem solving.

Friendship is the perfect blendship

Have you heard of Mastermind Groups? We hadn't heard the term until long after "Business Club" was started. Mastermind groups are peer groups for business owners that provide support, problem solving, inspiration and more. This is Business Club for us. It started about four years ago with two photographers, a farmer, and a florist. Three restaurant owners have since joined. Before COVID-19 times, we met about once a month at a local bar. Sometimes we just chatted freely, and sometimes we had prompts to get the conversation going.

It started as just a casual get-together to talk about work, but Business Club has been more of a treasure than we could have imagined. There are so many commonalities between our very different businesses. We all use Instagram, we all are women business owners in a man's world, we are all trying to understand taxes and legalities and balance sheets, and we are all community builders. We've learned so much from each other, from concrete tidbits like a new helpful app to organize our work to how to apply for the PPP loan.

Beyond things learned, the supportive nature of the club has helped us all stay buoyant in these challenging times. We moved our meetings online after the pandemic, but we even email each other regularly between meetings, sharing news or just saying hello. These peers who were once casual acquaintances or vendors we worked with once in a while have become dear friends and teachers.
Everyone needs a Yoda (or two)
Mentors in the business are an important part of the small business toolbox. Sometimes our questions are really nuanced and technical; a quick Google search just won't do the trick. That's when we call our mentors, who have known us for years and can quickly put our problems into context.
Mentors are particularly useful in helping with bigger picture decisions. To grow, or not to grow the business? To invest, or not to invest in this expensive piece of equipment?
Anyone who wants to see you fulfill your potential, whose opinions you respect, and who will welcome random phone calls from you can be your mentor. It can be hard to find mentors who have the experience you need. If that's the case, you can always start by paying someone to consult with you. Often those relationships bloom into something more organic and long-lasting. You can also seek out formal mentor-mentee programs. The ASCFG has a mentorship program, and often local farming organizations offer similar programs too.

Look for mentors not just in your field, but in others too; perhaps your sage grandmother is your mentor, or your friend who has experience in finance. Anyone who wants to see you fulfill your potential, whose opinions you respect, and who will welcome random phone calls from you can be your mentor.

Keep your eyes and ears open
Podcasts have become one of the main ways we can continue learning on a daily basis. There are so many amazing design, farming, and business podcasts available for free that continuing education has never been easier. Here are some of our favorites (in no particular order)
● The Flower Podcast
● The Slow Flowers Podcast
● The Sustainable Flowers Podcast
● The Passion Economy Podcast
● The Goal Digger Podcast
● The No-Till Market Garden Podcast
There are also free YouTube videos, online industry discussion groups, magazines, books, and more! Many of these resources can be accessed as audio files on your phone making it even easier to learn on the go or while working. 
Getting off the farm and out of the studio
Being small business owners means we do it all. It's hard to break away from the every day "To Do" list and make time for focused learning. For us, attending conferences and classes provides an opportunity for deep learning away from the distraction of business.
Not only does learning occur in the sessions with the speakers or instructors, but learning also takes place amongst the students or attendees. For LB, the most scribbling in the notebook is always during on-the-side chats with farmers before or after sessions. Getting out of our comfort zones to attend conferences can feel like a big effort, but it is always valuable and worth our time, money and attention, even for just one piece of information that will open up new worlds.
Visiting other farms or designers is another great way to continue learning. While we may all be in the same industry, we all do things differently. Seeing how another designer packs her van for a wedding can be a game changer. Learning how Sunny Meadows Flower Farm wash their buckets, how Hendricks twines their sweet peas, and how Color Fields Farm grows in crates can't be Googled; it has to be seen and experienced. We can't wait to schedule some visits once it's safe to spend time with others!
Ellen Frost
Local Color Flowers
Ellen Frost is owner of Local Color Flowers. Contact her at [email protected]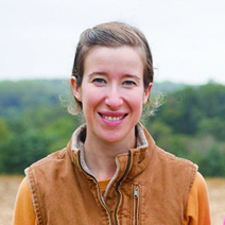 Laura Beth Resnick
Butterbee Farm
Laura Beth Resnick is owner of Butterbee Farm. Contact her at [email protected]