Happy summer to all of you! As I write this we have predicted temperatures in the 80's and 90's for the upcoming week. It was an unusually cool spring for us and I'm looking forward to some warmer temperatures to get our summer annuals going and maybe kill off some of the COVID-19 germs while we're at it!
I don't know about all of you but I'm personally a little tired of hearing about COVID-19 but considering that it's affected all of us in some way I decided to reach out to my Region's members to see how everyone was dealing with it. I first sent out a note in late March to see how folks were doing, then again in mid-May to check in with everyone. In March I felt like most people had some level of concern but were already considering various ideas for how to deal with the changing market.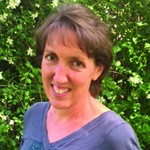 Almost everyone responding said that they were still planting as normal, with a few saying they were going to grow more vegetables for this summer. Overall the sentiment was mostly positive, ranging to a few having some serious concerns for the season.
As Rosie Standish noted, farmers are a resilient bunch!
By the time I sent out my second note in May the responses were overwhelmingly positive. Jessica Weatherford reported that their direct-delivered bouquets were selling out consistently. When LeAnne Lund ended up with short tulips this year she said she was still able to sell them retail in small jars. Michael Rodriquez from Michigan found that their spring bouquet subscription sold out quickly and they were able to sell every stem of their spring crops. For Teresa Brown of Rooster Ridge Farms, Karen Geiser from Ohio, and Annette Hellbusch from Nebraska, their only problem has been trying to keep up with the demand. For others it was a time to go at a bit slower pace and to have the opportunity to catch up on some projects. Jennifer Kinney of Piscasaw Gardens reported that they had an employee who tested positive for COVID-19. The plus side of the situation is that her husband and kids have stepped in to help!


From every direction I'm hearing positive reports of communities intentionally supporting local businesses. I don't pretend to know what the future holds but I'm hoping some of the positive changes that we've experienced during this time will continue on even after COVID-19 is just a distant memory.
For us here at Harvest Home Flowers our season hadn't really started yet so we enjoyed more time at home. Norm works off farm as a respiratory therapist so he kept pretty busy but we've been fortunate here in Nebraska with the number of cases in proportion to our hospital space available. Demand for local flowers during the Easter/Mother's Day/Memorial Day time was really strong here. Unfortunately, because of some unseasonably late freezes, we lost several of our spring perennial crops so we didn't have a lot to meet that demand. Without a lot to harvest we used our extra time to plant like crazy in hopes of having a strong late summer/fall season.
In this issue I wanted to talk a bit about a small part of our business that turned into a much bigger part during this time. When we were still doing farmers' markets we sold succulents and I thought they were just a fad that would soon fade. Once we quit doing the markets I figured I would drop succulents altogether, but I just couldn't give them up that fall. I decided to keep growing them and started advertising them on a brides' Facebook page for people buying and selling all things related to weddings. Since we don't have a store on our farm and I knew I didn't want people stopping out just to buy a succulent or two, I decided to sell them by the flat.
They became quite popular, and I also started delivering flats of them to the florists on my route. My florists are using them for planters and design work. With the advent of the pandemic it seems that a huge number of people have had a lot of time on their hands and have been anxious for something to do and something to nurture. 
We've done a couple of pop-up sales here at the farm where we've set tables up outside, a distance from each other, so that people could stop out and pick out their own. We sell most of our succulents in 2 ½" pots (32 to a flat) and have a few available in the larger 4" pots. At our pop-up sales people are welcome to buy them by the flat or individually. We sell our flats for $65;  individually they are $3 for the smaller size and $4.50 for the larger. We also will do custom orders on request. 


With a little trial and error I've learned to propagate most types of succulents, but with the demand so high this year we've had a hard time keeping up, and have had to buy in extra plants. We're fortunate to live an hour and a half from Bluebird Nursery so when I'm falling behind or just looking to add some new plants to my inventory, I can make a quick trip up there. While succulents aren't technically a cut flower, we've found that they've fit in really well with our business, and this year our succulent sales carried us through the early spring before we had many fresh flowers available. While we've tried to really streamline and simplify our farm over the past five years, I'm happy that we've kept this little side business.