Introduction from Laura Beth
I was 23 years old when I started Butterbee Farm. Fresh from inspiring but low-paying apprenticeships on other farms, I didn't have any savings and was close to broke. That first season of Butterbee, I farmed a little but mostly worked other jobs. I made lattes, babysat, fed people's pets, did secretarial work—and best of all, Ellen gave me hours at her shop.
Working at the shop was eye-opening. I got to see how florists spend their time, and what I learned surprised me. I had no idea that ordering flowers takes many hours each week, and sweeping up flower clippings and washing vases is done almost every day. I learned what florists need from me, their grower, and what I can do to make their lives easier.
I also got to see Ellen create and manage her team. She made time for fun, or wove it into work if things were busy. WTMD (our local radio station) always played tunes in the background, staff chatted about their lives while they made hand-tied bouquets, and there was almost always a box of doughnuts or cookies on the counter.


What I learned from working at Locoflo continues to inform how I manage and how we do business with our customers. Maybe that's why it feels so easy to share our team—I learned much of what I know about creating a workplace from Ellen! Any of our staff can easily step into roles at Locoflo, and vice versa.
 
That seamlessness came in handy during the pandemic. When Ellen needed help getting a zillion orders out the door those first few weeks of shut down, the Butterbee Team headed over to the shop to get it done. When we were short on staff because our interns couldn't come to work, the Locoflo team was available to help on the farm. 


All of this wonderful synchronicity depends on having great people. We are unbelievably fortunate to have Jess, Liz, and Brittney on our teams. Each of them brings so much energy and love of life to work, and each has a diverse skill set that enhances our businesses. We thought it was time you heard from them. Enjoy! 
How long have you been working at Locoflo and Butterbee? 
Jess:  I've been at Locoflo for 3 years October 2020—I feel like it's been so much longer! I've been at Butterbee officially since April of 2020 but in 2018 I trained for the season once a week at Butterbee Farm through the Beginner Farmer Training Program (level 2) of the Future Harvest Chesapeake Alliance for Sustainable Agriculture, so I'm no newbie to the crew. 
Liz:  I started working at Butterbee Farm in March of 2019 and have been ever since. Local Color Flowers was then gracious enough to invite me into the studio on 4th of July last year and begin to teach me the ways of floral design. I have mostly done studio cleaning and deliveries during my time there, but also dabbled in some holiday wreath making.
Brittney:  I started working at Locoflo in 2015—five years, wow! I've had varying schedules during my time at Locoflo, sometimes holding a regular weekly schedule, and other times filling in on busy weekends and for wedding installations, etc. I was a trainee at Butterbee Farm in 2016, and I've filled in here and there since then. I feel like I've had some involvement in Butterbee since the beginning, LB is one of my good friends so I'm always aware of farm happenings, even seasons when I haven't worked at the farm!
Not everyone is cut out for both design and farming (for example, Ellen and LB don't envy each other's jobs). How did you get the skills to do both kinds of work?


Jess:  I just like working with my hands. Before diving into local flower farming and arranging I worked as a visual display artist, and before that went to art school so I feel like flower arranging comes naturally to me. Flower farming is just like another material to me, another way of creating, making something appear, problem solving, I think that is why I gravitate to both. 
Liz:  I would like to think I have always been a creative person and I always love an opportunity to design, but I definitely know more about farming at this point. That being said, there is always more to learn, even when you are beginning to feel comfortable.
Brittney: I started flower farming at the exact time I met Ellen and started to learn floral design, so both practices are intertwined for me. Learning flower farming and design simultaneously has been a great joy, and has helped me excel at both jobs. I have an eye for harvesting flowers, flower trends, flowers, and foliage that work well in arrangements, etc. from my work at Locoflo. I have an understanding of seasonality, postharvest handling, growing practices, and the regional farm community from my work at sustainable flower and vegetable farms, including Butterbee.
What is your work week like during COVID? How is it different from before COVID?


Jess: Mondays and Tuesdays I am at Butterbee Farm, and besides COVID-19 carefulness there's nothing different for me because of it. Although I started right as COVID-19 took off, because of my role at the farm my days there are totally normal. It has actually been really weird having normal days while the rest of the world is losing it from being cooped up.
Wednesdays through Fridays I shift gears and work at Locoflo. Pre-COVID-19 (oh, how I miss it so much) my schedule was pretty much 9 a.m. to 5 p.m. Wednesdays through Fridays as we filled our normal flower subscriptions, single orders, and wedding prep. Most of the time it would be me, Ellen, another designer, named Stacy, and Eric working together. Occasionally I'd work into the evening on Wednesdays for our Wednesday night Open Studio, where anyone was welcome to drop by and hang with flowers and friends. I would also work Saturday mornings when we open up our garage doors to the farmers' market crowd and end the day with a wedding delivery.


Post-COVID-19 is a lot quieter. Since we have only one designer in the studio at a time we have been working in shifts to get all of the work done, and people really want flowers right now! I work 10 a.m to 6 p.m. because one of our designers, Monica, has been working early mornings before I get there. We have finally finessed our routine and my delivery trips are all set up for me. Almost everything has been made and labeled (so many labels when working separately together), and Eric puts the orders into the most efficient delivery routes. I go through the orders and double-check that we have everything right. I make whatever orders were not made yet, check vase water, take photos to send to Ellen, load up the van, and head out on trip one of sometimes two to three delivery trips of the day. Throughout my deliveries I report back to Ellen who I imagine anxiously waits to hear how they are going. If I have my phone on me I'll send her photos of the cute handwritten thank-you notes that get taped to empty buckets waiting for us to fill them, or photos of me eating candy or fresh baked cookies that customers have left out for me, mostly to brag. This repeats on Thursday and Friday.
Liz:  COVID-19 has 100% changed the flower game. I am sure at this point you personally or someone you know has had a wedding cancelled, postponed, or minimized. We are still selling, but in a much different context than before. Orders are no longer placed as far in advance. We are getting requests much more last minute, and we must be agile enough to respond and be able to accommodate the new work flow. We moved our on-farm seedling sale to online. This totally changed our work; we shifted into propagation work and seeding almost nonstop. Then when May began to crawl in, we had to pull over 150 custom orders and prepare them for delivery. Now we are nearly back into a regular farm rhythm, but orders show up out of the blue and we need to pivot. It helping us grow—it's a challenge that we are facing every day.  It's making us better and helping us refine systems. Above all, we are implementing more safety practices and trying to communicate more clearly every day.

Brittney:  My work week is crazy! I'm in a landscape architecture graduate program at Morgan State University, so my schedule shifts and changes several times throughout the year depending on my class schedule. I'm about to start two summer classes, and I'm juggling other school-related responsibilities throughout the year such as internships, projects, and research. I am very thankful that Locoflo and Butterbee have always been understanding and flexible with my schedule. Some COVID-19-related changes in my 2020 spring and summer schedule have allowed me to dedicate more time to working at Locoflo and Butterbee. Right now I work about 8-16 hours a week at Butterbee and 8-12 at Locoflo.
What is something really great about working both on the farm and in the studio? What's something kind of hard about it?
Jess:  The best thing about working at the farm and the studio is following the flowers from farm to arrangement to delivery or (pre-pandemic) event. I just feel so connected to the flowers, even though it's such a short length of time with them from harvest to arrangement.  When harvesting I am thinking about the quality of the stem and how excited the designer will be, and when designing I'm thinking about how excited the customer is going to be; it is just the best all around. 
Hmm, I'm not sure they really share a common "kind of hard" for me. They are different in a lot of ways. The hardest part of farming for me so far is how physical it is—maybe I'll gain some more farm strength and stamina this season but usually after my Mondays and Tuesdays at Butterbee I am wiped. For Locoflo I think it would be customer expectation. I'm always a little on edge when handing over an arrangement or placing a bucket. I know what went into growing it, making it, how long it will last, and why they are priced the way they are but right now it's harder to educate customers, or have that customer connection since it's basically through text messages or email. I don't get to see people's reactions to things because I'm just dropping arrangements off on doorsteps. So sometimes it takes a few text messages back and forth with a customer to help them realize their ranunculus will open up and it will blow them away!
Liz:  I absolutely love seeing the life cycle of the product. Last year, we would work with brides for DIY weddings, but most of the time we thought in terms of the flower ending its life at the florist. A lot of times now, we know each person our flowers go to as we do more deliveries. Whether we are tagged in an Instagram post or get an email or text, there is greater connection. The hardest part would definitely be the shift in paces. Often times I find creative work can be difficult to rush, while on the farm there are always a million and one other things that need to get done, and time is of the essence. I love both and together they help me keep balance.
Brittney:  The sense of community that both Ellen and Laura Beth have created around local flowers and their businesses is the best part about working at Locoflo and Butterbee. Although we haven't be able to gather due to COVID-19, Ellen and Laura Beth have continued to foster a sense of community among staff and the community with initiatives such as social media meetings and design demos, Locoflo's The Bucket, and Butterbee's spring plant sale. The hardest part is juggling my crazy schedule between school and multiple jobs. Also, working outside in the summer heat is hard for me! My favorite weather is cool and misty, so I much prefer to work outside in the spring and fall. 
Farming and floral design are both really physical. What do you do to stay healthy working on your feet all day?
Jess:  Now that I have farming in the mix of my work week, I haven't done any working out. But I also just don't stop. On the weekends I usually am farming and gardening at my own house, working on house projects, or art projects. Lately when my body has been wanting a release, I'll find time to do some yoga. Stretching is so good! I also just purchased roller skates that I am counting down the seconds until they are delivered! I just realized maybe I can practice at the Locoflo studio on our smooth floors!
Liz:  This season I picked up a workout routine to help me from getting as tired during the work day at the farm. I started back in January, so that I would be in shape by the time work on the farm started in March and have been upping my repetitions ever since. These days I run, half a mile from my home to Patterson Park in Baltimore. I follow that up with 30-50 minutes or high intensity interval training including 180 knee push-ups daily. Then depending on the weather and how I am feeling, I round it out with another mile or two. This is intense. I would never have expected to be doing this a year ago, but I am more capable on the farm and I find myself feeling much better. Starting small is the key. 
Brittney:  I've tried to maintain a regular running practice for most of my adult life. Usually I run for a minimum of three miles. I also love to walk. When gyms are open, I really enjoy spin classes. I prefer to stand than to sit, so working on my feet all day has never been a problem for me. Farming is very physically demanding, I'm usually very tired after returning home from a full day of farming.
What's your favorite flower to cut? What's your favorite flower to design with?


Jess:  I like harvesting snapdragons; it's very clear cut when they're ready to harvest. To design with…is SO HARD TO CHOOSE, I feel like it could change at any time. Liz asked me this question the other day and I said delphinium for some reason! But today I'll say butterfly ranunculus—it makes everything better.
Liz:  I love nigella, it's so easy to cut, strip, and looks like magic. But the best parts are after blooming it turns into a pod and then the seeds turn into the most wonderful spice. I am all about the edible component. For design, I have always loved peonies. They have that incredible smell and they can make nearly any rose stand down in a beauty contest.


Brittney:  It's hard to pick my favorite flower to grow and design with—my opinion changes so many times throughout the season. I have sentimental attachment to flowers: tulips because of my wedding bouquet, cosmos because they are the first flower I successfully grew and sold (to Ellen!), foxglove because I saw it growing wild along the narrow curvy roads of Ireland on my honeymoon. If I had to pick just one, it would be tulips. I really enjoy harvesting tulips—digging the bulb during harvest is fun. They are great to design with because there are so many unique varieties!
Same question, but for foliage?
Jess:  I have been enjoying harvesting ninebark, it is so amazing. I also love using ninebark in designs; even though its burgundy foliage doesn't say "spring", adding ninebark to an arrangement with other bright green foliage and spring pastels just makes it look so sophisticated.  
Liz:  This is not even a question—I love cutting raspberry foliage. If you are lucky there are big juicy raspberries for the sampling, but only if you aren't in a super hurry. I could eat all the raspberries in the world if anyone would let me. Then for design, 'Ruby Silk' grass. It's so romantic. I couldn't imagine something more fun.
Brittney:  The wide variety of foliage and its varying colors, scents, and textures are some of my favorite things about designing with what's available locally and seasonally. There are too many great foliage options to choose just one:  blooming branches in the spring, mint, ferns, nandina in the fall and winter—it's all so great! Asian spicebush (Lindera glauca var. salicifolia) from Wollam Gardens does come to mind. It's special because we get only a handful of branches every fall, it's not widely available, and it's harvested when the amazing faded yellow leaves are already dried on the branches.
Both Locoflo and Butterbee are REALLY into snacks. Who has better snacks (choose very carefully), pre-COVID-19 era?
Jess:  Everything must be a competition with you people! You know no matter what we choose we will never hear the end of it. I am just going to say it…Locoflo.  
Liz:  In order of self-preservation, I will refrain from answering this question. All snacks are always appreciated. That being said, there could always be more snacks.
Brittney:  I would like to continue to receive snacks from both Butterbee and Locoflo, so I'm not going to choose a side. LB has great health food snacks, she's also generously been making me amazing kombucha for years. Ellen and Eric always have amazing baked goods: cookies, cakes, oh—and always fizzy water!


Conclusion from Ellen
The community that Laura Beth and I have built together between our teams is a really special part of why I love my job so much. I am beyond grateful for the opportunity to work with, grow a business with and share a passion for local flowers with these amazing women. What could be better?
Ellen Frost
Local Color Flowers
Ellen Frost is owner of Local Color Flowers. Contact her at [email protected]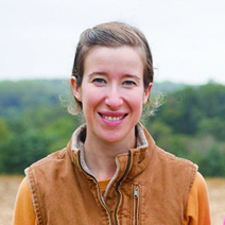 Laura Beth Resnick
Butterbee Farm
Laura Beth Resnick is owner of Butterbee Farm. Contact her at [email protected]