Another season and another year have slipped past us, and once again we're looking at a fresh start, a clean slate, a weed-free garden, and another chance to do it all "right". Each year, as I tuck yet another growing season under my belt, I feel like I get just a little closer to that perfect season where everything goes just as planned.
All the succession plantings go in at just the right time, and I'm able to guess just what colors my customers want. It's such an elusive goal, though. Just when I think I've got my planting schedule perfected, the never-ending spring rains come to mess with the plan. When I feel like I've got all of the best colors selected for the season someone on the throne at Pantone decides to throw me a curveball. I think it's what keeps flower farming exciting and challenging—the perpetual quest for perfection or at least something close to it.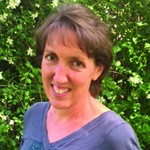 It's kind of like the proverbial carrot dangling in front of the donkey's nose, only this time it's the perfect dahlia in front of the flower farmer's face! It's what keeps us saying "next year". It's what keeps us trying new things and what keeps us coming back for more every season.
This past fall I sent out a request to the growers in my Region asking them what they were most excited about during their 2019 season. That could be defined as being the most profitable, the most beautiful, the best customer response, or just something new to them. Not surprisingly, lisianthus, ranunculus, and dahlias were the most often mentioned. Melissa Van Zeeland from Wisconsin noted that lisianthus were most exciting for her because she started her own from seed, while Carole Caplan, from Michigan, felt they were the most profitable crop for her even with purchasing plugs. Melissa felt the plants that she started were taller, healthier, and produced more than purchased plugs.

Dahlias are always a darling, and Fay Doyle of Michigan noted that her florists and brides especially liked the ball types. She was also a huge fan of 'Diva'.
For straight profitability, lisianthus, dahlias, ranunculus, zinnias, succulents, amaranth, eucalyptus, and aronia berry were all cited. For  Merry Hanson and her husband Shane, aronias are the only crop they currently grow, and with 10 acres of it in production it stands to reason that it would be the most profitable!
While dahlias, lisianthus, and ranunculus are always their best sellers, Gretel and Steve Adams from Ohio are experiencing good customer response to their dried floral wreaths, a nice reward for all the hard work put into drying flowers over the summer months.Lori Hernandez of Michigan noted that "dahlia fever" is strong in their area and it was all they could do to keep their farm stand stocked with their beautiful blooms!
 For something new or exciting, scented geraniums, hyacinth bean, lisianthus, zinnias, tulips, ranunculus, anemones, heirloom mums, godetia, bells of Ireland, honey locust trees, mountain mint, and succulents were all cited.
Every year I think that succulents have run their course and may not be as popular, but our customers are still asking for them, and Jennifer Kinney is still finding them to be popular in her area.
Angela Van Order of Michigan was really excited about her heirloom mums.
Ashley Ballance, a new grower from Montana, was thrilled to learn that not only could she grow zinnias successfully in her short season but that people would happily pay for them!
For us here at Harvest Home Flowers we were especially happy with the white and red sorghum we grew this year. Our customers were delighted with it and asked for more. We'll be trying to meet that demand in 2020!
What new flower will you try this year?