Update on Forcing Bulbs—People Love Them!
I know, I know. It looks like that at least once a year I write about forcing bulbs for tabletop gardens and I honestly wasn't going to do it again but SO many members are giving them a try and have reached out for advice and feedback—and our sales have honestly gone through the roof—that I thought an update might be useful.
Holiday Bulb Sales Were CRAZY
This past year I bought 900 amaryllis—DOUBLE what I purchased in 2019, which also had been double what I got in 2018—and it was definitely scary, for sure, since these bulbs are such a big investment.
When I was contemplating my bulb order early last summer, I wondered if COVID might still be hanging around in the fall and if that were the case, people would be dealing with the prospect of not seeing loved ones, holding only teensy holiday gatherings, and hankering for some beauty in their homes. So, still coming off the "high" from our record Mother's Day peony sales, I dove headfirst into planning ahead for what would hopefully be huge holiday sales for our little farm.
My bulb order was about 60% bulbs from Peru that I'd sell in "big ole fat bud" stage in either their 6" green growers' pots, or transplanted into great containers as tabletop bulb gardens, and 40% Dutch bulbs that I'd sell loose and also use in forcing kits.

If you've read my past columns, you know that I sell a ton of my bulbs and bulb gardens during a well-known and very popular garden designer's two-day Holiday Open House at his family's delightful store. I'm referring to Jon Carloftis and the Rockcastle River Trading Company. In early November it was cancelled due to COVID concerns.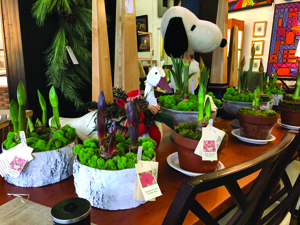 Last year I also tested selling them at a really popular local antiques and mid-century modern store (Scout Antique & Modern) where the owner is also a plantsman. He loves talking about them to customers and they always sell out within a day of me bringing them (and posting photos on Instagram and Facebook). Last year, I didn't bring anything in until the Sunday before Thanksgiving; this year we decided to start with loose amaryllis and paperwhite bulbs at the beginning of November, and move in the bulb gardens in the middle of the month.
I posted photos and prices on our website, but we don't do online product sales (yet), so we rely on social media to get the word out. We do porch deliveries but didn't do a single popup at the farm; we didn't have time and it just wasn't needed.
Whenever I took more bulbs and potted containers to Scout, I posted it on IG and FB. I also let people pre-order from me via text or email to pick up and pay at Scout. That really cut down on the number of deliveries we were making (we had our hands full!) and Scout appreciated it. This year we sold almost six times what we did at Scout last year, and could have been more.
We still held our day-long Flower School in mid-November, focused on the art and science of forcing holiday and spring bulbs. One of our first-time students is a local periodontist who came with two sisters and a friend. After the class she asked if we could deliver 50 of our $95 amaryllis bulb gardens as gifts to her referring dentists. Wow! She's been so happy with the response she received from those dental offices that she's doing it again this year.
One of the biggest things we added was to tiptoe into shipping. I was feeling stressed that I might have ordered too many dormant Dutch bulbs because everyone wanted the soon-to-bloom bulb gardens. The only advertising about this new offering was the photos posted on our IG/FB feed—and that totally did the trick!
Our bulb gardens featured three 36-38 cm size amaryllis bulbs in totally dry ProMix (with activated charcoal sprinkled underneath), dressed in reindeer moss and tied up with a satin bow. The garden fit perfectly into the large USPS flat rate shipping box. The price for these included shipping and handling, which I'd already figured into to the higher price point.
It's crazy to think we mailed out more than 50 of these gardens all over the U.S. and people wanted to send out more, but by December 11 we were totally sold out—sold out on every single bulb we had to sell.
It has been so exciting to see what lots of you guys are doing too, and that you're sticking with the largest size amaryllis and not being shy about what you're selling your bulbs and bulb gardens for. Good for you! Once people see what a show those 36-38+ cm amaryllis put on, they're hooked on what you're offering them. Even with 34-36 cm size bulbs, the display is heads and shoulders above anything else available. If you have no option but to go with smaller bulbs, just know you'll need to put more of them in a bulb garden to create a show-stopping display, but it will be worth it for you not to scrimp on adding those extra bulbs. You're creating a name for yourself, and first impressions are key to that.
And Spring Bulbs Are Following Right Behind
Forcing spring bulbs for tabletop bulb gardens takes more preparation than amaryllis and paperwhites do. First, they'll take 10-12 weeks of chilling time, which is perfect for an empty cooler. For more specifics, just take a look at my article in the 2020 Spring Quarterly, which was all about spring bulbs.
This year I was worried about how many bulbs to order. The big high-end Antiques and Garden Show, where we typically sell the majority of our spring bulb gardens the first weekend in March, was cancelled as of last fall. Not sure how I could make up for that loss of market, I ordered a little fewer of the 6,500 bulbs I typically do and, again, crossed my fingers.
Apiary, a gorgeous fine catering and private events venue—who pivoted so smartly during the pandemic from doing only private events onsite to opening its site and incredible culinary team through a wildly popular Hive Culinary Club with exclusive members-only dinners in its elegant gardens and orangery, and once-a-week meals to go—asked if we could collaborate on a new concept, beginning with a Brunch Flower School limited to 40 guests. When the event opened to the public via social media, it sold out in two hours. Yep, very hectic but totally amazing!
Our two February Spring Bulb Garden workshops immediately sold out as soon as we opened registration. As I write this, we're in the midst of potting up Spring Bulb Gardens to take to Scout, and will also offer them in local porch deliveries. We've had a brutally cold and dark spring; people are once again hungering for fresh and fragrant beauty in their homes and to have us deliver to friends and family.
I'm so happy to see that some of you brave souls have also tip-toed into Spring Bulb Gardens. Just look at what Urban Buds has done, for example! As I said, it's a bit trickier than holiday bulbs but, after all, we seem to thrive on challenges and bringing the "specialty" to everything we grow, right?
The Moral of the Story?
As I look back, I'm so glad that we've spent the years gaining experience and knowledge forcing holiday and spring bulbs so that we can share it with you, and hopefully have more flower farmers WOWING their customers with gorgeous blooms in their homes in the winter and early spring.
Now is the perfect time to think about giving it a try this year. There's time to order bulbs and you can and should start small, forcing some gifts for family and friends. If you enjoy it, order more next year!