It was the Best of Times, it was the Worst of Times
No one describes 2020 better than Charles Dickens: "It was the best of times, it was the worst of times, it was the age of wisdom, it was the age of foolishness, it was the epoch of belief, it was the epoch of incredulity, it was the season of light, it was the season of darkness, it was the spring of hope, it was the winter of despair."
We are thankful and lucky that our dear ones are healthy—and that's all that really matters. Our businesses are secondary, and in the face of the storm that was this year, it seems a little silly to rant about how our governor mishandled the shutdown in the spring, or how stressful the election season felt. Never mind all that!
Instead, we'll share some anecdotes from the year, with hopes that our experiences might resonate with you. Enjoy!
LB: The time we really, really, really had to go while on delivery.

Back in March, when everything was shut down, we decided to switch our on-farm spring plant sale to delivery only. We created an online store, and felt some pressure to offer free delivery since so many others seemed to be doing that. We charged $5 per plant (for little 2" plants) to compensate.  

Despite the priciness of our plants, our online store was sold out by May. We had to deliver about 160 orders in less than a week to DC, Baltimore, and Alexandria. That's a wide radius, if you're not familiar with the area. We had really long deliveries in store.

What we didn't anticipate was how urgently we'd need to find a restroom during six-hour deliveries all over Maryland—and that no one would let us use their restrooms. Liz stopped at a gas station and they turned her away. Jascha pulled over and used the beautiful outdoors by the highway a couple of times. I squirmed all the way home; this pandemic was not good for my bladder. A few kind souls did let us use their bathrooms, and we'll always remember them for it.
Lesson learned:  we will charge for delivery in the future, and have a no-contact pickup option at the farm. Hopefully that will mean fewer deliveries come the spring plant sale, and no more squirming around. We'll cut the deliveries into smaller routes, even though it means spending a little more on labor. No one needs to get a UTI because of a silly spring plant sale!
Ellen: That time we hired a new team member one day before the COVID shutdowns.

We decided early on that we would not have our team work together once the COVID shutdowns began. That meant that rather than everyone work 9-5 together, someone would work 7 a.m. to 10 a.m. and someone else would work 10 a.m. to 4 p.m. and someone else would work 4 to 8 p.m. This was not ideal for lots of reasons but it seemed like the safest plan for our team and our customers. Two of our three team members have been with us for many years so working on their own with little direction and no supervision was not a problem. One of our team members began her new job at LoCoFlo one day before COVID shutdowns went into place. It was strange, to put it mildly, to ask a new employee who had been to the shop only a handful of times and had worked only one shift, to now work on their own with only video and audio instruction. There was no time for hands-on training or team building or anything. But our new employee Monica was a star. She had design experience, which was super helpful. She jumped right in and tried to do everything we asked her to do. Have you ever made a dried wreath? No? Okay, well try it out. Here's an example of one. Have you ever made boutonnieres? YES? Okay great, make 10 in this color palette. And on it goes. And continues to go with each new season and each new set of tasks. Monica and the rest of our team are resilient and flexible and committed to our work. We couldn't ask for more.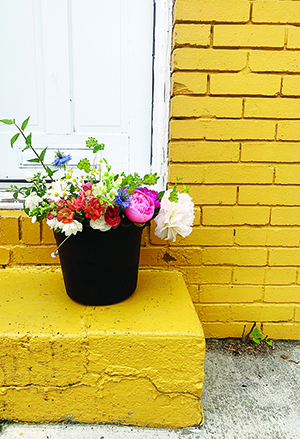 LB: That time we took off in July.

Because I'm the only person on the farm who makes the availability list for our florists, I feel like I can never go on long vacations. Until I figure out how to train someone else to make the list, a vacation that lasts a week or more is impossible. That is, unless I tell florists we're closed. 
It scares me to close even for a few days because we pride ourselves on consistency at Butterbee. We deliver on the same days and at the same times all year long. I don't want to mess with our reputation for reliability. 
But this year, just to test it out, we did close for just three days during 4th of July week. People could get flowers Monday and Tuesday, but not Wednesday through Friday. We still worked on the farm, but without harvesting and delivery we got a lot done. In the future, it would be nice to go on vacation myself, and let the team at home focus on farm work without the distraction of florist sales.


Next year, I'd like to plan a longer break—the whole 4th of July week! I'm tossing around the idea of creating a little calendar to email our florists that shows when we'll be off in the summer, as well as when product will start in the spring and end in the fall. So long as I communicate well and manage their expectations, I should be able to take some vacation in the summer.
Ellen: That time we pivoted to a new business model overnight.
Back in March, the governor of Maryland, like so many across the country, shut down non-essential businesses as COVID cases were rising. In a matter of hours, we launched a new product called the LoCoFlo Bucket. It is a DIY bucket of local flowers a customer could arrange at home. It was accompanied by a short weekly video that showed the customer how to make a small arrangement with the flowers in their bucket that week. This was not a revolutionary concept by any means. But it was new for us and it was an offering that was right for the time and circumstance. Everyone was stuck at home and stressed and wanted a fun, beautiful distraction. As 90% of our work disappeared (weddings, in-person retail, in-person classes) we were quickly able to establish a bucket delivery business overnight that continues today. This made it possible for our team to keep working, and allows us to continue buying local flowers from our growers. Our other business will come back eventually, but for now, the Bucket continues to keep us afloat.
Ellen Frost
Local Color Flowers
Ellen Frost is owner of Local Color Flowers. Contact her at [email protected]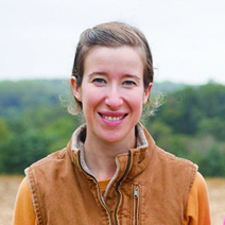 Laura Beth Resnick
Butterbee Farm
Laura Beth Resnick is owner of Butterbee Farm. Contact her at [email protected]