A Farming Retrospective in the Rearview Mirror
"Sitting in the shade of my Chinese garden gate. The banner on the left says, "Welcome". The one on the right says, "Watch your head". The Virginia bluebells say, "It's May!". I say, "Yay!". Joe Schmitt
Like clockwork, the birds woke me up this morning at six. It's late May, a busy period for farmers. For the last 17 years, I would have been out of bed by that time, starting morning harvest. Instead, I covered my head and went back to sleep for a while longer. These days I have shorter "to do" lists, no crew, and no need to stress over whether the peonies will be in bud when a killing frost comes in April. It feels both delicious and unsettling.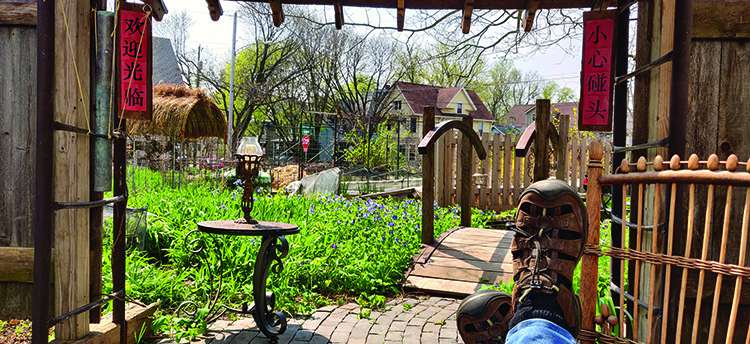 Now that I am retired, I understand the value of managing growth as a farmer, and having a plan that addresses the physical, financial, and emotional implications of retirement. I also realized that decisions you make while you are growing your farm have implications once you stop. I recently spoke with several retired farmers about their retirement experiences. Though they all had different stories, their underlying sentiment is that planning is wise. How and when you end your farming career, and transition your land and lifestyle, are important for retirement happiness.
"How do we get off this merry-go-round? There is no way to stop it!" This was Joe Schmitt's take on the notion of having an end game while in the thick of farming. Joe was born a flower farmer and he speaks for many farmers who did not have a retirement plan. The idea of stopping was just not on the radar for most of us. Betsy Hitt, who farmed Peregrine Farm, with her husband Alex, in North Carolina for 40 years, points out that there comes a natural time where it makes sense to "Stop the constant pursuit of growing the business." So what is it that triggers us to think about retirement? For some, life events and exhaustion moved the process along; others had a plan, and a timeline.
Typically, when a farmer gets started, she or he won't know enough to make that plan, and, as Joe Caputi puts it, "Too much focus on retirement can defeat some of the ambition needed to grow the farm." I agree with Joe, and as for planning, who knows where you will be 20 years into the future? As business owners, we focus on growth, not usually the end game, but having no plan leaves too much to chance.
Deciding To Retire
In my farmer conversations, I found different factors that drove the retirement process. In some cases, there were financial goals, such as having sufficient IRA investments to combine with Social Security. In other cases, health issues were the drivers, and many of us were just exhausted. Joe Caputi noticed that he was "Starting to look for a hard frost in August." COVID, and an opportunity to grow hemp, facilitated Chas Gill's retirement from flower farming. Chas, and his wife Linda, ran Kennebec Flower Farm in Maine for 30 years.
"Retirement can be almost shocking for people who have been extremely busy and self-motivated,'' says Lynn Byczynski. Lynn recommends having a plan by the time you are 50 years old. Lynn, the founder of Growing for Market magazine and author of The Flower Farmer, operated Wild Onion Farm in Kansas for more than 25 years.
Joe Schmitt, always one to seize unplanned opportunities, started his retirement when his grower friend, Jeanie McKewan, was looking for more room for her flowers on the Fairfield Flowers Co-op truck. Joe saw this as his chance to step back from growing and give Jeanie the space in the van for her stems. Jeanie, who owned Brightflower Farm in Illinois for 16 years, began her own retirement process with a goal to end up with enough money for a down payment on a house. She took into account her husband's job, her age, and Social Security. She started moving towards that goal 4 years before actually retiring.
Health issues made the decision for Joe Caputi to stop farming. His retirement process involved scaling down from three markets to one. He found that having that focus resulted in greater productivity. Joe and his wife Charlotte operated Charlotte's Garden for 11 years in Virginia.
A few years before I retired from flower farming, a young woman named Mallory joined our crew to learn all she could about flower farming, and take that knowledge back to the vegetable farm where she worked. Mallory recognized that I was working at a feverish pace and that I was understandably tired. She asked, what seemed at the time, a strange question. "Barbara, didn't you start farming with an exit strategy?" My response at the time was one of incredulity: Who does that? Last season, I came to realize how insightful Mallory's question was. A retirement strategy is important, and timing is everything.
How Constant Growth Impacts Retirement
How big we grow our farms impacts the retirement process. The ASCFG and its members inspire all of us to be the best possible farmers. After every ASCFG conference, we are motivated to do more and try new things. "Grow, Baby, Grow" becomes the mantra. One high tunnel is great, so why not build another, and another?
I am fortunate to be neighbors of several wonderful vegetable farms. Early in our farm years, one of them asked us to provide the flower share for their CSA program. Over time, another farm asked us to do the same; these opportunities were great for using flowers throughout the week. In 2012, after seeing the Seattle Wholesale Market, Dave Dowling, Bob Wollam, and I started Capital Flower Growers, a midweek wholesale business. Living 55 miles from Washington, D.C., we also landed two profitable farmers' markets after several years of trying. Sales were great, but down time was scarce. The lesson learned is that desirable and diverse sales channels are awesome, but too much success can cause burnout, and maybe, early and unplanned retirement.
Growing your farm increases the need for more infrastructure and supplies that can add to the burden of retirement. Structures you buy or build, and where you put them, become "stuff" to store, sell, or remove when you stop.
The placement of greenhouses, tunnels or other infrastructure, for example, may impact the market value of the farm to a future owner, who may or may not have a need for them. In our case, we built a processing center that we call "the hub", a covered flower processing space with two coolers. It was a game changer for our farm, and for convenience, it is close to our house. It isn't, however, very attractive, and it could be a hard sell to a potential buyer if we get to that point.
Make That Plan!
Planning for retirement in advance is wise and practical, but is usually too far into the future for new farmers to contemplate. Financial plans, however, must be made as soon as possible—at least by year five. Three to five years is enough time to understand what you have gotten yourself into with your farming life. For many growers, it is the point when your farm may be, or beginning to be, self-sufficient. Start saving as soon as you possibly can, even if you can contribute only small amounts—every bit helps. Relying on Social Security for retirement may not be enough. SEP (simplified employee pension plan) IRAs are a great way for self-employed people to save towards retirement. If you don't understand the different retirement savings options available to you, be sure to speak with someone who can help you decide what may be best for your situation.
There are many things to consider as you make that retirement plan. Do you want to sell the business or the farm? Do you intend to keep your farm operational by getting a solid crew on board that you "just" oversee? Do you want to have another person farm your land? Do you have structures like high tunnels to sell? Do you want to maintain perennials? These decisions take time to figure out. Personally, I have come to see that this first year of not farming is more like a year of de-farming—selling structures, equipment, tools, supplies, and perennials.
Selling the farm and land could be a clean approach to closing down your business. Both Jeanie McKewan and Lynn Byczynski sold their farms. A challenge is finding someone who can afford the purchase on a farmer's income. If you have a buyer who needs the help, perhaps you could provide financing; monthly payments would be helpful to cover your expenses in retirement. If selling is the goal, the ideal situation is selling to a flower farmer who would benefit from all of your perennials. Dave Dowling suggests, "Either way, when you sell, walk away and don't look back. Don't let it bother you what happens once you are gone. Don't be so attached that you can't give it up."
If you don't want to sell, and have a farmer you trust, consider a lease arrangement: stay on your land and let someone else farm it. This can be a good idea, but having other people on your land every day is not for everyone. Another approach is to do a "work-to-own agreement." This was Betsy Hitt's plan, but the grower decided after 8 years that it was not the path she wanted. Betsy and Alex wisely had a Plan B to scale back their farm to a size that just the two of them could manage until they were eligible for Medicare.
If you don't sell or lease the farm, what do you do with infrastructures and supplies? "Things like high tunnel frames go from being an asset to a maintenance nightmare as soon as you quit using them. Deer fence also falls into the same category," Betsy points out. Any structures or supplies that you want to sell require organizing, pricing, and advertising. Consider waiting to sell stuff right away, because you never know what you may need. All the growers I spoke with are still growing something, whether vegetables, hemp, berries, fruit trees, or some of their favorite flowers.
I decided to sell most of my perennials. In the fall, I offered a you-dig sale of peonies, dahlias, and bulb plants. This was a great way to share a piece of Greenstone with our wonderful customers, family, friends, and other flower farmers. In the spring, we sold many of our other perennials. The remaining plants are going into landscaping around our house, something we have dreamed about for years!
Not everyone makes it as a farmer. It is not uncommon to discover that farming is not for you. Some growers end their farming career because they find that it is just too much labor, or they simply cannot make a profit. Marion Baker owned Duchess of Gloucester Farm in Virginia, and gave it 10 years. An honest discussion with her accountant about her lack of profit moved Marion to quit farming, despite loving what she was doing.
Life After Farming
Farming is an all-in lifestyle, usually leaving little time for fun. As part of your retirement planning, keep a list of fun things you do not have time to do while farming. At the top of Chas Gill's list was being able to go fishing in May after 30 years of not being able to do so. For others, fun includes traveling, hanging out with grandkids, growing vegetables, writing, learning how to play guitar, enjoying van life, volunteering, political action, experimenting with plant breeding, cooking, pottery, and getting to that stack of books you have yet to read.
While farming, there was little time, and not much need, for going to the gym to keep fit. As farmers, our bodies were in constant motion and strain. In some cases, those activities, over time, had negative impacts. Repeated leaning over to harvest, without engaging enough of the right muscles (abs, glutes, lats), can result in distorted muscle memory. Carpal tunnel syndrome and other injuries caused by the repetitive motions of cutting flowers are common ailments of cut flower growers. Part of a happy retirement includes finding ways to retrain our muscles to do the right things and create an intentional approach to getting enough physical activity.
If you stay on your property, how will you manage the property? Having enough land to farm, and then stopping, means you will have plenty of areas that will need mowing and weed whacking. We plan to strategically let areas go, and in some places try to create pollinator meadows. My crusade to get bindweed and Johnson grass under control is part of our strategy.
What We Miss
Customers and an abundance of flowers are what we miss the most. Each week for years, either at our markets, or at floral shops, we connected with customers who regularly relied on our flowers. Markets were times to hear about Deb's new job, Jay's family adventures in the RV, and Diane's health issues. Customers learned about farming, too, supporting us in times of weather challenges, crop failures, and each new flower story. As farmers, we developed close relationships with other growers in our agriculture community. Those relationships provided camaraderie that supported us throughout the seasons, particularly during challenging times.
While farming, I spent many hours talking with my flower farming buddy, Jeanie McKewan. We shared crop plans, growing techniques, and provided shoulders to cry on when things got tough. Now that both of us are mentoring new growers, we get to continue our farm-related conversations, and we both enjoy teaching what we have learned as growers. Sharing our experiences allows new farmers to bypass at least some of the inevitable pitfalls. I also miss many of the crew members who worked at Greenstone. I enjoy hearing from them and how they appreciate what they learned—hard work, dedication, growing techniques, flexibility, and the importance of teamwork.
Looking back, Mallory was wise to suggest having an exit strategy, eventually. I hope this retrospective helps encourage farmers to actively manage their growth and create a plan for retirement. Once on the other side of all that effort, there is fun to be had.
We are still de-farming and hope to embrace the after-farm-life soon. We look forward to renovating our market van and trying out van life with our Labradors, Gus and Ruby. Meanwhile, we are slowing down, growing vegetables, a few flowers, and enjoying Wordle and the Merlin bird app. We also just can't help ourselves, so we continue to grow some of Babz' Bodacious Berries.
Barbara Lamborne created Greenstone Fields in 2006, and ran it with her husband Dennis Fuze until 2021.
Ruby and Gus continue to rule the land.
Contact Barb at [email protected]
To learn more about Betsy and Alex Hitts' retirement plan, check out the video
"Transitioning Your Farm to the Next Generation" in the Learning Portal in the Members Only section of ascfg.org