Farm Tours Bring Growers Together
Now that true winter has finally arrived here on the North Coast, it's a pleasure to imagine a personalized tour of a lush cut flower farm in the middle of the growing season. We especially miss that feature of in-person conferences. Speaker sessions are invaluable, and trade shows provide essential connections with suppliers, but even if it meant a few hours on a bus, watching people tumble excitedly off the coach with their cameras poised and notebooks at the ready was a true treat.
Considering the vagaries of the ongoing pandemic, it's unlikely we'll be able to produce a completely in-person education event like our past National Conferences in 2022. However, given the success and popularity of the nine Farm Tours the ASCFG hosted in 2021, it seems clear we have a happy alternative.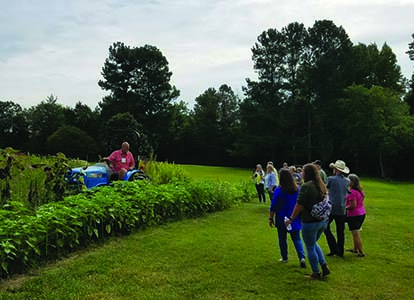 Last year, 340 members attended these events. Not only were participants pleased with the experience, the hosts were happy they had opened their farm gates to fellow members. Even though they had to put in some work to organize their staff for efficient organization, most told us that having other growers on their farms realized how much they had also missed that interaction.
Please watch for news of more of these Farm Tours, and let us know if you would like to join the ranks of hosts for 2022.
If you're thinking about opening your cut flower business to paying visitors, this issue of the Quarterly covers about as much as you need to know for safe and successful events. Julie Martens Forney interviewed members from across the country and Canada, to learn what has worked—and sometimes didn't—for them.
Some of the most important insights came from Gretchen Langston, of Blooms, whose cut flower farm is in north-central Colorado. Gretchen has years of experience in risk management, and made clear the importance of having in place the right kind of insurance when the public is on your land.
Those aren't plans anyone relishes making, but Gretchen's warning "This is what protects you as a farmer when someone trips over an electrical cord and breaks their hip. It sounds ridiculous until it's not, and then it's a catastrophe." is spot on.
Keep these recommendations in mind while you're looking at the calendar, and your markets, to see when might be best for you to host your own "wow" moments.