Add a Farm Tour to your 2022 Season
I'm happy to be standing in for Val Schirmer as Southeast Regional Director for the last year of her three-year term as Val has moved up the ladder to be our ASCFG President. Yeah, Val! I also enjoyed meeting some of you last year as we hosted one of the ASCFG Farm Tours. Such fun to have 30 flower farmers visit and talk flowers all the while. And this led me to my first topic for the Quarterly—Farm Tours, not for ASCFGers only, but for the general public.
How often do you hear the request, "Can I come visit your farm?" My answer is always the same, "We'd love to have you join us for a farm tour—we host a tour every month and would be so happy to see you there!"
I encourage each of you to think about hosting a tour this season. Many folks think we stroll through perfectly blooming flower beds just hoping for company. Since we all know that's not even remotely true but since we do want folk to see what flower farming actually involves, we offer farm tours. Tours enable us to have people visit the farm at our convenience, share our own personal history in farming, educate about the process of growing, share what's available at our farm, cut a bouquet to take home, and make money with relatively little effort. 
Our farm is an old family farm that has been in Roy's family since the 1700s so we have lovely old outbuildings and falling-down barns, but what people are most interested in is what we all have—flowers and farmers!
What is involved in a farm tour?

Introduction and History This is the only time we stand right in front of the group and talk in a classroom-like setting. We introduce each guest quickly so all can see who's here and from where. Visitors will chat with each other a bit more because of these introductions. This can be a little about how you got started and how it's progressed, what you grow, what other services you offer, who's involved, hopes and dreams, family farm or first-generation farmers etc. Folks are interested in the farm but also in the farmers so they love to hear personal stories and this is where we share those. Because we have an old family farm, Roy tells Civil War stories and talks about farmers' markets a century ago. Everyone has something interesting to tell about their farm. What makes you unique? That's what they want to hear. They may have a few questions here, but most questions are best answered in the field.
Tour the Beds Here's where people learn about flower farming. Our farm has three main sections: the dahlia beds, the hoophouse, and the perennial/woody beds. People enjoy seeing what and how you grow. In the spring, you might be educating about planting ranunculus and anemone corms; how to store peonies or pull tulips; and when to cut lilacs. In the summer, in addition to the regulars you might introduce them to unique bloomers like lisianthus and celosia. Fall and dahlias and fall foliages go hand in hand but it's also a great time to talk about the importance of succession planting. Give good instructions about where to walk and not walk and what they can and can't touch or cut. I'm an old PE teacher so I'm good at saying "First 15 people move into the first row of dahlias, next 15 into the third row, and I'll stand in between." Think this through ahead of time or you'll waste time regrouping and appear unorganized.
Cutting Flowers A ball jar bouquet can be the added value of your tour. We give everyone a jar with just a few flowers (so it looks pretty when they arrive) and tell them they'll cut some along the way. Let them cut ONLY things you have in overabundance, that you don't need that week, or that might be about to go—for us that might be bridal veil spirea, mock orange, 'Limelight' hydrangea, dahlias, and some really pretty weeds! We don't grow that many flowers but there's always something. I'm honest here—I might let them cut the red ranunculus because they're a little past their prime or not my favorite color, but they're still happy to get them. Give a bit of cutting instruction which is easier if they're only cutting a few varieties.
Summarize at the End Ask questions like "What did you learn?" or "What do you want to grow now that you've visited?", etc. This reminds them that this has been a learning experience and keeps them thinking about your farm. Always invite them to another tour which will be different because different flowers will be blooming, and let them know about other events and opportunities coming up at your farm.
Time of Tour What does your space allow? We try to limit our tours to two hours. We have to talk fast and keep them moving but any longer and we're afraid they'll start to get antsy; any shorter and they might not think they're getting their money's worth. If your beds are all together in one space you'll have time to go into good detail here. We're spread out and have to drive between spaces so we gotta hustle. Our tours are generally during the week and begin at 6:30 p.m. so people can come after work when it's cooler. Saturday tours are 10 a.m. as it's hot in the South.
How Often and How Many People? What number are you comfortable speaking to? We have loud voices and love crowds but if there are too many, someone's bound to get "lost" along the way. We limit our tours to 30 people; with COVID that dropped to 15, then up to 25. Our fields are open and we try to encourage social distancing. We are able to fill most tours quickly and we host a tour every month April through October. If you're not comfortable in this setting, perhaps you can train one of your workers to lead the tour. That's good for them and for you. We often get requests for small group tours. We used to try to accommodate these and discovered it was better to allow them help choose the date, but open the tour up to others. Small groups rarely come through as promised, in our experience. We try to choose different evenings of the week and occasionally host on a Saturday.
How to Publicize? Social media, blog post to email group, and website. If you do a farmers' market you can hand out a flyer about the tour. Include the date and some details on social media (date, time, etc.) and send them to your website where they'll get all the details like cost, rain or shine, no cancellations, bring nippers, dress for a farm, what they get. Be sure the website link has an easy way for them to make payment. I'm so thankful I no longer have to say, "Send me your check!" We don't usually post our tours until about a week away, which allows us to look at weather, flowers available etc. We are able to fill our tours since we have built up our tour community, but I would recommend giving them more lead time to sign up. It might be good to schedule tours regularly, say every first Tuesday of the month. Just realize if weather doesn't cooperate you need a rain plan.

Rain Plan I highly recommend you schedule your tours "rain or shine" if at all possible. We have several buildings we can duck into if there's a sudden downpour, but if it's a nice steady rain, umbrellas will do the trick so have some extras handy. If you've posted that the tour is rain or shine and they've paid their money, there's no need to refund because they choose not to come. Tours are to be simple with little labor involved, and refunding money and answering questions about rescheduling is complicating.
Cost, Labor, and Profit We charge $30 per attendee, so for a 30-person tour we make $900. The only cost we have is the $30 it costs for 30 ball jars, and I often use gifted jars with pretty fruit labels. We spend about an hour putting a few flowers in jars and I have a volunteer who loves to help. We put a sign at the end of the road and a balloon on the mailbox and we're ready to go. Not as profitable as a wedding for sure but not even in the ballpark on labor comparisons.
Photographs I recommend hiring a professional photographer to photograph your tour. I always think I'll take pictures, but I'm too busy talking and keeping things moving to take good ones. Often you can trade photography for free flowers in some form or other, but even if you have to pay cash, a professional is worth the investment. I usually ask that they get pictures of the farm, Roy and me, and images of our guests cutting, interacting, having fun. It makes publicizing your next event so much easier. We often have photographers who just join our tour and take photos that they're happy to share (you'll be amazed what they find interesting). I then do an Instagram post or story with just their pictures and give them credit if they send me their whole file. Be sure to always tag photographers in all your postings. That is just being professional.
Practical Considerations
1. Registration area for check-in.
2. Name tags they filled out by attendees.
3. Adequate parking and someone to help park and unpark. If you don't have adequate parking can you shuttle?
4. Porta-potty or bathroom available.
5. Liability insurance for visitors on your farm; does your insurance cover events like this?
6. Rain plan. We were stuck in the chicken coop for about 25 minutes where we played "name that flower" and laughed lots.
7. Signage to get them there and a balloon on the mailbox.
8. Nippers for those who didn't bring them.
9. Tell them to dress for a "run-down old farm" – wear sturdy shoes, etc.
10. Safety. If there are areas you don't want visitors, rope them off or give very clear instructions. If you have electric fences, turn them off if possible or if not, tie a ribbon and warn verbally. Point out poison ivy, holes in the ground, slippery slopes, etc. We also include these hazards in our publicity so they understand they're coming to a farm with some risks involved. I recommend you sit down, think of what could go wrong, and have a plan to prevent or handle.

Southeast Member Input I asked if any of our members were hosting tours and received several responses. While few had hosted a stand-alone farm tour, several had hosted similar events or expressed interest in learning more.
Abigail Moffitt of Bloom WNC has attended several tours and workshops at our farm and successfully holds events on her farm and writes: This year I continued my monthly farm tours. They were popular and I generally sold out (just 20 people a tour). I charge $30 but half of this is donated to a non-profit organization. I do limit cuts on my lisianthus because they are tricky to know when to cut. I generally pick a big vase of them and let attendees pick out two or three stems in the beginning. I show them how to pick stems properly.
Sandy Alcorn with Rebel Run Fresh Flowers and Herbs does something similar to a tour she calls Sip 'n Snip. She writes: Guests were able to purchase tickets to come out to my backyard flower farm to enjoy coffee by the fire, donuts, and other small refreshments. After enjoying coffee together, everyone was able to walk through the flowers and cut their own selection to be arranged in a vase. I was available to help with arranging but most people didn't even need it. We really had a great time and I can't wait to do it again! Twenty people attended at $30/person.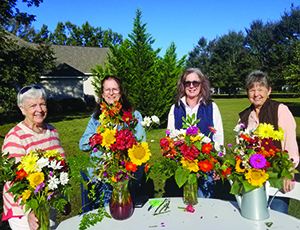 Connie Barron of Connie's Garden responded: I organized a U Pick tour in July. I sent out emails with a day and time; asked them to bring snips if they had any, as well as the usual—sunscreen, sun hat, gloves, and a container to take their bounty home in. I provided water, buckets filled with conditioned water, and a list which showed them what was growing in each of my beds. I then took them on a tour and explained each flower, spoke about safety while walking and looking, and explained how to cut the flowers. I cut the dahlias and hydrangea for them, but everything else was a "do it yourself" situation. My neighbor had butterflies to release that weekend so I said, "Let the boys do it on my U Pick Day." It was a great day! I'm small, but I'll do it again next year. I charged $15 but will charge $20 next year.
Anne Phythyon of Franklin Flower Farm attended our ASCFG tour and workshop. She hasn't hosted a tour but says: I have attended Nikki Irving's workshops at Flourish Flower Farm in Asheville. They are just wonderful and they are my go-to model for hosting a tour and Nikki makes her guests feel welcome. She offers a morning and afternoon workshop on the same day and finishes with either a brunch (morning session) or light hors d'oeuvres (afternoon session). The best farms take care to really host their guests. I came home from both her workshops and the wonderful one you and your husband hosted over the summer determined to work harder and lay out a beautiful farm to bring people to it.
Give a farm tour a try. Even if you only have a few attend the first time you offer, after the tour you'll have a sense of the workability of tours for your farm. Allowing folk to visit, see your flower production, and form a relationship with you and your flowers is always a good thing in my book. We genuinely enjoy our farm tour visitors and have formed several long-standing friendships…and that's such a good thing! Happy Flowering!.